Blanch Fay Wright Stevenson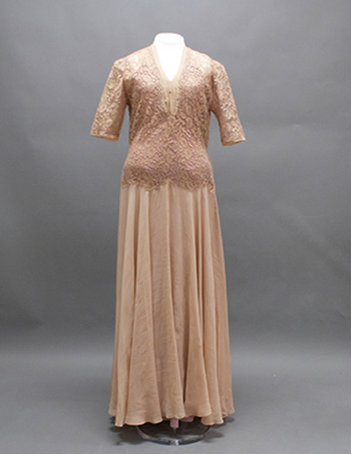 Blanch Fay Wright was born in Gillespie County, Texas. The family later moved to Junction, Texas. Blanch Fay Wright met Coke Stevenson, a young bank cashier, and they were married in 1912.
Coke Stevenson's study of law contributed to his interest in politics. He became a county judge, a member of the House of Representatives and Speaker of the House. He was also elected lieutenant governor.
1941 - Lt. Governor Coke Stevenson became governor when W. Lee O'Daniel resigned. Governor Stevenson was then elected for a full term.
Blanch Fay Wright Stevenson's gown pictured here was presented by her daughter-in-law, Mrs. Coke R. Stevenson, Jr., to the Texas First Ladies Historic Costume Collection. The actual gown worn by Blanch Fay Wright Stevenson to her husband's inauguration was a gown made of black crepe. She wore a small hat with a bluebird on the front.
Page last updated 4:58 PM, March 7, 2019