Betty Jane Slaughter Briscoe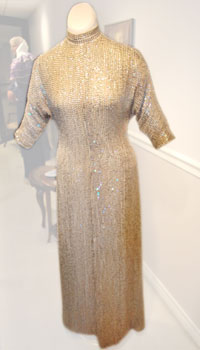 Betty Jane Slaughter was born in Austin, Texas. She enrolled in The University of Texas where she was a Bluebonnet Belle and a member of Zeta Tau Alpha sorority. She received the Bachelor of Science degree in education and a master's degree in government and history. At the university, she met Dolph Briscoe, whom she later married. Betty Jane Slaughter and Dolph Briscoe moved to their homestead on the Dry Frio River, about 20 miles south of Uvalde.
1943 - Dolph Briscoe was elected as a state representative.
1973 - Dolph Briscoe was elected the Governor of Texas.
Betty Jane Slaughter Briscoe had many interests and was president of many organizations, including the Uvalde de las Encinas Chapter of the Daughters of the American Revolution.
Betty Jane Slaughter Briscoe presented the gown she wore to the inaugural ball to the collection. The gown is a full length fitted sheath with mandarin collar and fitted three-quarter length sleeves. The simplicity of the gown accentuates the beauty of the shimmering sequin-covered silk chiffon, backed with crepe.
Page last updated 10:28 AM, February 17, 2017