Anne Maria Penn Ireland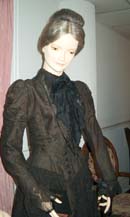 In 1833 Anne Maria Penn was born in Henry County, Virginia. Columbus and Frances Rives Penn moved the family to Mississippi and in 1885 to Reutersville, Texas. Anne Maria Penn met and married a young lawyer, John Ireland, from nearby Sequin, Texas.
1861 - John Ireland was a delegate to the Secession Convention. He joined the Confederate Army and quickly advanced to lieutenant colonel of a company of soldiers that took the Texas coast. Anne Maria Penn Ireland closed their home in Sequin and moved to the area of the troops where she was a nurse and mentor.
1883 - John Ireland was elected governor. Anne Marie Penn Ireland did not share in his political ambitions. She assumed the duties of official entertainment which was expected of her, but she had no desire to become actively engaged in the Austin social scene.
Anne Marie Penn Ireland's gown was presented to the collection by her granddaughter, Mrs. J. G. Wilcox, through the San Antonio de Bexar Chapter of the Daughters of the American Revolution of San Antonio, Texas. The gown is made of black lace over black taffeta. The long overskirt is softly draped to a small bustle, and the high neckline is trimmed with a lace fichu. The pointed bodice is lightly boned and trimmed with lace-covered buttons.
Page last updated 4:56 PM, February 16, 2017