Ann Rattan Throckmorton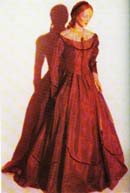 Ann Rattan was born in Carrollton, Illinois, in 1828. She married James Throckmorton, M.D., and moved near the town of McKinney, Texas. The Throckmortons converted their home into a hospital where Ann nursed the patients herself.
1851 - Dr. James Throckmorton was elected state representative and then senator (1857). He voted against secession, but was one of the first men in Texas to take the oath of the Confederacy and serve in the Confederate Army.

1866 - Dr. James Throckmorton became the first post-war governor of the state. He did not move Ann Rattan Throckmorton to Austin because of the troubled times of the Reconstruction period.
Ann Rattan Throckmorton's gown was reproduced from photographs and presented to the collection by her daughter, Mrs. J. R. Bailey, and the Mary Garland Chapter of the Daughters of the American Revolution in Brownwood, Texas. The dress is made of dark blue and rose changeable taffeta with pointed bodice and full skirt worn without hoops. It is lined with cambric to give weight to the material. A deep decorative scallop of rose-colored fringe is arranged to form a design above the hem. Fringe also outlines the yoke of the bodice.
Page last updated 4:24 PM, February 16, 2017