Alice Fuller Murrell Colquitt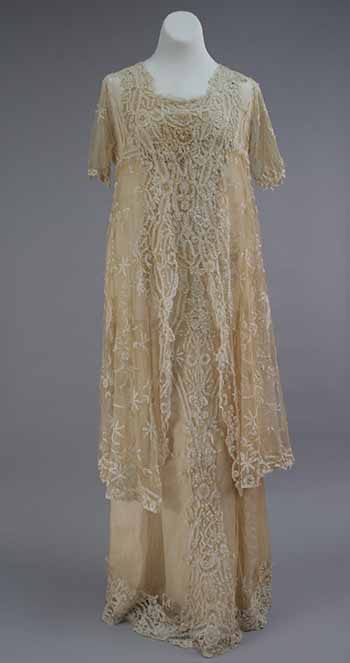 Alice Fuller Murrell was born in Minden, Louisiana, in 1865 where her father had been a successful planter and merchant. She attended Minden College, one of the oldest schools in the South. In 1885, she married Oscar B. Colquitt in Pittsburg, Texas.
Oscar B. Colquitt came from an illustrious family of planters, soldiers and politicians. Through the years, Oscar B. Colquitt held several political offices.
1911 - Oscar B. Colquitt was elected Governor of Texas.
Alice Fuller Murrell Colquitt was a leader in the crusade against tuberculosis and helped establish health camps throughout the state and helped to raise funds to build a tuberculosis hospital for children.
Alice Fuller Murrell Colquitt was a member of the Albert Sydney Johnston Chapter of the United Daughters of the Confederacy and at one time served as its president.
Mrs. Colquitt graciously presented her gown to the collection through the Jane Douglas Chapter of the Daughters of the American Revolution in Dallas, Texas. The gown is a beautiful tubular silhouette made of princess lace over ivory satin, imported from France and purchased at Sanger's in Dallas.
The costumes worn at the inaugural ball were most elaborate, making perhaps one of the largest assemblages of expensively gowned women ever gathered in Texas." — Dallas Morning News, January 18, 1911
Page last updated 8:31 AM, September 17, 2019