Adele Baron Lubbock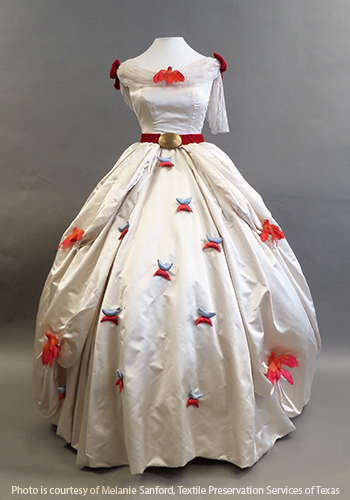 Adele Baron of New Orleans married Francis R. Lubbock in 1835. During their 50 years of living together, Adele Baron Lubbock actively shared in her husband's career. Since they did not have children, she accompanied him on many of his political campaigns.
1861 – Francis R. Lubbock was elected Governor of Texas. Adele Baron Lubbock and her husband made the Governor's Mansion the political and social center of Texas.
1837 – At the first San Jacinto Ball, Adele Baron Lubbock was one of the Belles. Adele wore her beautiful red bird dress. Twenty-six years later, she found a similar dress design and sent it to New Orleans to be copied.
The dress in the collection is a replica of that ball gown, which was presented to the collection by the Colonel George Moffett Chapter of the Daughters of the American Revolution in Beaumont, Texas. The dress is made of white satin with tiny red flowers scattered over the full skirt and feathered red birds nestling among the puffs of the skirt over-drape. At the waist of the fitted bodice is a red velvet belt with an ornamental buckle and a bird at the center of the neckline. The costume is finished by a bird atop the coiffure.
We made the Governor's Mansion a cheerful, bright home and we loved to have our friends enjoy it with us — our house was always open to visitors." — Francis R. Lubbock, Lubbock's Memoirs
Page last updated 10:30 AM, March 29, 2019