Communication sciences student attends class via "robot"
Communication sciences graduate student Margie Crow attends class taught by associate professor Chad Smith via a "robot." Photo by: Michael Modecki
Technology came to life in a whole new way for Margie Crow this summer, as the Texas Woman's University graduate student was able to use a "robot" to interact with her professor and classmates face-to-face, despite being 90 miles away from Denton.
Crow, who is a full-time public school teacher and a mother of two, lives in Rosser, Texas. She used the Double Robotics Telepresence Robot technology to control the TWU "robot" via an iPad to take the master's level American Sign Language for Adapted Physical Education course this summer.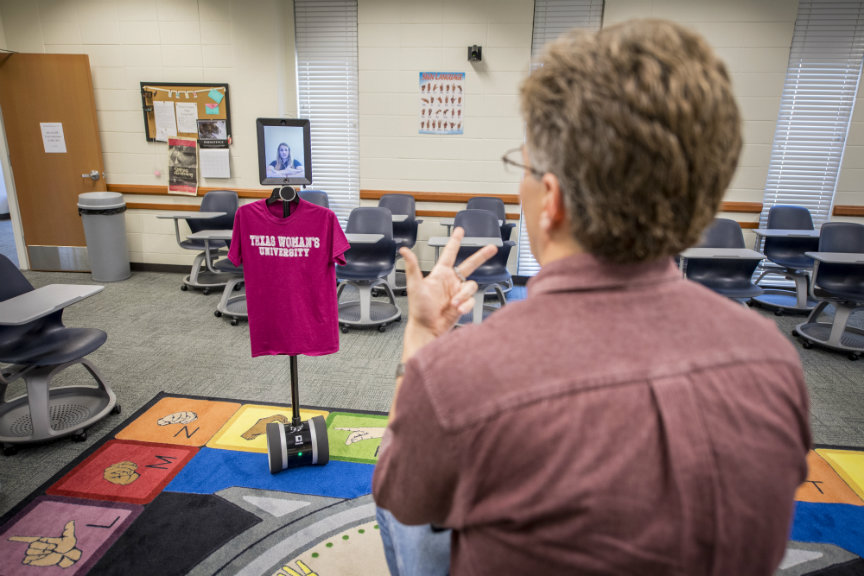 "I found taking the class via the robot an innovative way to learn and help me refresh my sign language skills," Crow said. "I was able to interact with my peers on a personal level both face-to-face and side-by-side."
She added, "I was truly a part of the class, because I actually had a presence, not just a name on a discussion board."
Chad Smith, Ph.D., TWU associate professor of communication sciences and disorders, taught Crow via the "robot."
"As a teacher of the deaf, being able to provide new opportunities for students who are deaf or hard of hearing and their teachers is exciting," Smith said. "Being able to explore new opportunities for providing services to such students is every teacher's dream."
Smith plans to use the "robot" as part of another graduate level course he is teaching in the fall. It also will be part of TWU's Future Classroom Laboratory that opens in August. The $3,000 "robot" was acquired via Target funding from the TWU Provost's Office and will be available across disciplines at the university. TWU hopes to secure future funding for more "robots."
"I am grateful to Texas Woman's University and Dr. Smith for allowing me the opportunity for an amazing experience. I will be forever grateful and will most likely tell my 'robot story' for years to come," Crow said.
Media Contact
Staff Reporter
940-898-3456
Page last updated 4:14 PM, September 26, 2018