Grad's focus on mental health was impetus for podcast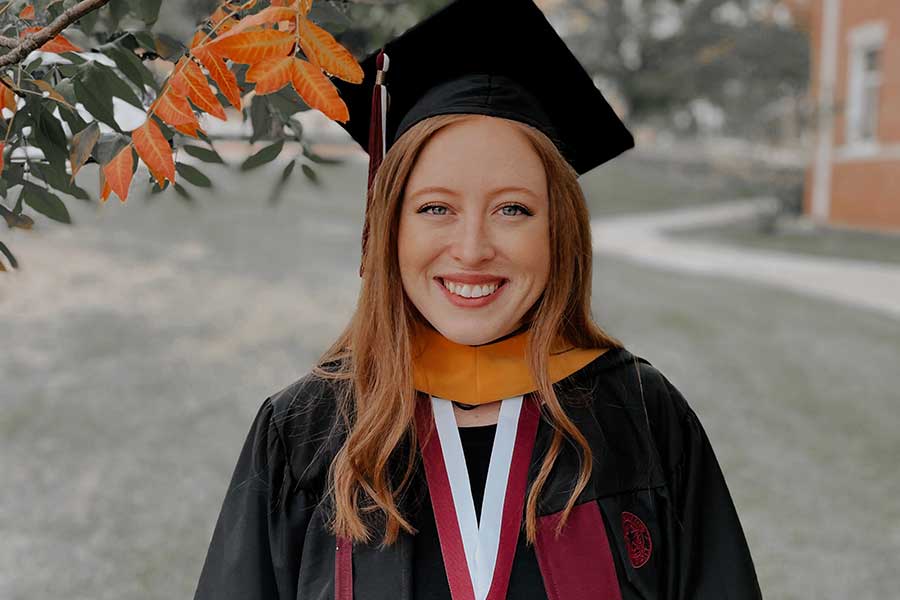 Lauren Sepulvador received a Master of Science in Counseling and Development with an emphasis in Clinical Mental Health Counseling. She was inspired to study mental health out of a desire to help others.
Lauren chose TWU partly because the professors prioritize relationships. At TWU her professors knew her by name. In addition, the flexibility of night and online classes allowed her to work full time.
Not only did Lauren succeed at TWU, she thrived. Lauren is graduating with a 4.0 GPA. She has served as Social Media Chair on the Graduate Student Council since fall 2020. She is a member of Chi Sigma Iota's TWU chapter and the Alpha Rho international honor society for students in counselor education programs.
With a goal of lessening the stigma of mental health, she launched the Connections Chat podcast as a graduate student. Each weekly podcast features a different mental health professional and the messy human experience we call life. The podcast has had nearly 4,000 downloads.
Lauren plans to work in mental health and continue to host the podcast and spread the word about services, treatment, and normalizing getting help for mental health.
Media Contact
Matt Flores
Assistant Vice President, University Communications
940-898-3456
mattflores@twu.edu
Page last updated 10:31 AM, December 16, 2022