Another TWU Holmes Scholar gains national recognition
June 28, 2023 — DENTON — The Texas Woman's University Holmes Scholars in the College of Professional Education continue to represent the university well at the national level. After Phyliciá Anderson was named a Holmes Scholar of the Month in October, Blanca Jurado received the honor for May from the American Association of Colleges for Teacher Education (AACTE).

"It was a very welcoming surprise to be given this honor because I am constantly amazed at how much my Holmes colleagues are accomplishing in the educational world, and to be a part of that has been truly rewarding," Jurado said.

Throughout the summer, Jurado, who is pursuing a PhD in Literacy, Language and Culture, will be presenting research at various conferences focusing on bilingual education and meeting the needs of students from historically marginalized communities. She looks forward to continuing to present in the fall as well.

In more than 13 years in education, Jurado was an elementary English language arts, bilingual and gifted and talented teacher. While she pursues her doctoral degree, Jurado is the bilingual academic specialist and interventionist for the Irving Independent School District..

She says that opportunities provided by the Holmes Scholars program have completely changed her career trajectory.

"As a first-generation college graduate, I felt at one point in my life that what I'm accomplishing now was just a dream. But with hard work and dedication I have been able to strive toward achieving my goals," Jurado said.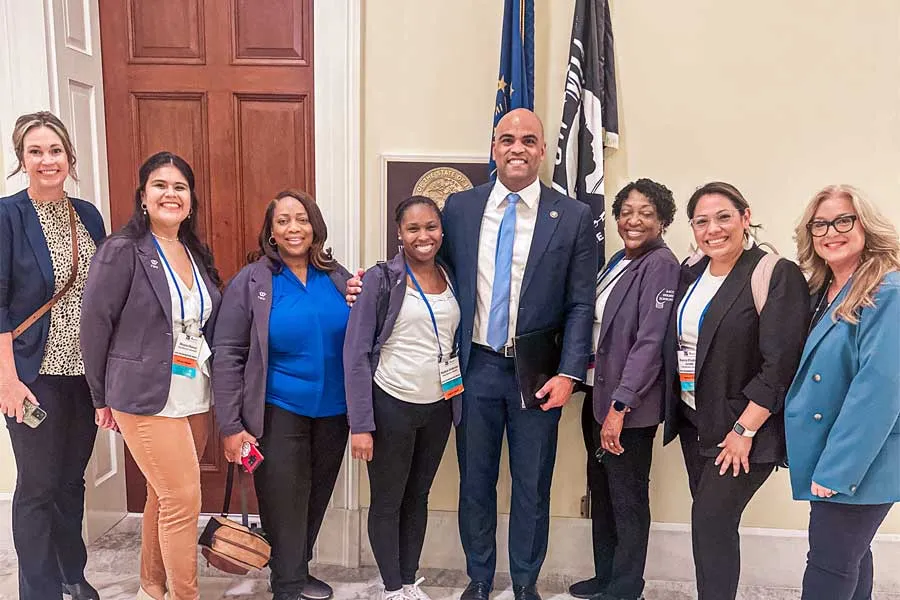 Along with the rest of the TWU Holmes Scholars, Jurado traveled to Washington, D.C., for an AACTE legislative conference known as Washington Week. It bundled three separate events — State Leaders Institute, Holmes Policy Institute, and Day on the Hill — into one mini-conference for attendees. The TWU group was able to meet with U.S. Representative Colin Allred.

"After visiting Capitol Hill and speaking to the assistants and aides of representatives that can have an impact on teacher pay, teacher prep programs and teacher retention, I feel more empowered than ever and ready to do the work," Jurado said.

As she continues to pursue her goal of becoming a university professor, Jurado marvels at the opportunities being a Holmes Scholar provides her.

"I have been granted opportunities that will help me continue the fight for educational freedom for those who don't have a platform to speak about this," Jurado said. "I have met people within AACTE that inspire me to be a better advocate every day and strive to educate others about making a difference in the educational field."

Jurado is part of the 2022 cohort of TWU Holmes Scholars. The Holmes Scholars program, sponsored by AACTE, supports racially and ethnically diverse students pursuing graduate degrees in education by providing mentorship, peer support and professional development opportunities.

TWU is the only woman-centric university participating in the program to date and supplements support with a grant from the Jane Nelson Institute for Women's Leadership.
Page last updated 9:45 AM, October 2, 2023