TWU students place second in Kinesiology Student Bowl competition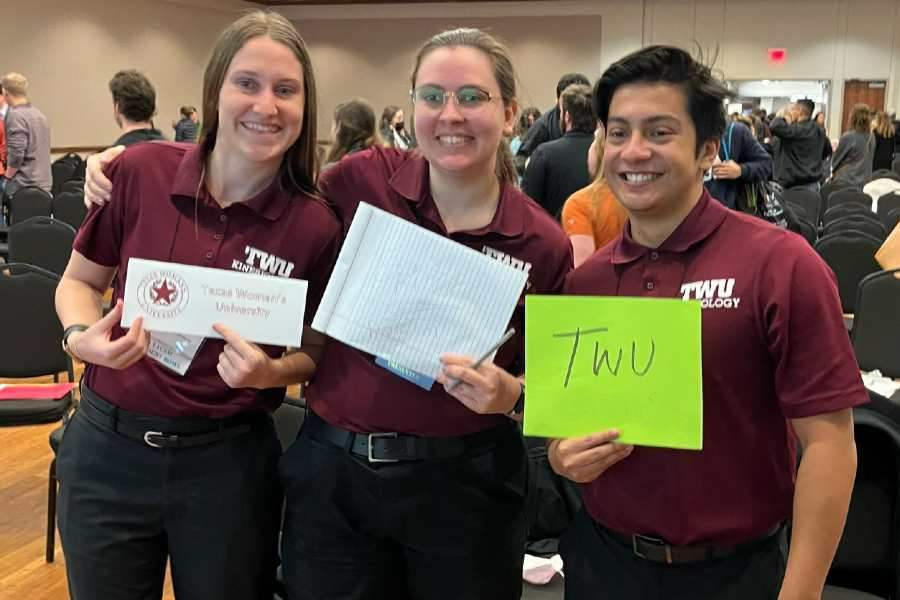 March 23, 2022 – DENTON – A Texas Woman's team comprised of three School of Health Promotion and Kinesiology students demonstrated impressive knowledge and placed second overall in the Kinesiology Student Bowl during the Texas Chapter of the American College of Sports Medicine (ACSM) 2022 Meeting in February.
TWU kinesiology majors Keely Chapman (Norman, Oklahoma), Brittany Rust (Omaha, Nebraska) and Eduardo Urias (Bedford, Texas), all graduating May 2022, faced off against more than 20 teams, including those from Texas A&M University, the University of Texas, Baylor University, Texas Christian University and the University of North Texas.
The Kinesiology Student Bowl, held in person in Waco, Texas, this year, is a quiz bowl competition involving teams of undergraduate students answering questions from various aspects of exercise science, including, but not limited to: anatomy, cardiovascular physiology, neuromuscular physiology, endocrine physiology, exercise physiology, clinical exercise physiology, environmental physiology, respiratory physiology, pathophysiology, biomechanics, nutrition, pharmacology, health/fitness/wellness, strength/conditioning, EKG, exercise testing/prescription and a category called Giants: Pioneers in the Field.
TWU has participated in this competition the past few years, and this year's team tied for the highest finish. It is all the more impressive since the team only had a few weeks to prepare.
"This team was put together just a few weeks before this competition," said Rhett Rigby, PhD, associate professor and faculty sponsor. "Typically, students that compete spend months practicing and reviewing material. Some universities even have a specific class students enroll in just to prepare for this event. Our students studied on the trip down to Waco to compete. It really is a testament to how intelligent they are—to be able to compete and defeat much larger programs from UT, A&M, UNT and others. I am extremely proud of them."
"We are proud of our performance. Being a student athlete, I am competitive, so it was fun to beat all the big Division I schools!" - Keely Chapman
"I was honored to be there, and I couldn't imagine being successful without some great teammates!" - Brittany Rust
"This was a fun and rewarding experience, and I enjoyed competing with my teammates and showing the larger schools that we could do just as well if not better than they did." - Eduardo Urias
Media Contact
Ray Willhoft
Director of Communications, Jane Nelson Institute for Women's Leadership
940-898-4584
rwillhoft@twu.edu
Page last updated 3:37 PM, March 23, 2022