TWU physical therapy adjunct selected for leadership program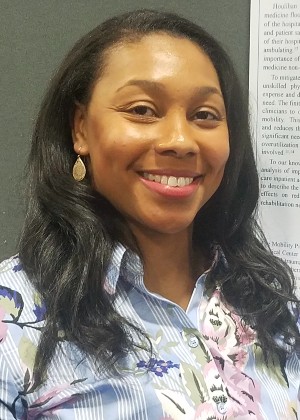 Texas Woman's School of Physical Therapy adjunct faculty member Emelia Exum, DPT, who teaches at the TWU T. Boone Pickens Institute of Health Sciences - Dallas Center, was selected to participate in the American Physical Therapy Association (APTA) Centennial Scholars Program.
The APTA Centennial Scholars Program is designed to build a cadre of future association leaders at both the chapter/section/academy and national levels. The 12-month program will run throughout 2021 with a goal of engaging 100 scholars, including the goal of at least one scholar sponsored by each of APTA's chapters, sections and academies. The curriculum will cover association leadership and management topics and be delivered through three face-to-face meetings and regularly scheduled virtual learning experiences.
Additionally, scholars will work directly with their sponsoring chapter/section/academy to design and complete a capstone project that addresses an existing need as determined by the sponsor. Scholars will also benefit from the guidance of Centennial Scholar mentors who will work directly with the scholars in small groups to support the completion of their projects.
"I applied for the Centennial Scholars Program because I believe in planning for the future today," said Exum. "This program will allow me to learn from those who are making decisions and position me to be an advocate for change as the association moves forward into the next 100 years. The program has a capstone project that will focus on expanding and developing virtual and online education within the Academy of Acute Care. I am passionate about both education and the acute care setting, and I am hoping to be on the forefront of where acute care education is going and bring that information back to TWU to help enrich our already successful doctoral program."
Media Contact
Ray Willhoft
Director of Communications, Jane Nelson Institute for Women's Leadership
940-898-4584
rwillhoft@twu.edu
Page last updated 1:55 PM, October 29, 2020