TWU PhD student uses research fellowship to assist underserved populations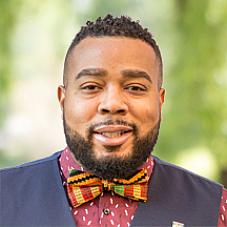 With a passion for providing care to underserved populations, Texas Woman's doctoral candidate Daytheon Sturges (health studies) plans to advance justice, equity, diversity and inclusion in medicine. His recent selection as a recipient of the 2020 Breitman-Dorn Endowed Research Fellowship will help, along with his education, research funding and work experience as a physician assistant (PA).
Sturges, who hails from Haynesville, Louisiana, and currently lives in Seattle, Washington, maintain his focus on this endeavor. A PA since 2008 and a PA educator since 2013, he works as an assistant professor at the University of Washington – MEDEX Northwest PA program, serves as the Justice, Equity, Diversity, and Inclusion chair for the Department of Family Medicine and maintains a clinical practice in family medicine within the UW system. He also serves as the chair of PAEA's Diversity and Inclusion Mission Advancement Commission, as a Faculty Skills 101 Workshop facilitator and as the Cultural Perspectives editor for the Journal of Physician Assistant Education.
Sturges had his co-authored article, "Diversity and Inclusion-Centered PA Programmatic Response During the COVID-19 Pandemic," published by the Physician Assistant Education Association (PAEA), and his proposal, "Toward Health Equity: Social Determinants of Health and PA Education," accepted to the 2020 PAEA Education Forum.
In addition to completing his Post-Baccalaureate Certification in Interprofessional Informatics Program at TWU, Sturges was inspired to apply to the PhD in Health Studies program because of its hybrid format and the curriculum that incorporates higher education topics into the field of health promotion and health education.
"There is a heavy emphasis on health disparities and social determinants of health, which informs my research interests," he said. "I have enjoyed the cohort structure and the relationships I have forged with my classmates, faculty and staff. I have also enjoyed the challenge to relate our research to the most vulnerable populations in order to achieve better health outcomes and promote prevention in population health."
Sturges' research is focused on perceived burnout in underrepresented minority physician assistant educators in the U.S. The $4,000 cash award from the Breitman-Dorn Fellowship will help support and fund some of his efforts.
"My goal is to triangulate quantitative and qualitative data to inform much needed health interventions addressing burnout in academic medicine," he said. "This fellowship will allow me to acquire the licenses needed for the data collection tool needed to assess burnout. It also provides funds that help with recruitment by allowing the purchase of incentives for the semi-structured interview participants. There is also the possibility to seek a professional review of my data analysis by a statistical consultant. This research is much needed as there is an existing gap regarding burnout in underrepresented minority physician assistant educators."
Sturges plans to use his education and experience to further his career path, while still doing what he loves—helping others.
"My near goal is to become a director of a physician assistant program," he said. "My future goal is to become a dean in an academic medical institution, while still continuing to serve my patients as a primary care physician assistant."
Media Contact
Ray Willhoft
Director of Communications, Jane Nelson Institute for Women's Leadership
940-898-4584
rwillhoft@twu.edu
Page last updated 4:22 PM, June 8, 2022