TWU occupational therapy graduate finds more than just an education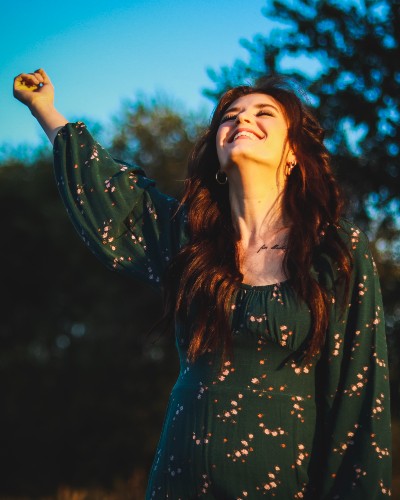 November 16, 2021 – DENTON – Texas Woman's is known as the "campus with a heart" for the care and attention given to each and every student, especially when those students, like December 2021 MOT graduate Sommer Moreno, find themselves balancing their education while starting a family.
Originally from Canyon, Texas, Moreno earned her BS in psychology, with a minor in kinesiology, from West Texas A&M University. Going into occupational therapy was a natural progression for her, and TWU proved to be the perfect place to study it.
"I chose occupational therapy because it combines my passions of physiology and psychology," she said. "In OT, there is the ability to utilize a human's preconditioned capabilities to solve and adapt environments to their success in creative and out-of-the-box ways. I chose TWU because during my interview I laughed and left inspired, which is not the norm."
Texas Woman's also provided Moreno with unexpected support when she put her educational goals on hold while starting a family.
"My son was born a year into my OT curriculum, and not once was I made to feel burdened or shameful by getting pregnant during this time in my life," she said. "I got to take the best year of my life off to get to know and heal with my tiny human. All the OT professors kept in touch with me and checked in on me, and I re-entered the program seamlessly. I really do not know another school with this caliber of care."
At TWU, Moreno, who was among the last group of MOT students to matriculate since the degree launched in the 1960s, also found opportunities to put into practice the education she received in the classroom. She, along with a group of her peers, facilitated a group series at Cumberland Children's Home to support the children and young adults within the foster care system through a variety of activities that promoted skills development and mental health. They created fun and engaging group activities that translated to real-world application, especially for the young adults who were about to age out of the foster care system. These activities included finding and using the transportation system, all aspects of higher education and postsecondary opportunities, documentation, money management, creating resumes, communication and seeking resources.
"Working with the youth was a humbling experience," she said. "As a student in higher education, you may have faced many challenges and roadblocks, but you still had resources and the knowledge on how to access and utilize those resources to get through. Many of the youth are not afforded the same skills and background knowledge due to the fact of just surviving and trying to meet all physiological needs, including safety. In many ways, it is heartbreaking and baffling that many kids are released out of the foster care system with so little tools, based on what I have witnessed and researched. But, to be able to get in those spaces and provide education on the instrumental activities of daily living is one of the best aspects of occupational therapy."
After graduation, Moreno plans to take her licensing exam and step into the workplace as a contributing team member.
"I am ready to use my education and clinical experience to impact the lives of others, and of course earn a great salary as well," she said.
But more importantly, she can look back upon her time at the university and celebrate the many ways she has grown.
"I have spent this season of pursuing my master's degree, becoming a mother and growing as a wife and Christian to learn how to heal and accept love from the many parents in my life. I have been loved, nurtured, sacrificed for, hurt by, disappointed by and ultimately chosen by each of them at different points in my life. I wouldn't be who I am without them, and they make me unique."
Undoubtedly, Moreno will take the same care that she received from Texas Woman's and her family and utilize it in every aspect of her future career, with her patients all the better for it.
Media Contact
Ray Willhoft
Director of Communications, Jane Nelson Institute for Women's Leadership
940-898-4584
rwillhoft@twu.edu
Page last updated 8:50 AM, November 16, 2021