TWU inspires high school students with virtual biomechanics events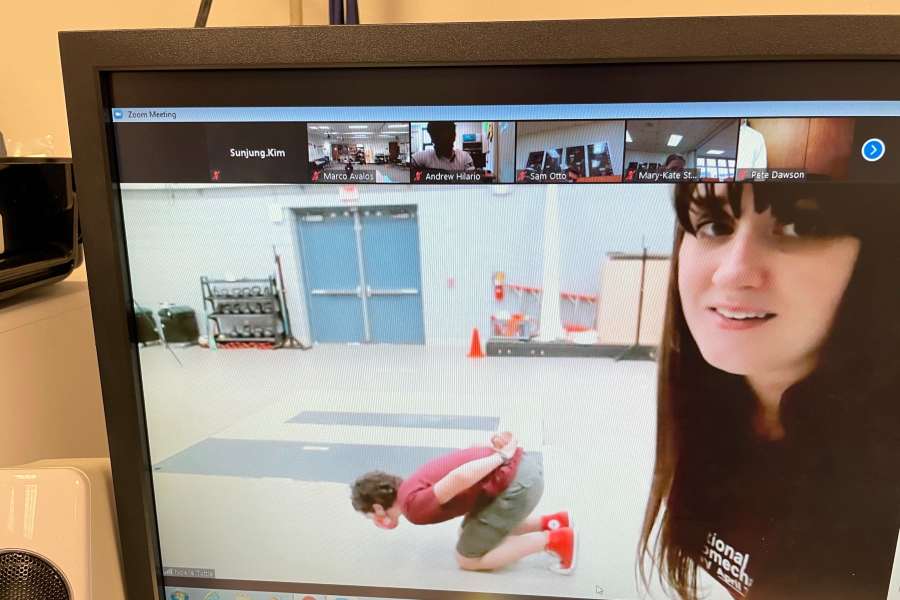 May 19, 2021 – DENTON - For the past few years, Texas Woman's biomechanics and motor behavior graduate students have participated in National Biomechanics Day (NBD), an annual event designed to introduce high school students to the field of biomechanics. Though the 2020 events were cancelled due to COVID-19, TWU came roaring back this April with virtual events to both educate and inspire future researchers.
Biomechanics, the study of the mechanical laws relating to the movement or structure of living organisms, is a relatively new field of science, so many high school students have not heard of it and do not realize that it is an option for a career. In order to change that, TWU students have gone to local schools to teach a day of biomechanics, as well as held in-person learning events on campus.
"Our goal is to introduce the major concepts, as well as potential careers within the field," said doctoral candidate Noelle Tuttle, who has organized many of the events. "It also is important for our participation to practice our teaching skills, share our passion for biomechanics and to inspire the next generation of biomechanists. And it's a great way to promote TWU to high school students."
The graduate students, assisted by undergraduate research interns, set up stations around the lab area where they teach a mini lesson and then perform demonstrations of the equipment. They have done arm wrestling and push-up contests with electromyography, leg strength assessments, balance challenges and even had light-saber duels using 3D motion capture. TWU also won awards through NBD for Best Content in both 2018 and 2019.
Since all NBD events were cancelled last year due to the pandemic, TWU did not want to let another year pass without hosting something and wanted to find a way to continue its high school outreach and get more students involved. The solution was to go virtual, so TWU partnered with the Rosalind Franklin University of Medicine and Science CLEAR lab in North Chicago as co-hosts of the events. TWU biomechanics alumnus Marco Avalos, MD, PhD '20, had recently joined their lab, but they had never hosted their own NBD event.
"Since the event was virtual, we figured this was a great opportunity to team up and create a larger outreach program," said Tuttle. "Our biomechanics program at TWU is more sports/performance oriented, while the lab at RFU is more clinically based, so we were able to provide a very well-rounded approach to biomechanics."
Tuttle and undergraduate research assistant Nahir Negron-Fernandez served as the TWU hosts, after TWU Professor Young-Hoo Kwon, PhD, Tuttle's advisor, approved the applications and the school's participation. They focused the events, held on April 7, on "Biomechanics at Home," finding ways to implement biomechanical concepts into movements that did not require high-end equipment. They created packages to send to each participating school that included goniometers, commemorative coasters and smarties, which were all used during the activities. They also included informational packets about both schools, as well as TWU stickers and pens.
Two separate events were held in order to accommodate school schedules, as well as keep the number of screens low so all participants could be seen. Each event lasted two hours and included learning modules: Range of Motion, Motion Capture, Center of Mass, Balance, Gait and Velocity Components. Each module consisted of a 5-10 minute "lesson" and then 5-10 minutes of activities, which included measuring range of motion, finding your center of mass, balance activities, walking tasks and changing velocity components. Around 45-50 students and faculty from five schools in Illinois and Delaware participated. Several Texas schools were invited but were not able to participate due to the STAAR testing that was taking place.
"It was a fully interactive experience from the comfort of their own homes or schools," said Tuttle. "We had over 50% participation from females, and all students left with a better understanding of biomechanics and said they would recommend the event to their friends."
In order to support NBD events this year, the National Biomechanics Initiative offered several grants. Tuttle applied for and was awarded the National Biomechanics Day Outreach for Women in Biomechanics Day grant, funded by the International Society of Biomechanics, which provided $1,000 to be used for NBD funds and conference fees for the International Society of Biomechanics 2021 conference. Tuttle decided to use the funds that were not reserved for conference fees to purchase supplies to send to the virtual NBD participants.
Though it proved to be a challenge, hosting the virtual NBD events allowed TWU to reach schools that never would have been able to participate in its usual in-person events. And for Tuttle, being able to inspire future generations, particularly female students, made it all worthwhile.
"While it was a challenge to transition this event to a virtual format, it allowed us to be creative and emphasize the fact we all use biomechanics every day without realizing it," she said. "It explains how you move and why you move, and it allows your movements to be efficient and safe. The best part is when you can see the concepts click for a student; when they realize that they can apply these principles to running faster or jumping higher. It was a challenge to coordinate schedules and involve multiple labs, but we have so much fun with this event each year and truly enjoy sharing our love of biomechanics with the next generation."
Media Contact
Ray Willhoft
Director of Communications, Jane Nelson Institute for Women's Leadership
940-898-4584
rwillhoft@twu.edu
Page last updated 9:38 AM, May 19, 2021