TWU graduate gains experience and skills by creating international youth program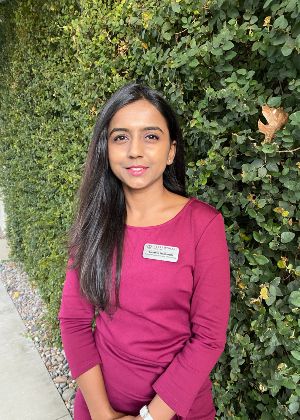 Texas Woman's summer 2020 graduate Sandhya Manjunath (MS in Kinesiology - Sport Management) hopes to one day introduce sport management programs across the nation in India. Thanks to the education and experiences she received from TWU, she is on track to make that dream a reality.
Manjunath, who is from Bangalore, India, earned her bachelor's and master's degrees in commerce from St. Joseph's College and Jain University, respectively, in India before moving to the United States in 2018 to continue her education. In India, there is no formal education for sport management, but Manjunath found exactly what she was looking for at TWU.
"When I visited TWU to inquire about the sport management program and career opportunities, the faculty made me feel like this was the place for me," she said. "TWU has a rich history of leadership, and I wanted to be a part of it. I have never felt like an outsider at TWU, which was my initial biggest fear of moving to the U.S."
In addition to serving as a graduate assistant at TWU, Manjunath spearheaded an international youth sports tour for several Indian students with the Dallas Mavericks last summer. She first came up with the idea after attending a coaches clinic conducted by the Dallas Mavericks in November 2018, where she had the opportunity to meet Head Coach Rick Carlisle and Assistant Coach Jenny Boucek, among the other coaching staff.
"In a quick talk after the clinic, the idea of having Indian players come over to the U.S. struck me," said Manjunath. "I reached out to Dallas Mavericks Youth Basketball Director Ben Hunt, and we set up some meetings and finalized the whole program."
The International Basketball Exposure Program (IBEP), as it came to be called, enabled eight students from India, ages 12-17, who were interested in the sport of basketball to travel to the United States to gain international experience with well-established basketball leagues and programs.
For 30 days, the students attended multiple camps conducted by institutions and organizations affiliated with the NBA and NCAA, including the UT Arlington Basketball Camp, Mavs Academy Hoop Camp and All-American Showcase. They also had opportunities to meet renowned athletes, including Jose Juan Barea and Buddy Hield, among others. Additionally, they were able to tour NASA in Houston and explore the River Walk in San Antonio.
And the students learned so much more than just basketball.
"The IBEP fostered an inclusive collaborative environment where the students were exposed to potential friendships, common goals, institutional support and intergroup cooperation," said Manjunath. "Most of them had never boarded a flight before, so every experience in this program was new for them."
TWU also was involved in the program. School of Health Promotion and Kinesiology Associate Director Gwen Weatherford, PhD, hosted a dinner for the students, and TWU Head Basketball Coach Beth Jillson, Assistant Coach Jake Stevens and former Assistant Coach Kailey Radar gave a talk about TWU basketball on campus.
The entire experience proved invaluable for Manjunath. She is currently pursuing her PhD in Kinesiology at TWU and is incorporating the participants' experience of the program into her research. She remains grateful to TWU for providing her with the skills she needed for leading such a large project, as well as the continuous support she has received.
"I wouldn't have been able to take on this program without the knowledge I acquired from the TWU master's program and the unconditional support from its faculty," she said. "The opportunities and moral support TWU has provided me have been excellent. From helping me find internships in my field of interest to supporting my ideas of new programs, the TWU faculty have become my family miles away from home."
Manjunath will take everything she has learned with her when she eventually returns home to India to create sport management programs. No doubt she will accomplish everything she sets out to do.
Media Contact
Ray Willhoft
Director of Communications, Jane Nelson Institute for Women's Leadership
940-898-4584
rwillhoft@twu.edu
Page last updated 4:06 PM, December 7, 2020