TWU alumna creates program to bring fitness to local communities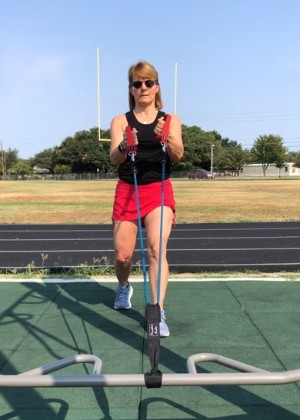 As a physical therapist, Texas Woman's alumna Patsy Shropshire (BASc '84), PT, DPT, CEEAA, focuses on the health and wellness of her patients. She is now expanding that focus by transforming high school tracks into community wellness areas, ensuring that everyone has the ability to make fitness a part of their lives.
Originally from Pittsburgh, Shropshire grew up in Houston, where she developed an interest in physical therapy and fitness at an early age.
"I think my interest in physical therapy began as a kid when I watched some therapists doing incredible work with folks with muscular dystrophy," she said. "Also, I grew up swimming competitively, so I had firsthand experience in the physical and emotional benefits of daily healthy movement."
Shropshire was attracted to TWU's physical therapy program due to its excellent reputation, which proved to exceed her expectations.
"When I look back at my time at TWU, what sticks out most in my mind are the incredible teachers and professors," she said. "One in particular, Dr. Bill Gould, who taught Human Gross Anatomy, was so patient with us and put in so many extra hours making sure we understood exactly what we were seeing. He always related the anatomy to what we would be seeing someday in the clinic, so it was super interesting."
After graduation, Shropshire began her career as a physical therapist, working in several clinics and institutes, but eventually she decided to work in the community, advocating for prevention, wellness and fitness. She created WWB Wellness, a community wellness program geared for women primarily in their 50s, 60s and 70s. With this program, 20 women come together 3-4 days a week for exercise, wellness education and support/camaraderie. They work on strength, endurance, flexibility, posture, balance, agility and coordination. They also host occasional social fun runs to benefit local charities.
"I have four kids, and when they were young, a few moms expressed interest in working out with me," Shropshire said. "So, this community wellness program just naturally grew out of those early gatherings."
Shropshire's work in the community and her passion to improve the health of others led to her most recent venture, The Wellness Connection at W.T. White High School in Dallas. The project sought to tackle two issues at once—improve a local school's facilities and create a space for people to exercise to combat the growing diseases caused by a lack of physical activity.
"According to the U.S. Dept of Health and Human Services, more than 80% of adults and adolescents do not get enough physical activity, and obesity-related conditions, including heart disease, strokes and certain types of cancer, are related to lifestyle," Shropshire said. "However, if lifestyle created it, then lifestyle can improve and heal it."
As Shropshire discovered, a public high school track is a perfect setting for exercise since there are no traffic, potholes or distractions. Plus, it is measured, so exercisers can easily track their distance and jogging or walking speed. They also receive the added benefit of being outdoors and getting fresh air and sunshine, which is an important part of physical and emotional health.
Shropshire raised funds for the project through neighborhood events such as fun runs and breakfasts, along with contributions from several generous donors. With the money, the high school track received a much-needed makeover, including adding a safety sports surface area, strength-training equipment and new fencing, transforming it into a welcoming wellness area for community members.
"It was a win-win," said Shropshire. "For the school, it was a campus improvement. It gained an ideal gathering spot for PE classes, sports teams and staff development. And during non-school hours, the community now has a free outdoor gym."
And the community is taking full advantage of the new space, especially as the coronavirus pandemic continues to put limitations on indoor gyms.
"I'm most proud of the fact that The Wellness Connection is being used pretty extensively," said Shropshire. "In fact, some early morning times find it really filled with exercisers."
Shropshire's ultimate goal is to expand the project to other schools, using W.T. White High School as a prototype. She is receiving interest from several communities and is focused on finding grants to create more Wellness Connections. Her efforts have been aided by the tireless work of Dr. Dan Dunaway, a physician who lives the motto "Exercise is Medicine."
"There are some wonderful programs out there, funded by grants, which transition public elementary school playgrounds into vibrant, beautiful community parks open to the community during non-school hours," she said. "Transitioning public high school tracks into community wellness areas is just an extension of those successful programs, and I believe they are grant worthy as well."
For Shropshire, the hard work all comes back to the importance of getting people exercising and living healthier lives. As with her fellow physical therapists, improving the health of society is at the core of her profession.
"The overall health of our society is not good, and most of our healthcare dollars go to treating conditions that are purely lifestyle related," she said. "An important part of the answer must address our lifestyles, primarily a lack of physical activity and poor nutrition habits. Physical therapists are the perfect professionals to address these issues."
With her drive and motivation, Shropshire is ready to do just that, one track at a time.
Media Contact
Ray Willhoft
Director of Communications, Jane Nelson Institute for Women's Leadership
940-898-4584
rwillhoft@twu.edu
Page last updated 9:08 AM, December 15, 2020