The Ingredients for Success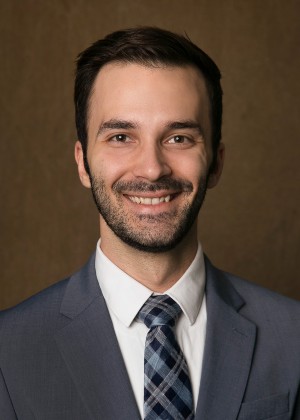 TWU nutrition faculty member brings his passion from the kitchen to the classroom
June 14, 2021 – HOUSTON – Texas Woman's Nutrition and Food Sciences Assistant Professor Derek Miketinas, PhD, is passionate about many things in life, but three main ones have guided his career – food, teaching and research. Working at TWU has enabled him to pursue all of them, and national organizations are taking notice of his work.
Originally from Long Beach, Mississippi, a small town along that state's Gulf Coast, Miketinas always had a passion for food, thanks in part to his father.
"My dad taught me how to cook as a kid and would let me experiment in the kitchen," he said.
That ignited a life-long interest that Miketinas continued to pursue into high school and college.
"In high school, I became interested in nutrition after reading a book on sports nutrition from a registered dietitian," he said. "During my undergraduate studies, my interests shifted toward nutrition and disease in especially vulnerable populations."
Having been inspired by his own professors, Miketinas decided to pursue a career in teaching to help develop the nutritional interests of others.
"My professors were instrumental in shaping my education and nurturing my passion for nutrition and research, and I can't think of anything more fulfilling than educating others in my field," he said. "I enjoy most when students engage in the classroom and become excited for research and learning."
Miketinas also enjoys TWU's support for faculty research, and the TWU Institute of Health Sciences - Houston Center's location in the Texas Medical Center is another great advantage.
"I love the campus and how close-knit the community is," he said. "We have amazing learning and research opportunities for our students in the Texas Medical Center."
Miketinas' research interests include nutritional epidemiology; statistical modeling; dietary assessment; obesity; and dietary predictors of health and disease.
His most recent research, in collaboration with TWU Associate Professor Mindy Patterson, PhD, involves working to assess intake of resistant starch (a type of dietary fiber) in the United States using the National Health and Nutrition Examination Survey (NHANES) datasets. The goal was to examine the relationship between resistant starch intake and cardiometabolic outcomes in adults with diabetes and prediabetes. The last publication on this topic was from 2010, and new research on resistant starch content in foods has since become available, so Miketinas knew the time was right for a new study.
The findings from the study provide compelling evidence that dietary fiber is under consumed in U.S. adults, especially in those who could benefit the most from a diet with adequate fiber content. According to its findings, only 5% of men and 9% of women are getting the recommended daily amount of dietary fiber. Insufficient fiber intake is associated with a higher risk of heart disease and diabetes, two of the most common diseases in the country.
"The results of this study can be used to identify relationships between dietary fiber intake and outcomes of interest like risk factors for heart disease," said Miketinas. "In fact, our preliminary analysis suggests that higher dietary fiber intake in adults with diabetes is strongly associated with reductions in markers for heart and kidney disease. For those with diabetes, it is especially important to eat enough fiber since they are at a greater risk for heart disease."
Miketinas' research is receiving national attention as well. His abstract, "Usual Dietary Fiber Intake in US Adults with Diabetes: NHANES 2013-2018," co-authored with Patterson, TWU Assistant Professor Wesley Tucker, PhD and The University of Texas Medical Branch Associate Professor Crystal Douglas, PhD, was selected as featured research by the American Society for Nutrition (ASN) conference, Nutrition Live Online 2021. Almost 1,900 abstracts were submitted to ASN's virtual conference this year, and only 12 were selected as featured research. Miketinas presented his research in an on-demand poster session June 7-10.
"It was a surprise and an honor to be featured at the ASN conference" he said. "Of course, I find our research interesting, but it is exciting that others within our discipline share this interest."
And Miketinas' passion for his field of study shows no signs of wavering.
"What keeps me studying nutrition and what is most exciting about the field is that it is a relatively young discipline. There is so much to learn and so much more to discover still."
Page last updated 1:39 PM, June 14, 2021