Teaching and testing PT virtually becomes a family affair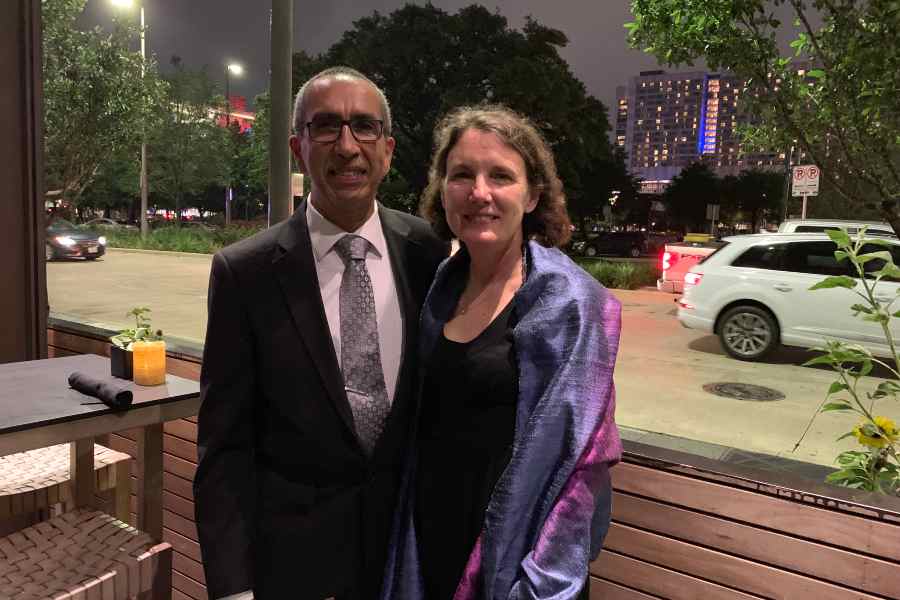 As part of their education, Texas Woman's physical therapy students need to learn and be tested on their skills before they can work hands-on with patients in clinics. The coronavirus pandemic cut that experience short for students this semester, but they still were able to stay on track thanks to the open-mindedness of Houston professor Carolyn Da Silva, P.T., D.Sc., and her husband's willingness to help.
Normally, Carolyn posts video demonstrations of physical therapy techniques on Canvas each year so students in her Neuromuscular Rehabilitation II course can watch and prepare for their own in-class instruction and eventual testing. But videos can only teach so much.
"These are the things you have to practice in real time," said Carolyn. "You can't just watch a video or read a book."
Since in-person instruction was not an option starting in March, the co-presidents of the student cohort presented a creative suggestion that Carolyn demonstrate in real time on her husband, Carlos, who they knew from the Houston campus. Luckily, Carlos was game.
"I was extremely honored to be a part of the mission of moving students forward," said Carlos, who has worked at TWU for 21 years and currently serves as Houston campus operations manager and product experience owner in IT Solutions.
But the idea was not without its challenges.
"We had issues with getting the correct camera angles, and Carlos wasn't familiar with all of the movements," said Carolyn.
Students also faced the additional challenge of not having access to the equipment commonly used in physical therapy to practice with, so they used brooms and mops for crutches, dining room chairs for wheelchairs and even stepstools for walkers.
Carolyn was especially mindful of the students' needs when it came time to testing their skills.
"I wanted to make sure they were doing well, so I asked them how their families were doing and talked to them first to put them at ease."
For the testing, called checkouts, the students instructed Carolyn on the movements to perform on Carlos since they were not able to perform the techniques themselves. Vanessa Juarez, PT, DPT, supplemental learning lab coordinator in Houston, also helped with the students' problem solving and practice time prior to the testing with the assistance of her husband.
"I felt that these checkouts went well," said one student. "It was a little difficult trying to provide instructions to both the patient and the caregiver at the same time and not being there in person to position certain things such as hand placements on the wheelchair/walker/etc., but I felt that these checkouts helped increase my communication skills and my ability to provide clear concise verbal instructions."
"I think that this scenario challenged me to use my words better for instructions to a patient/caregiver," commented another student. "Despite not doing the hands-on skill, it made me give clear and precise instruction to not only help the caregiver perform the skill but also the patient to feel comfortable and confident in my instructions and the caregivers' skills. Also, since Carlos was unfamiliar with PT lingo, it made the scenario more realistic, and he did an excellent job showing concern, asking questions and performing just like a real patient."
But the students were not the only ones who learned from the experience.
"I could see the view from the patients and understood that you have to trust in the health care providers," said Carlos. "I also felt the human part of it. Health care is not just science but compassion. We take things for granted when we are healthy, but we are grateful for the techniques to help us when we are injured."
For Carolyn, this different approach to instruction and testing could continue to be useful in the future.
"We still prefer in-person instruction, but one of the future formats needs to be in telemedicine," she said.
Even though it was a challenge, through it all, Carolyn held fast to what she believes is her primary mission at TWU.
"I want to keep the students healthy, help them learn everything they need to be successful and help them graduate on time so they can begin their careers."
Media Contact
Ray Willhoft
Director of Communications, Jane Nelson Institute for Women's Leadership
940-898-4584
rwillhoft@twu.edu
Page last updated 10:50 AM, May 13, 2020