Scoring on and off the court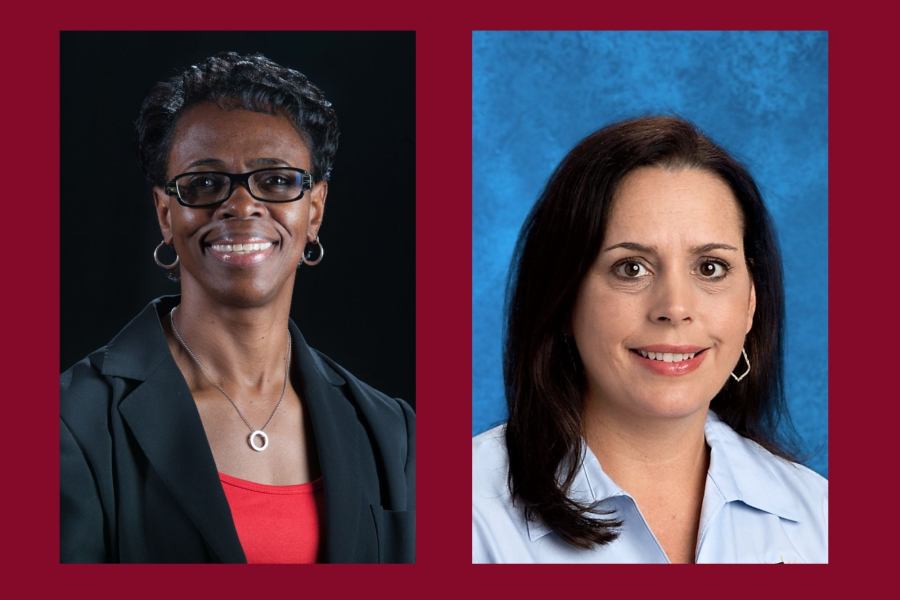 TWU women in sport leadership positions learn to master the game
October 5, 2021 – DENTON – Now, more than ever, women are succeeding in traditionally male-dominated career fields, but they are still underrepresented when it comes to leadership positions in sport management. Two Texas Woman's community members—alumna Lisa Langston, a PhD in Kinesiology with a Sport Management concentration graduate, and current PhD student Grace McDowell—are changing that, bringing hard-earned skills and sheer determination to their leadership positions, while serving as role models for future generations of women.
Finding purpose in sports and discovering a passion for teaching and coaching
"My background as a student-athlete helped me to understand that I belonged in the sports world," said Langston, PhD '10, from Dallas, who was a four-sport athlete in high school and a two-sport athlete at Texas A&M University. "Working out in the same weight room as the A&M male athletes, I settled into a quiet confidence that I belonged. The weight load may have been different, but the efforts were the same."
McDowell, who grew up on an Army base in Fort Leonard Wood, Missouri, before moving to Corning, Arkansas, also discovered the power of sports at an early age and attended college on an athletic scholarship for basketball.
"My junior high and high school coaches had a profound impact on my path," she said. "I am a first-generation high school graduate, and attending college would never have been a goal of mine had it not been for my coaches. They encouraged me and allowed me to see myself through a different lens."
Both women quickly discovered that their love of the game could be used to help others.
"After working a summer basketball camp after my freshman season at A&M, I experienced the utmost joy of helping young athletes develop their basketball skills," said Langston. "That fall, I changed my major from electrical engineering to physical education knowing that I would become a teacher/coach."
"By my junior year in high school, I knew I wanted to teach and coach," McDowell said.
Stepping up to lead
Though they immensely enjoyed their teaching and coaching roles, both women felt they could do more, and pursuing roles in leadership was the way to do it, especially with the encouragement of outstanding mentors.
"While teaching and coaching in Fort Worth ISD, I was approached by the district leadership to consider a new role as an intramural athletic coordinator for Fort Worth," Langston said. "I accepted the position because I felt I could positively impact more student-athletes from an administrator's position. Also, my college coach, Lynn Hickey, was an athletic administrator and an excellent role model. I saw the respect she earned, and I saw her assert her knowledge and perspective that led to tremendous gains for women's athletics and men's athletics at the university."
That first step led Langston to a successful career with Fort Worth ISD, where she currently serves as the director of athletics. Her duties include providing leadership to increase student-athletes' performance, both academically and athletically, and creating opportunities for the professional development of coaches and athletic coordinators.
McDowell had a similar experience.
"I was inspired by my Frisco ISD athletic director, David Kuykendall, to pursue administrative roles," she said. "I saw the impact that he made on coaches, and ultimately our students, and wanted to do the same. He was a great mentor for me."
McDowell currently serves as the athletic director at Frisco ISD, where she oversees athletic programs at 11 high schools and 17 middle schools that serve around 12,000 student-athletes. She also provides leadership, guidance and support for approximately 590 coaches and manages a budget of almost $6 million.
Utilizing the power of continuing education
As most leaders will attest, knowledge is crucial for good leadership, and both women found the education they needed to help them on their paths at TWU.
"When I crossed the stage after receiving my master's degree, I knew I wanted to experience that sensation, that feeling again," Langston said. "I was drawn to the TWU PhD in Kinesiology with a Sport Management concentration program because I would have the opportunity to accomplish my goal of an advanced degree in a concentration that would have a real-life, practical application."
Langston credits the professors and the fellowship with her classmates as the highlights of her experience at the university, and feels the process and the challenge changed her, both personally and professionally, for the better.
"Every project I completed and every research paper I submitted were all related directly or indirectly to my role as an interscholastic athletic administrator," she said. "Thus, I was learning how to be a better manager, a better leader and a better critical thinker."
Langston also proved to be the driving influence on McDowell to enroll at TWU.
"I was sharing with Lisa that I was interested in pursuing my doctorate, and at the time, I wasn't sure whether I wanted to study educational leadership or sport management," McDowell said. "Lisa encouraged me to check out the PhD program at TWU. I took her advice, and the guidance and support I have received from the faculty throughout my coursework has been fantastic."
The education she is receiving also is benefitting McDowell in her current role.
"The personal growth that I have experienced during my time at TWU has helped prepare me to take on this new leadership role," she said. "I learned more about myself through the process, including developing a better understanding of my strengths and areas for growth. The courses I took in the College of Business have been particularly helpful since having knowledge of marketing and finance is crucial for an athletic director."
Overcoming obstacles and inspiring others
Though their leadership journeys were not always easy, both women credit hard work and having a positive mindset as the secret for their success. They remain grateful for the experiences they have had, and they have advice for others, particularly young women, who want to pursue a career in sport management as well but might be hesitant.
"Sport management, especially in my role, is about serving others," Langston said. "The hesitance is minimized when you know your why. Your why leads the way to career fulfillment. Also, it will carry you through tough times or struggles."
"Follow your passion…if this field is something you're passionate about, then go for it!" added McDowell. "Instead of focusing on your limitations, focus on your strengths and on what you bring to the table. Seek opportunities for growth and guidance from professionals in the field."
These two unstoppable women are indeed using their strengths to master the sport leadership game.
Media Contact
Ray Willhoft
Director of Communications, Jane Nelson Institute for Women's Leadership
940-898-4584
rwillhoft@twu.edu
Page last updated 2:22 PM, October 5, 2021