Retired professor's fluke was TWU's good fortune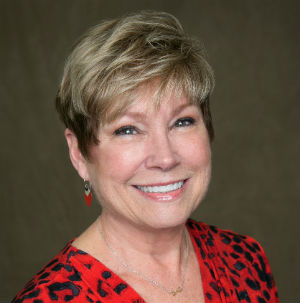 November 7, 2022 — HOUSTON — It might be more likely to hear the word "fluke" associated with sports jargon or a change in luck on the casino floor, but Peggy Gleeson thinks it's an appropriate term for describing the beginning of her academic career.
More precisely, this is how Gleeson notes she got her start in physical therapy: "It was a fluke."
The longtime Texas Woman's professor remembers a high school science teacher telling her about a local college in Missouri that was offering undergraduate scholarships for physical therapy. She wasn't sure what physical therapy was, but she was interested in the medical field so she decided to give it a shot.
Physical therapy is care that focuses on easing pain and restoring movement, and it turned out that Gleeson liked it.
A lot.
So much so, she dedicated a 32-year career to physical therapy. She retired in August of 2022.
Through her leadership, research and scholarly productivity and clinical experience, Gleeson has elevated the national and international visibility of the TWU physical therapy program.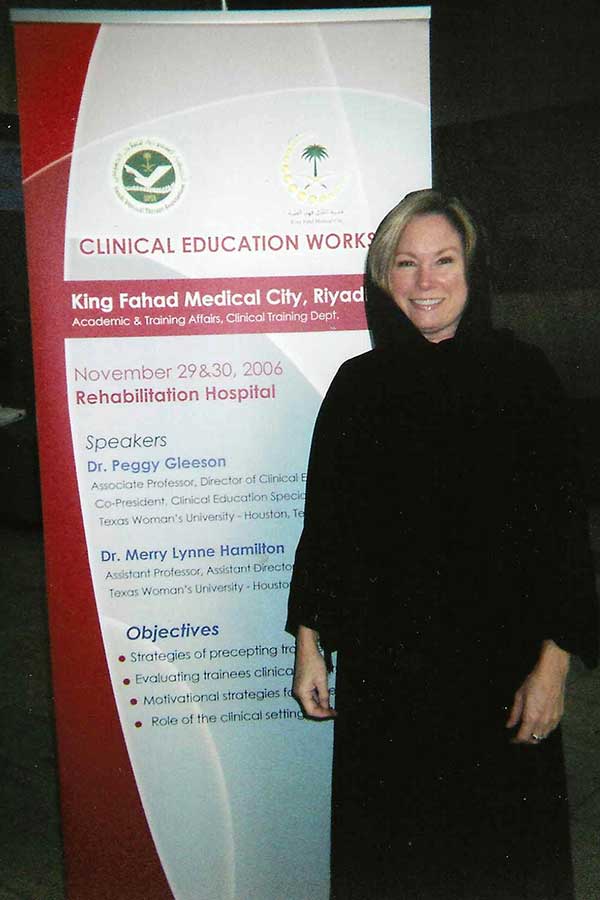 Gleeson spent the last 10 years as the associate director for the School of Physical Therapy in the Houston Center and was the director of clinical education at the campus for the last 24 years. Her extensive resume includes an intimidating list of peer-reviewed manuscripts, research presentations at state and national professional meetings, committee appointments and prestigious awards.
Yet, it was the students that kept Gleeson motivated and coming back year after year.
"The things that kept me in the job were the students and the graduates," Gleeson said. "They are like your family. It is the best faculty job to be able to see students cross over from the classroom and the lab and get into the clinic and come out of it on the other side a different person ‒ a much more capable and confident person. And, to watch them flourish. There is no comparison to that."
Gleeson has grown a sizable database of students that have passed through the graduate PT programs at the Houston Center. The list goes back to the very first students in the program, which she knows is accurate because she was one of them.
After moving to Houston in 1978, Gleeson heard about a brand new graduate PT program at TWU. She became the second person to graduate from the advanced master's degree physical therapy program and the first person to earn a PhD in physical therapy at TWU. The PhD program at that time was one of only five in the country.
Following graduation, Gleeson began to teach at her alma mater, but it was the clinical side that really called to her. As the director of clinical education, she was in charge of all the student clinical rotations. Four times during the Doctor of Physical Therapy program, students get assigned to various clinics all over the country.
"I loved being a part of the transition from the student in the classroom to the clinic to the real world," Gleeson said. "You have these deep conversations with students about what they want to do, where they see themselves. You just get into their lives and they take you with them."
For the last 30-plus years, Gleeson has developed a network of clinical educational sites and clinical educators. She assigned students to clinics, and then her staff would check in at the halfway mark to make sure they were having a positive experience. Sometimes, students stayed and worked in Houston, sometimes they went as far away as Alaska.
Over her tenure at TWU, Gleeson taught or worked with more than 1,500 students. She keeps in contact with as many graduates as she can, even the ones that are reluctant correspondents.
"I really want to know what they are doing," Gleeson said. "I will email them constantly, saying, where did you go? I heard you went here. I saw you published this."
Gleeson and the faculty would go that extra mile and send out hand-written notes of congratulations to graduates when they published research and received awards. She also makes sure she is available to graduates, responding to emails late in the evening about job openings or tracking down articles.
Even in retirement, Gleeson is still responding to students' emails and networking with clinics. As a professor emerita, she assists with clinical education courses and currently serves as chair of the Commission on Accreditation in PT Education, which oversees all PT programs in the United States.
What began as a fluke for Gleeson turned out to be good fortune for TWU and the PT world.
Page last updated 8:50 AM, January 13, 2023