Putting service into physical therapy practice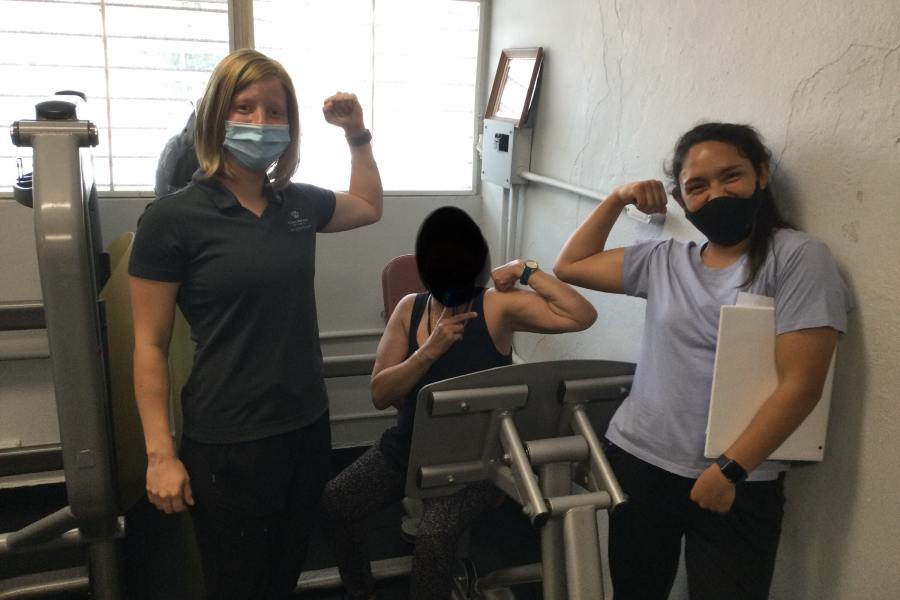 July 6, 2021 – DALLAS - For many Texas Woman's students, there is nothing more exciting and rewarding than putting the education they received in the classroom into real-world practice, especially when it involves serving others. That is exactly what nine Dallas Doctor of Physical Therapy (DPT) students discovered on their service trip to Puerto Rico in May, when they helped those who needed their skills the most.
The two-week physical therapy service trip enabled the students to volunteer with La Perla de Gran Precio in San Juan, which provides shelter, housing, health care, education and rehabilitation to those who are drug addicted and/or HIV+. While there, the students performed PT evaluations and fitness assessments, administered treatment, collected research data and served the homeless by conducting HIV testing, giving haircuts and distributing meals and water.
They also provided lots of tender love and care, according to Martin Rosario, PhD, assistant professor at the TWU T. Boone Pickens Institute of Health Sciences - Dallas Center, who started the service trip. Rosario formerly worked at La Perla de Gran Precio as a physical therapist and currently serves as the clinical researcher there.
"When I moved to Dallas, I started going back to the clinic one or two times per year since 2017," he said. "This was the third year I was lucky enough to motivate students to come with me and volunteer their time and effort for these beautiful people."
Though Rosario actually did not need to do much motivating, since the students were eager to use their skills while helping others. And, they all were changed by the experience.
"I decided to volunteer because providing pro bono services to those in need has been my dream since I was a little girl, and I love helping others," said physical therapy student Brooke Cantrell (Winchester, Kentucky). "I enjoyed getting to hear patient stories and to also treat a subset of patients with HIV with many different presentations. I also learned my biggest lesson, which was from the patients: 'Wake up every day with a smile on your face. No matter what gets you down, keep moving, keep dancing.'"
Physical therapy student Carley Bowman (Ruston, Louisiana) agreed. "The thing I enjoyed most were the people, and the amount of love and selflessness from each person I came into contact with left me speechless multiple times," she said. "At the beginning of the trip, each person was a stranger to me, but they quickly became friends I consider myself fortunate to know in life. They did everything to communicate their gratitude and respect towards us and our willingness to help them. I aspire to be more like my new friends and treat every stranger I meet like my new best friend."
Rosario plans to continue the service trips, which allow him to show his students that there is a great need for their work and the power they have to make a difference in people's lives – something he says he can't teach in the classroom or with a book.
"I love what I do during the semester at TWU; I absolutely adore my teaching and research," he said. "But I can say without hesitation that this service trip is my favorite part of the year. Helping people is why I became a physical therapist. Having students excited by this work makes me hopeful for a better tomorrow, making this experience 1,000-fold better. When I go to the clinic, and I see the smile of my patients, how excited they get because we made them feel they matter, which they absolutely do, it fuels my soul on a cellular level."
Media Contact
Ray Willhoft
Director of Communications, Jane Nelson Institute for Women's Leadership
940-898-4584
rwillhoft@twu.edu
Page last updated 3:06 PM, July 6, 2021