Peterbilt announces support to design team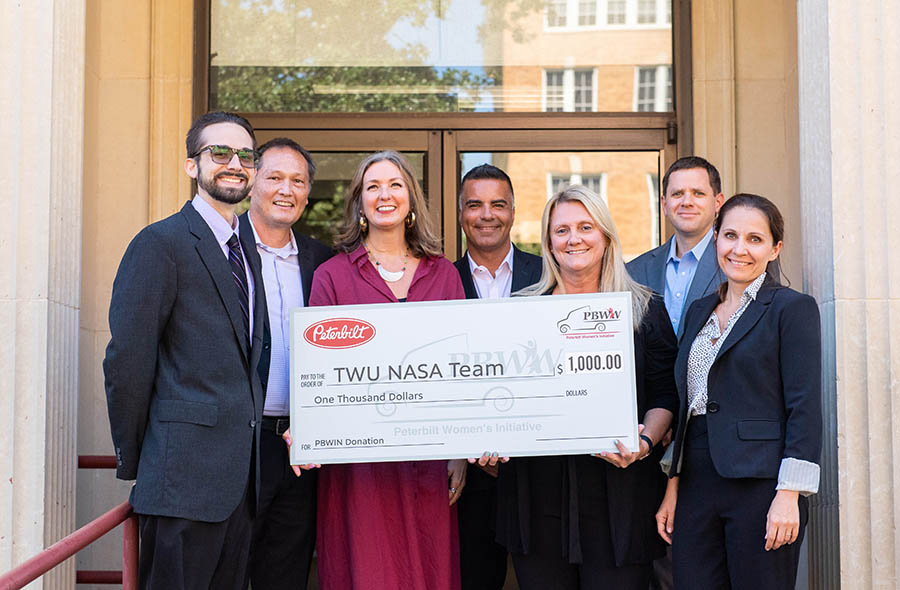 September 28, 2022 — DENTON — Representatives from the Peterbilt Motors Company and the Peterbilt Women's Initiative presented a check to Texas Woman's University on Sept. 26 on the TWU campus. The funds will support the Texas Space Grant Consortium (TSGC) Design Challenge team, comprised of undergraduates from the School of Health Promotion and Kinesiology, in its Fall 2022 competition. The student-led group has won the best overall team prize the last two semesters – and three times in the last 4 years – at the NASA-sponsored competition in Houston.
The TSGC Design Challenge team is made up of seniors majoring in kinesiology, overseen by faculty advisor Rhett Rigby, PhD, and graduate student advisor Hunter Alvis. The challenge offers undergraduate students an opportunity to propose, design and fabricate a solution toward solving research objectives of importance to NASA and its mission.
Pictured in the photo from left to right are: Hunter Alvis, kinesiology graduate student; George King, PhD, director of the School of Health Promotion and Kinesiology; Holly Hansen-Thomas, PhD, vice provost for Research, Innovation & Corporate Engagement; Christopher T. Ray, PhD, dean of the College of Health Sciences; Kenna Storie, co-lead of PBWIN; Rhett Rigby, PhD, Health Promotion and Kinesiology associate professor and faculty advisor; and Elena Mackoway, co-lead of PBWIN.
Page last updated 8:55 AM, January 13, 2023