OT PhD student wins second association award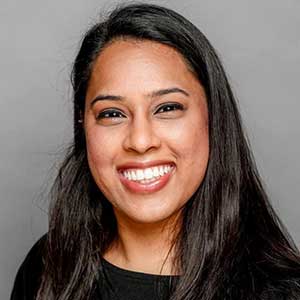 January 5, 2023 -Texas Woman's PhD student Sue Ram, OTD, OTR, received the 2023 American Occupational Therapy Association (AOTA) Gary Kielhofner Emerging Leader Award for extraordinary service early in her career.
Ram is a first-year student in the School of Occupational Therapy at the TWU Dallas and Houston campuses. She also works full time at the Texas Children's Hospital as a clinical specialist occupational therapist in Houston.
This is the second honor that Ram has received from AOTA. In 2019, she earned the AOTA Outstanding Student Advocate Award. She graduated that same year with a clinical doctorate in occupational therapy from Gannon University.
She currently serves on the Texas Occupational Therapy Association's Mental Health Ad Hoc Committee and is the young professionals coordinator for AOTA's Children and Youth Special Interest Section.
"My main goal is to improve the quality of life for those I encounter," Ram said. "I also see myself doing more advocacy work to increase behavioral health access in Texas. Mental health is a huge passion area for me."
As evidence of her passion for mental health, Ram wrote a column that was published Dec. 29 in The Dallas Morning News, "Occupational therapy is the missing piece in alleviating the mental health crisis."
She completed a fellowship at Cincinnati Children's Hospital in 2020-21, where she gained specialized skills for pediatric populations.
Ram is a Virginia Chandler Dykes Scholarship recipient and recently received a scholarship through the Women's Thought Leadership Program.
About the American Occupational Therapy Association
AOTA represents more than 230,000 occupational therapists, occupational therapy assistants, and occupational therapy students in the United States and beyond, to advance occupational therapy practice, education and research.
Page last updated 3:42 PM, March 13, 2023