Nontraditional path takes TWU PT student toward his passion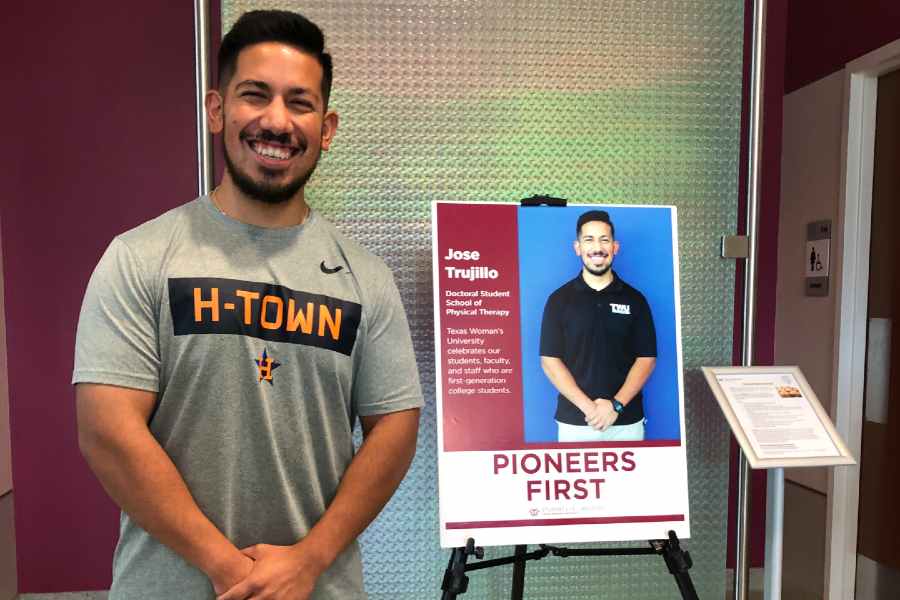 A physical therapy student who moved to Houston to pursue his doctorate found his true "why" while in TWU's program.
Jose Trujillo always wanted a career that touched on health, science and exercise. However, he didn't connect with his true passion until after he enrolled in Texas Woman's Doctor of Physical Therapy, or DPT, program.
"It wasn't until I had the opportunity to visit and spend time in neurologic settings, such as Quentin Mease, TIRR Memorial Herman, Ben Taub, and other Memorial Hermann hospitals, that I realized neuro rehabilitation is the setting I want to be a part of," said Trujillo, who started clinical rotations working with vulnerable populations in Harris County.
Early on, he served in the outpatient wound care department at Houston's Lyndon B. Johnson Hospital. There, he treated patients with chronic wounds due to diabetic neuropathy, arterial insufficiency, venous insufficiency and other comorbidities—educating patients on dressing their wounds, factors of healing, monitoring their conditions, medications and making appropriate lifestyle changes.
Now in his third clinical rotation, Trujillo is working directly in the outpatient setting at the Neuroscience and Spine Center at Houston Methodist Sugar Land Hospital.
"I know that my passion for PT truly lies in getting to help people with neurologic conditions take back their lives and discover hope for improvement," he said. "Experiencing a stroke, spinal cord injury, or any other neurologic dysfunction must be such a terrifying chapter in a person's life, and I want to be the clinician who works with patients during this vulnerable time to educate them on their condition, maximize their functional return, and help them understand that they are more than just their diagnoses."
The center mostly treats geriatric patients experiencing low back or neck pain. However, a small but rewarding number of patients are in recovery from stroke or need therapy for neurological issues such as multiple sclerosis or Parkinson's disease. They often lack the ability to walk without assistive devices, such as walkers or canes.
"When you see someone working that hard and putting it all out to take back their life, you're just so inspired," said Trujillo, recalling patients' refusals to give up on therapy.
It was a path Trujillo said almost didn't happen.
Four years ago, then at another university, Trujillo was researching physical therapy programs when chance led him to TWU. As special projects coordinator of his school's Pre-PT Club, he was tasked with inviting guest speakers to meetings. On his list were two professors at the Texas Woman's University Institute of Health Sciences – Houston Center: Wayne Brewer and Alexis Ortiz.
"They were so willing to come up to Denton from Houston, and they really left a great impression on me," Trujillo recalled. "They did an awesome job of selling me on the DPT program's culture of inclusivity, very affordable tuition and early exposure to clinical education. Also, having lived in Dallas all my life, I welcomed the opportunity for a fresh start in Houston going to PT school in the Texas Medical Center."
With that, he applied and was accepted. However, his first semester didn't go as planned.
"Coming into PT school, people always told me how challenging it would be," said Trujillo, noting that Hurricane Harvey hit South Texas that fall. "I still underestimated how difficult it would be. Coming here from a new city with no family and a completely different environment, I truly didn't grasp what I was in for."
He had to retake two classes with a new cohort. The second time, he was intentional about changing poor study habits, being proactive about how he approached more difficult classes and finding a work-life balance that kept his spirits high.
"My journey through physical therapy school hasn't been entirely linear, and I'm eternally grateful to my family, friends, mentors and professors for believing in me and pushing me this far," he said.
With his restart, Trujillo says he got involved on campus. He was able to serve as a peer mentor to his first-year classmates, and act as a social committee and Student Government Association representative for his cohort. He volunteered with groups such as the Rehabilitation Services Volunteer Project, helping distribute durable medical equipment to uninsured individuals and acting as a technician to therapists. He also has helped promote TWU's physical therapy degree options to prospective students during on-campus, open-house events before COVID-19 hit the United States.
"I was blessed," he said. "My professors gave me a second chance and I wanted to take full advantage of it. Not passing that first semester was hard, but this time, I feel like I truly did everything right."
Media Contact
Page last updated 4:01 PM, October 14, 2020