Mehta recognized by national group for neurorehabilitation excellence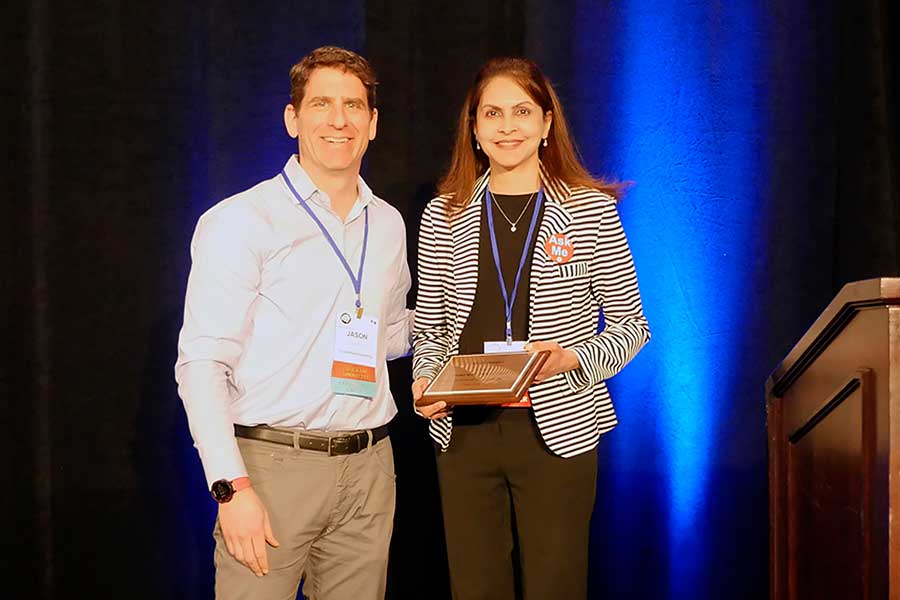 March 21, 2023 – DENTON – A Texas Woman's professor has been recognized by a national organization for her commitment to excellence in clinical education, research and her support of the neurorehabilitation field.
Jyutika Mehta, PhD, professor in the Department of Communication Sciences and Oral Health and director of the Stroke Center - Dallas, received the Kenneth Viste, Jr., MD Memorial Lectureship Award at the 2023 American Society of Neurorehabilitation (ASNR) Annual Meeting on March 15 in Charleston, S.C.
"My deepest gratitude to ASNR for providing offerings and opportunities that have lent significant support to my professional aspirations and career trajectory and this award, which is a wonderful cherry on top," Mehta said at the awards ceremony. "I want to recognize and thank my many collaborators, colleagues and students, as well as the support I have received from my university and the generous funders. I am honored, delighted and incredibly flattered to be the recipient of this recognition."
Mehta's research focus is on speech, language and cognitive representation in typical and disordered brains across the lifespan. She has more than 100 presentations and publications at state, national and international forums. Mehta serves on the editorial board of Neurorehabilitation and Neural Repair and the Brain Stimulation journal and has mentored several doctoral students, post-doctoral trainees and junior faculty in the United States and internationally.
The Kenneth M. Viste, Jr., MD award is presented annually to an individual who has supported the mission and vision of ASNR over the course of his or her career by supporting neurorehabilitation as a field, engaging in clinical and educational work and making medical peers aware of the importance of neurorehabilitation.
The mission of ASNR is to improve the lives of people with neurological disorders through advances in basic and clinical research.
Page last updated 10:22 AM, March 21, 2023