Love at new heights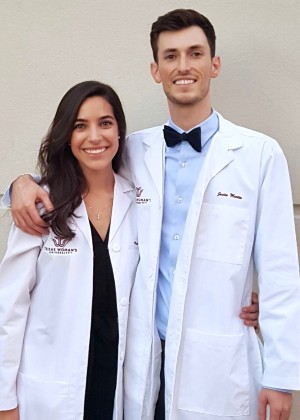 At 14,508 feet, a pair of alumni who found career paths in physical therapy channeled their love for nature into a unique trek to the tallest mountain in the contiguous U.S.
Love is in the air, and the mountains, too, for a pair of Texas Woman's graduates.
Physical therapists Kristi Hammerle and Justin Martin met at a school mixer just before starting their first semesters in the doctor of physical therapy program at the Texas Woman's Institute of Health Sciences – Houston Center and soon began dating.
Over the next three years, the pair bonded during school breaks with small backpacking trips to Big Bend National Park. After graduating this May, that evolved into an idea to complete a longer, thru-hike before they got busy with careers and life. They settled on the John Muir Trail, which leads to Mount Whitney in California.
"It has the reputation of having some of the most beautiful sights in the U.S.," said Hammerle.
The couple planned a nearly month-long trek through the High Sierra, ending on the tallest mountain in the contiguous United States, Mount Whitney, which reaches an elevation of 14,508 feet. Along with chipmunks, marmots and birds for company, they created an impromptu trail family with hikers from Maryland, Colorado and Scotland.
"We bonded with them as we hiked the long trail leapfrogging each other and sharing many stories and laughs around campfires," said Martin.
Nicknamed the "trail PTs," Martin and Hammerle both found their love for physical therapy through different paths. For Hammerle, her desire to work in the medical field merged with her passion for health education and her love of working with children. That transformed into a passion for pediatric physical therapy after she worked a stint as a physical therapy technician at Texas Children's Hospital before enrolling at TWU. For Martin, his love for PT, wellness and the "wonder of the human body" started early.
"Growing up playing sports, I often ended up in a PT's office," said Martin, adding that everything came together while he was observing physical therapists at an inpatient rehabilitation facility. There, he met someone who'd lost the ability to walk. "Hearing the man's story and how physical therapy had such a big impact on him just solidified my decision to pursue a career in PT."
They learned they'd passed the National Physical Therapy Examination, a comprehensive test required to obtain their licenses, 10 miles into their trek. Twenty-five days and 260 miles after they first began, they were done.
"Waking up at 2 a.m. on the last day of the hike to the top of the tallest mountain for sunrise, it was extremely emotional and beautiful. We celebrated with our new friends at the top of the mountain," said Hammerle.
Currently, the couple are living in Martin's hometown of Austin, Texas. Hammerle is working as a pediatric physical therapist at Little Tesorors Therapy Services, where she completed her clinical rotation in pediatrics. Martin is pursuing a career in outpatient orthopedic physical therapy with a particular interest in chronic pain.
"We had the best time at TWU with our classmates and professors, and wouldn't have wanted to face the challenges of Hurricane Harvey and COVID-19 that the Class of 2020 went through with anyone else."
Media Contact
Page last updated 2:15 PM, January 25, 2021