Finding ingenuity during difficulty: Dental hygiene alumna invents handy tool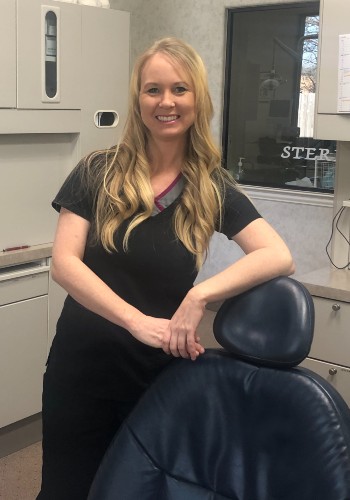 It is often during our most difficult days that we find skills we didn't know we possessed. That certainly was the case for Texas Woman's dental hygiene alumna Courtney Crew (BS '06), who took her personal health struggles and created an invention that is aiding professionals in the dental industry.
Crew grew up in Odessa, a west Texas town she said is known for "Friday night football, tumbleweeds the size of smart cars and sunsets that are picture perfect." After graduating from Permian High School, she enrolled in Texas A&M to pursue a biology degree but ended up earning a bachelor of arts degree in marketing at Texas Tech instead. However, science was still her calling.
"During my time at Texas Tech, my gears shifted back to the science scene, and it was not long before I planted my ambitions on the study of dental hygiene," said Crew. "My science mind was satisfied with my decision."
Following her family out to the Dallas metroplex, she began the process of examining dental hygiene programs, and TWU was a reputable candidate with excellent reviews.
"I was confident that the dental hygiene program would provide the opportunity to receive an exceptional education as well as the hands-on training I would need to become a highly skilled clinician," she said. "The program was an arduous trek filled with days of teeth scraping, spit and tears mottled with laughter and love. The bonds that developed during these trying years is what made it all worthwhile."
Earning her degree opened doors for competitive pay and allowed for more flexibility in Crew's career. She currently works in two different dental offices, one in Dallas and one in Irving.
Things were going well for Crew until 2013 when her health took a nosedive.
"I was extremely sick for an extended time, and it took several years to get any answers," she said. "This was a deeply dark time for me as I was unsure of what my future held and uncertain how I was going to continue with dental hygiene. I worked when I was able; however, I found it extremely difficult and most often, miserable. My strength and stamina were compromised, and I was desperate for any type of relief. I constantly explored new ways to make working as bearable as I could. Even something as simple as propping the suction up helped immensely."
That simple modification led to Crew thinking about new tools, and it did not take long before she was visiting Home Depot weekly crafting her new idea into a prototype. With the help of a local manufacturer, she was able to create a simple yet highly effective device—the Centipede dental suction assistant, a flexible, self-stabilizing saliva/water evacuation system. The Centipede eliminates the need for suction to dangle from the patient's mouth and allows the dentist or hygienist to have two free hands for all procedures.
In her search for patent information, Crew came across a group called the Texas Inventor's Association, that happened to meet in Plano. After networking within the group, she was soon on her way on this new journey.
"This was completely unfamiliar territory for me, and it took many paths to end up where I am now, which is venturing the Centipede on my own," said Crew.
Crew officially launched her business Bless Request at the beginning of April and is hopeful her invention will help others as it has helped her.
"My goal is to make work life a little better for my fellow clinicians, whether it is time management, more efficient appointments, ergonomic or pain issues or simply convenience."
Media Contact
Ray Willhoft
Director of Communications, Jane Nelson Institute for Women's Leadership
940-898-4584
rwillhoft@twu.edu
Page last updated 3:27 PM, May 14, 2020