Design team places third at NASA-sponsored design competition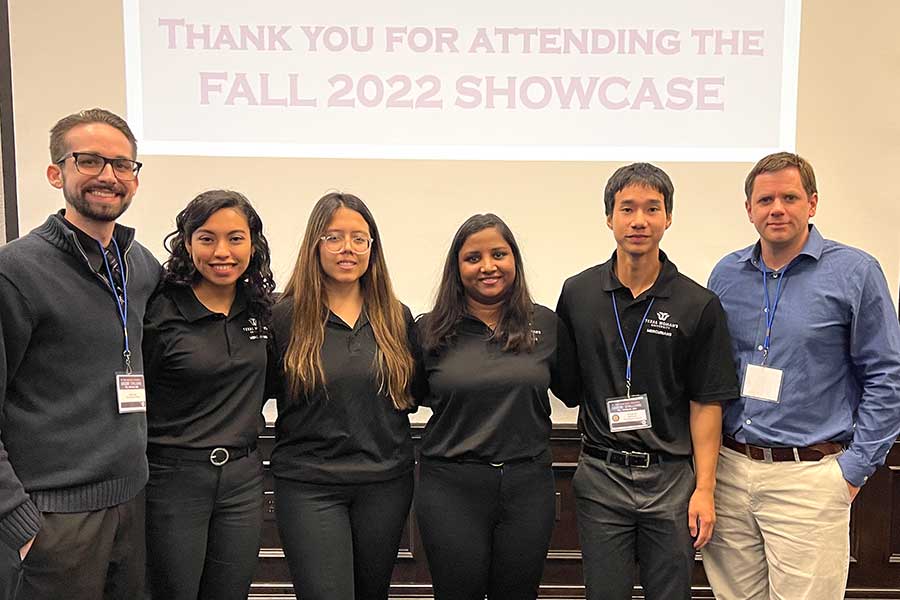 Nov. 17, 2022 – DENTON – A Texas Woman's team of senior kinesiology students placed third overall at the Texas Space Grant Consortium Design Challenge Showcase, continuing the university's string of successes at the NASA-sponsored science competition.
In addition to the third-place finish, the four-member TWU team won best poster, and was fourth in best model display and peer review. All four students received scholarships from TSGC. The TWU team, who called themselves Mercurians, was the only kinesiology department represented out of the 18 college teams, each comprised almost entirely of engineering students, at the two-day competition held near the Johnson Space Center in Houston.
The most recent competition marked another strong finish for TWU, which has won the overall team award three times in the last four years.
At this month's competition, the team designed a boot with integrated pneumatic pressure targeted at specific points on the sole of the foot in an effort to stimulate receptors that, in turn, activate lower leg muscles that are critical for gait and posture. With this device, the muscles may be conditioned enough to allow for proper locomotion upon arrival to Mars.
The TWU team consisted of Breandrea Diaz, Kimhab Sor (team leader), Ramona Tovar-Briones and Dona Varghese. The group, along with faculty advisor Rhett Rigby, PhD, and graduate student advisor, Hunter Alvis, have been working on the project since September.
"Similar to previous years, this team started from scratch and researched a health issue that is problematic for astronauts, and developed a device to address this problem," Rigby said. "This team spent hundreds of hours researching the muscle changes that accompany long-duration spaceflight, and how this could impact an astronaut's health in future missions, including those to Mars. I am extremely proud of this group, and humbled to mentor a group of students that showed so much dedication and passion for this project."
About the Challenge
The TSGC Design Challenge is a unique academic experience offering undergraduate students an opportunity to propose, design and fabricate a solution toward solving research objectives of importance to NASA and its mission.
Sponsored by NASA and administered by the Texas Space Grant Consortium since 2002, Design Challenge topics are submitted by researchers working with NASA or its contractor community on current projects of interest within NASA's Vision for Space Exploration.
Students form and work as a team to meet their design objective over the course of one or two semesters while interacting with their faculty advisor and NASA workplace mentor. Research groups submitting Design Challenge topics provide a mentor to work with each team.
The overall experience provides student team members with an opportunity to engage in scientific research, hands-on design, space-related career opportunities, communication skills and educational outreach.
Page last updated 8:48 AM, January 13, 2023