After loss, graduation has special meaning for mom, daughter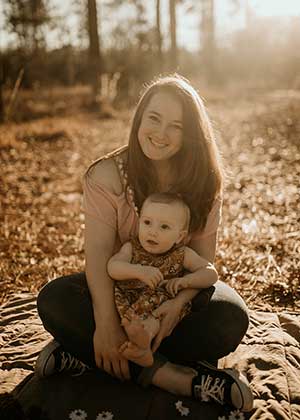 When Katelynn Sparkman began the speech-language pathology graduate program at Texas Woman's, she was newly married and expecting her first child.
Two semesters later, Sparkman welcomed her daughter as a widow.
On a warm, cloudy December day in southeastern Texas, Sparkman's life instantly changed when her husband was killed in a car accident. Their daughter, Penelope, was born a few weeks later.
In addition to the trauma of losing a loved one, Sparkman also lost the financial and emotional support of a partner. She was now a widowed mother with the challenge of working a full-time job on top of going to school full-time.
"I'm a new mom and a grieving mom but I'm determined to give my daughter the life that she deserves," Sparkman said. "I have to keep my promises that my husband and I made, and finishing the program is how I can do that."
Through the last year and half, Sparkman has stayed steadfast to fulfilling those promises. She desperately wanted the independence and financial freedom that would come as a certified speech-language pathologist. An SLP specializes in the evaluation and treatment of people with communication disorders.
She has a strong support system with her father and mother-in-law, who watch Penelope while she is in class; her daughter's godparents, family members and her friends.
"With all the support, it takes off a lot of pressure," Sparkman said. "Still, a lot of it is on me. I want to make sure I spend as much time with Penelope as possible, so that means studying really hard while she is taking a nap or after she goes to bed at night. I think it boils down to, where there is a will, there is a way."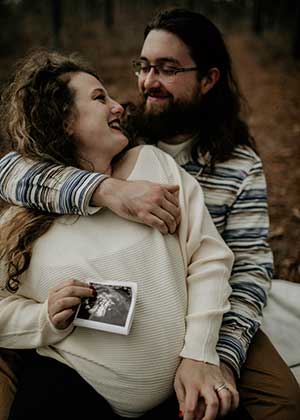 Her colleagues and program cohort have rallied around her and Penelope, who is a little ambassador at her work. Sparkman works as an SLP assistant at a school district outside of Beaumont.
"Katelynn has truly been an inspiration to the faculty and other graduate students," said Paula Chance, Texas Woman's SLP program director for the distance venue. "After her loss, she told me she was more determined than ever to finish the program and support her baby in the best way possible. She knew her husband would be proud of her decision to continue in the program. She has never asked for special treatment and has made deadlines and timelines each and every semester."
As planned, Sparkman is walking at the May commencement ceremony with her cohort and will graduate in August. Penelope has a little cap and gown that matches her mother's.
"She has her father's demeanor," Sparkman said. "She has his silliness. It's really awesome how much she is just like him even though she never got to meet him. She definitely is her father's daughter. She is the light of my life."
Sparkman's husband had picked out the name Penelope and was Sparkman's biggest supporter in her decision to go back to school. When they found out she was pregnant, right before school started, he told her it would all be worth it.
The distance program is unique in that it is designed for people, like Sparkman, who are already working as SLP assistants in public schools. She was able to stay at her current job, keep receiving a paycheck and attend school at the same time. She wears two hats, figuratively, at work - her SLP assistant hat and her clinician graduate student hat.
"I think it's a gem of a program," Sparkman said. "You are getting such a well-rounded education. We are getting a more encompassing education even though our focus is in the schools."
Once Sparkman completes her last clinical round during the summer, Sparkman will be back at her job, which she loves. Except her title for the first year will be clinical fellow and then SLP-CCC after she applies for a Certificate of Clinical Competence from the American Speech-Language-Hearing Association and for a Speech-Language Pathology intern's license from the state.
"If anyone is wondering if they can do it, they can," Sparkman said. "With enough grit, you can do what you put your mind to. At the end of it all, it will be worth it. I hope I can help other women be empowered to be independent."
Page last updated 1:27 PM, May 8, 2023