Academics is biggest motivator for Pioneer basketball star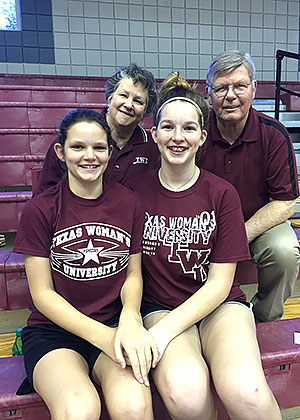 Nov. 21, 2022 – DENTON – Home court advantage takes on a deeper meaning for Texas Woman's University sophomore Ashley Ingram. When the 6-2 forward steps on the basketball court for the Pioneers basketball team, there are memories from her childhood all around Kitty Magee Arena.
"My grandparents were a big reason that I came to TWU, because I grew up coming to all the games," Ingram said. "I knew if I came here, I would have all the support I needed. It's a full circle moment with my grandparents, knowing I can look in the stands when I'm playing and see where we sat for every game when I was little."
Although it may seem like a slam dunk that Ingram would play basketball at TWU, it was academics that played the bigger role in her decision to become a Pioneer.
"In the long run, I'm not going to play basketball for my whole life, so it's definitely important for me to get the degree that I wanted," Ingram said. "TWU is such a good science school and had the academic programs I was looking for."
Ingram is majoring in kinesiology, focusing on exercise science/pre-occupational therapy. Coaching a young girls basketball team inspired her to change her major recently to occupational therapy from physical therapy. She would love to work on the pediatric side.
As a forward, Ingram usually lines up against the opposing team's most physical players, and she enjoys the challenge of it. Basketball is fun, she says. But it's academics that bring out the perfectionist in her.
"I am very much, 'I want to get A's on everything,'" Ingram said. "Academics has always been the first thing for me. Student-athlete, not athlete-student."
Ingram says she was initially nervous playing as a freshman, but the nerves didn't show up on the stat sheet. Ingram led the team in scoring, and the Pioneers recorded one of the best seasons in school history in 2021-22, finishing second in the conference and earning their first-ever NCAA win. Ingram was named Lone Star Conference Freshman of the Year and First Team All-LSC.
In October 2022, Ingram was named the LSC preseason player of the year, the first TWU player since Peggy Allen McCoy in 1990-91 to receive the honor. Along with Ingram's preseason recognition, TWU was picked to finish third this season. The Pioneers are one of the teams to beat, and Ingram is okay with that.
"I feel the target on my back a little bit, but at the same time it motivates me even more," Ingram said.
Ingram credits her grandparents, Ken and Cene Ingram, for not only teaching her the game but also teaching her to love basketball. Ken Ingram served on the TWU Board of Regents from 2000 to 2006 and passed away in 2020. He was known as the "No. 1 cheerleader" for the university's athletic events.
"My grandpa used to be a ref, so I would sit by him when I was a kid and he would teach me about the game," Ingram said. "That's where my interest sparked. I knew my grandparents were both interested in the basketball games, and I wanted to have that connection with them."
Don't expect a so-called "sophomore slump" from Ingram. She is taking 17 credits this semester, wants to add a psychology minor, increase her shooting percentage, be a great teammate and help the Pioneers go further in the NCAA tournament.
When she plays at home, she knows where to look in the stands to see her family. Looking back at her childhood, she remembers her grandparents hosting Christmas dinners for the TWU softball team.
"It's cool that they were a family figure for those who didn't have family close by," Ingram said. "It inspired me in a way to have that welcoming personality to others around me. I definitely got that from them."
Page last updated 8:46 AM, January 13, 2023