A life of service: TWU alumna demonstrates commitment to patients and country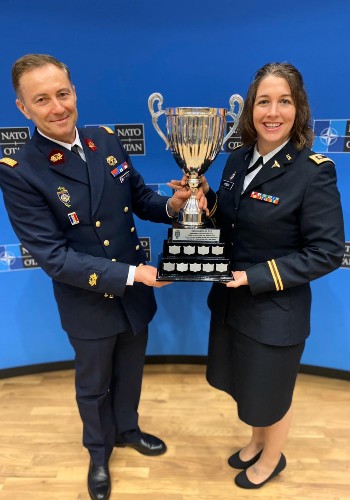 As both a health care professional and an officer in the U.S. Army, Texas Woman's alumna Maj. Katie Odom (BS '07, MOT '09), serves her patients and her country every day. Now the recipient of the prestigious Interallied Confederation of Medical Reserve Officers Martelet Cup, she continues to be grateful for the foundation she received from TWU and the amazing experiences the Army has provided.
Originally from Caddo Mills, Texas, Odom decided to attend TWU for its affordable education and highly ranked programs that would prepare her for a successful career. After receiving her undergraduate degree in child development, she chose to pursue a career in physical therapy before realizing that occupational therapy would be a better fit.
"I had a few surgeries in high school and required physical therapy, which was my first exposure to a medical professional that seemed within reach," said Odom. "Later, while shadowing with physical therapists, I found myself drawn to the activities the occupational therapist was conducting. I talked to some of the OT track students I knew at TWU and decided to switch my focus. I loved the occupation-based, purposeful activity model."
After graduation, Odom worked as an occupational therapist in San Antonio but found herself thinking about a former dream of serving in the U.S. Army.
"I always wanted to serve," she said. "It looked exciting, made you part of something bigger and gave you new experiences. I talked to a recruiter before college and I didn't see a fit for me, but after working for a few years, I decided to see if there was a way to join as a medical provider. That is when I started to learn about all of the amazing opportunities the U.S. Army has for professional education, leadership development and clinical variety."
Odom applied to commission and was accepted both as an Army officer direct commission and to become a student in the U.S. Army-Baylor Doctor of Science in Occupational Therapy program. After completing her Basic Officer's Course, she began the DSc program and graduated in 2013.
Odom has served the U.S. Army for the past eight years, seven of which were in the Active Component with her final position being a chief in burn rehabilitation at the Institute of Surgical Research's U.S. Army Burn Center. She also served as an exercise and training development officer for the 3rd Medical Training Brigade, Medical Readiness and Training Command (MRTC) at Fort Sam Houston.
She currently is activated on three-year Active Duty for Operational Support orders and is the director of Rehabilitation and Recovery Services for the Warrior Transition Battalion at Brooke Army Medical Center. She specializes in polytrauma care where she works with patients in the areas of PTSD, blast injuries, brain injuries, amputations and burn injuries.
"I have loved the Army and plan to do a 20+ year career," said Odom. "It has given me clinical and leadership opportunities I could never have dreamed of. Plus, I get to treat U.S. service members, and I cannot think of a greater population to work with."
Awarded for Research Excellence
At the Interallied Confederation of Medical Reserve Officers (CIOMR) Summer Congress in Tallinn, Estonia, last year, Odom was selected for the CIOMR Martelet Cup for her research team's findings in a report titled "Behavioral Health Management Following a Severe Burn Injury: A Pilot Study and the Way Forward for the U.S. Army Burn Center and Indicators for Brief PTSD Management in Operation."
The Martelet Cup is awarded to a junior medical officer who presents the best scientific paper at the Summer Congress. The annual award was established by CIOMR's board in the name of Brig. Gen. Francois R. Martelet, France, CIOMR Secretary General 2011-2020, for his long service and dedication to CIOMR. Odom received the award in February at NATO Headquarters in Brussels, Belgium.
"It was very exciting to be chosen to receive the Martelet Cup," she said. "I have such great respect for Brig. Gen. Francois Martelet and his career. The judges for the panel were also an excellent group of very successful clinicians and leaders from many countries. To be acknowledged by them was really a great inspiration for my military and medical career going forward. In reality, I owe the win to the world-class rehab team at the U.S. Army Burn Center and the amazing patients there."
Though she has had great success in the Army, Odom, who also takes great pride in being a wife and mother of five children, credits the education she received at TWU with providing her a solid foundation upon which to build her career.
"At TWU, I was able to learn my entry-level clinical skill set through my degree tracks, which was hugely important. But what may have been even more impactful were the opportunities to learn work-life balance, social personal interactions, public speaking and the leadership skills I gained through my college years."
Media Contact
Ray Willhoft
Director of Communications, Jane Nelson Institute for Women's Leadership
940-898-4584
rwillhoft@twu.edu
Page last updated 12:17 PM, May 6, 2020