The secret of our success — March University Forum summary
Dear Texas Woman's Colleagues,
I hope this message finds you well on this first Tuesday of spring. It is a comfort to see that despite the wintry onslaught in February, the redbuds and our other spring flowers have bloomed as expected. This spring of all springs has reminded me to take more time to literally and figuratively stop and smell the flowers.
Thank you to the more than 350 of you who joined our most recent University Forum. For those who were unable to attend, below is a link to a recording of the virtual University Forum that Dr. Mendez-Grant, Jason Tomlinson, and I hosted last Thursday, March 18 covering the following topics.
Texas Woman's University (system)
Winter weather update
CARES Act/HEERF funding
Enrollment growth efforts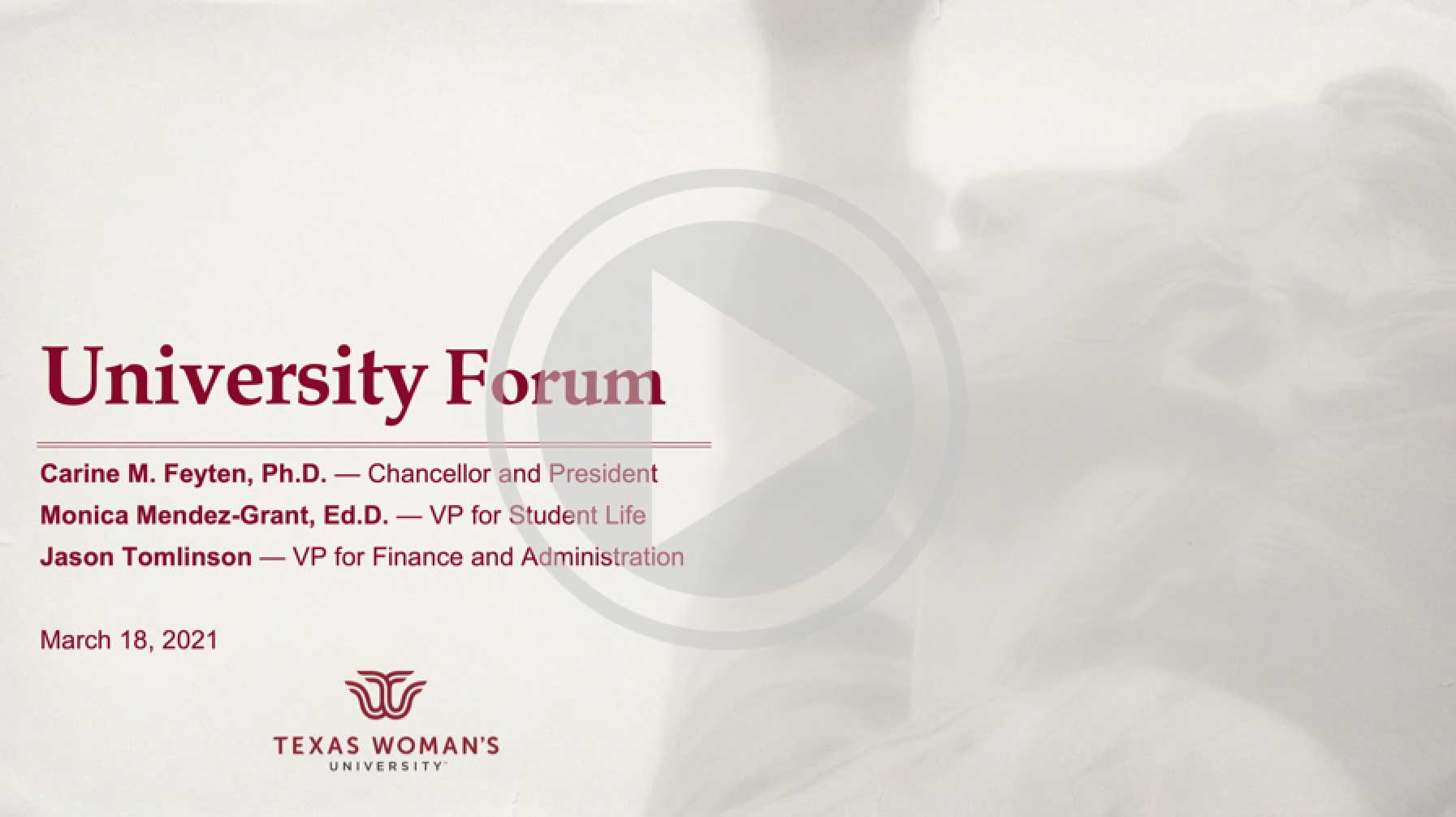 Throughout the Q&A and in subsequent conversations, one concern rose above the others. I hear people conflating budget cuts with the move to becoming a system. There is actually no relationship between the two.
The budget cuts address immediate challenges that range from the state's effort to address pandemic-related revenue shortfalls to our own internal need to pay for rising costs. I unpacked the budget cuts in greater detail several times before, including at the previous forum in January, so I won't belabor it again now, though I am happy to address budget cuts again in a future forum.
I will say, unequivocally, that we are not using savings from the budget cuts to fund any effort at becoming a system. The system effort is a long-term strategy. The budget cuts are here and now.
Though eager and curious—in a good way, many of the questions you have asked about the system efforts are several steps ahead of where we are in our long-term strategy. Still, I believe the more voices we have engaged here in the beginning stages, the stronger our evolving plan will become.
When one's every day is steeped in thinking, sometimes deep thinking, about a particular topic, it is easy to develop blind spots or to gloss over some of the early yet essential questions. Your engagement at the forum has helped bring clarity to those gaps. I also want to include a complete summary of the Q&A from the forum.
Finally, we would appreciate hearing your feedback about this forum, should you have two or three minutes to share. This survey is anonymous, and it includes details about how you can enter into a drawing for a Grubhub gift card as a thank you for taking the time to offer feedback.
When we work together for a common mission—while freely sharing disparate ideas, a breadth of expertise, and different lived experiences—we strengthen our legacy of leadership and success.
With a pioneering spirit,
Carine M. Feyten, Ph.D.
Chancellor and President
Page last updated 1:28 PM, March 25, 2021