Grant restores optimistic outlook for restaurateur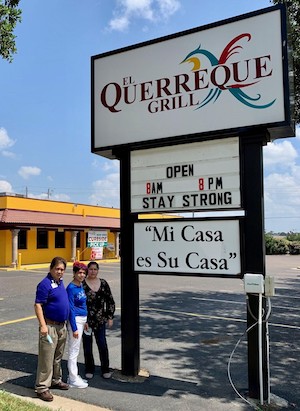 Mitzi Bella has been living her dream of restaurant ownership.
For 14 years, she and her family have owned and operated El Querreque, a friendly restaurant that had become a mainstay in the heart of one of Laredo's most thriving business districts. After the COVID-19 pandemic struck, the restaurant teetered on the brink of solvency until a lifeline was thrown from a center at Texas Woman's University that helps small businesses.
To better understand the family restaurant's importance to the community, it helps to know some of its history.
Bella took over as president of the family company after her father retired in December 2017. Her mother, Socorro, who has been in the business world for 30 years, is general manager.
Over time, the restaurant diversified its menu, modernized the building and switched from a paper to a computerized system to track kitchen orders.
It was the kind of restaurant that had a strong base, where customers once came to dine as youngsters with their parents and then later as adults with children of their own.
"Some employees have been at this location since the restaurant first opened its doors in 2006," Bella said. "It is common for our employees to greet our customers by name."
Things had been going especially well for the family business earlier this year, and Bella said 2020 was projected to be the restaurant's best financial year ever.
Then, in mid-March, the fast-spreading coronavirus became a global crisis, forcing the restaurant that employs 46 people closed for weeks.
Although the city later allowed restaurants to re-open for to-go orders only, Bella said she made the difficult decision to remain temporarily shuttered.
The restaurant closed for a full month before it re-opened its doors for curbside service in late April.
"To me, the hardest decision was closing my doors," Bella said. "It was an impossible choice between health and economic stability. What made it even harder was knowing that this decision affected not only me but my employees and their families."
She pointed out that one of the most challenging aspects of running a business is childcare for her employees. It was a concern she gained first-hand experience with last year when she became temporary guardian to her nephew.
To help employees sustain their families, Bella said the restaurant gave away inventory – such as rice, beans, chicken and eggs – while the business remained closed.
Then, the saving grace came in May.
It was in the form of a $10,000 grant from the Center for Women Entrepreneurs at Texas Woman's University. Bella's company was one of 100 women-owned businesses in Texas to be awarded the AssistHER grant, which were distributed in May to help businesses such as Bella's with operating expenses, technology upgrades and help adapting to new business models during this economic downturn caused by the COVID-19 pandemic.
She said she plans to use the money to restock her inventory when the city allows businesses to fully re-open. And while the timetable for such a return to normal operations remains uncertain, Bella clings to a measure of enthusiasm that attracted her into the restaurant industry to begin with.
"When I graduated from college, I decided to help my parents start up their own restaurant, and I fell in love with the energy of the place," Bella said. "Now that I co-own my own restaurant, it is more than a place of business, it is my second home."
Media Contact
Matt Flores
Assistant Vice President, University Communications
940-898-3456
mattflores@twu.edu
Page last updated 10:58 AM, September 27, 2022