Grant gives lift to staffing firm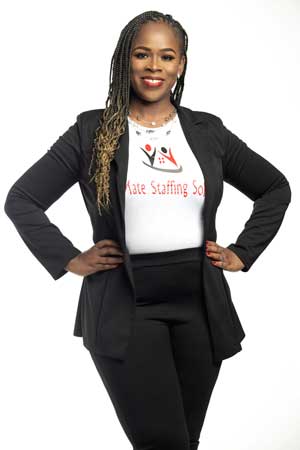 Eureka Pinkney considers herself a people person.
That trait was a principal factor in the positions she held in administration and management at UT Southwestern Medical Center for nearly 20 years.
And it's a trait that she'll be able to share with many more people, thanks to a $10,000 grant from Texas Woman's University that is helping small businesses recover from the COVID-19 crisis.
Helping people find jobs and develop their careers is what prompted Pinkney to set out on her own in 2018 to begin a staffing and consulting business.
"One day I was talking to my husband about my job managing people and said, 'you know, maybe I could do this on my own,'" Pinkney recalled. "The seed was planted. I just needed to water it."
Her new business, Arlington-based SuiteMate Staffing Solutions Inc., had a promising start with a healthy client list that included Richardson ISD and the Office of the Texas Attorney General in El Paso. Also among her clients was a Dallas construction firm headed by former Dallas Cowboys great Emmitt Smith and a small construction company out of Atlanta. Her company helped place workers in positions from data entry clerks to staff attorneys.
Despite the strong launch, Pinkney hit a rough patch when the COVID-19 crisis emerged earlier this year. In March, business started to tumble quickly.
"When companies started furloughs and letting go of temps, we had trouble getting income," Pinkney said.
Then news came about a Texas Woman's University grant program for struggling women-owned businesses, and she jumped at the opportunity. The $10,000 grants awarded by TWU's Center for Women Entrepreneurs targeted small businesses in Texas that were hurt by the COVID-19 pandemic. In all, 100 grants were awarded.
"It was a blessing," Pinkney said of the grant, noting her business was clinging to life as unemployment soared.
Pinkney was able to use the funds for things such as office equipment, software, assessment tests and insurance, to name a few. It was a real shot in the arm to help sustain her business, which employs six full-time and part-time people, she said.
"It's helping me help people find work and develop professionally," Pinkney added.
The crisis has taught her that one can never be too prepared for what lies ahead.
"The government needs to be ready in case there is a second wave of COVID-19 – and we need to be ready, too."
Media Contact
Matt Flores
Assistant Vice President, University Communications
940-898-3456
mattflores@twu.edu
Page last updated 3:10 PM, May 22, 2020