Grant gives boost to company that helps make patients whole again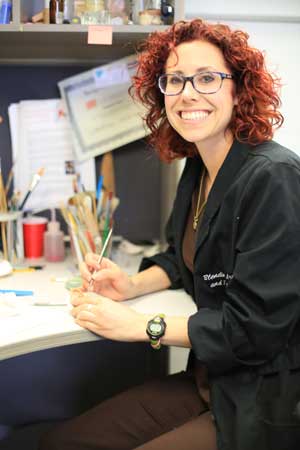 Colette Shrader has forged a 10-year career of helping people feel whole again.
Through her San Antonio-based company, Personalized Prosthetics, Shrader derives great reward in helping people regain self confidence after being fitted with a replacement nose, eye, ear or small body part.
The job requires both artistry and science to craft a prosthesis that will look and feel real.
Like many other small businesses earlier this year, Shrader's practice was severely impacted by the coronavirus pandemic. The nature of her business requires close contact with patients, which could not be achieved under state and federal social distancing guidelines.
"COVID-19 clearly impacted my ability to see patients," she said.
Fortunately, Shrader received a boost in May through a Texas Woman's University grant program that helps women-owned businesses in Texas hurt by the COVID-19 pandemic. Shrader was among 100 women awarded $10,000 AssistHER grants from TWU's Center for Women Entrepreneurs. Shrader said she expects to use the funds for rent, new equipment or a deposit on a larger facility.
That would go a long way toward serving her patients, who come from all over Texas. Some have lost a body part to cancer, disease, trauma or a congenital condition.
"Just to be able to put on that ear takes away that thought that others are staring at them because they are different," Shrader said.
She said her company serves patients from 7 to 95 years old, and that it is the only one in the San Antonio and surrounding area that provides facial prosthesis (excluding ocular ones).
Shrader moved to San Antonio shortly after graduating in 2009 from graduate school at the University of Illinois in Chicago. She had come to the University of Texas Health Science Center-San Antonio to help launch that institution's anaplastology program, which focuses on facial and body prosthetics.
After the program was shuttered, Shrader said she felt a strong need to launch a private practice to serve the many patients who no longer had a provider to go to in San Antonio.
"I knew there was a need and I hated the idea of leaving those patients when the university program shut down," Shrader said.
Each custom prosthetic requires multiple visits to properly sculpt, fit and color the product, so a great deal of care must go into the process, she explained.
"It fulfills a need to let people know that just because they are missing something they shouldn't feel that something is wrong with them," Shrader said.
Media Contact
Matt Flores
Assistant Vice President, University Communications
940-898-3456
mattflores@twu.edu
Page last updated 8:47 AM, June 18, 2020