Stacie McDavid '80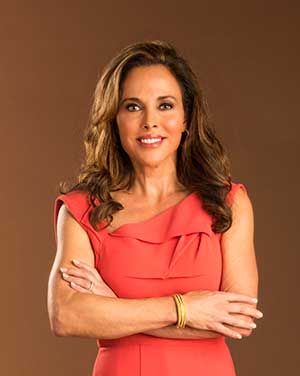 CEO, McDavid Company
Graduating from Texas Woman's University in 1980 with a B.S. in Physical Education, Stacie McDavid was a recruited javelin thrower for the track and field team. Today, in McDavid's day-to-day role as CEO, McDavid Companies, she enjoys dealing with the wide variety of duties overseeing the McDavid Ranch and McDavid Company's real estate and investments. As a champion nonprofessional cutting horse rider, McDavid is as comfortable on a horse as she is sitting in the boardroom or offering her service on multiple boards as a businesswoman and philanthropist.
What do you enjoy about your current position/profession?
I like the flexibility which allows me to wear different hats. I'm exposed to a wide array of interesting people, which keeps it real.
How do you see your profession changing in the next 5 or 10 years?
As far as real estate, there will be more expected growth in Dallas and Tarrant counties. Real estate will become more desirable, classic supply and demand.
Why did you come to TWU?
Coach Bert Lyle recruited me to throw the javelin for TWU track and field.
What is your favorite TWU memory?
Other than competitions, I recall many times while en route to competitions, Coach Lyle would have the transport van pull over on the side of the road to observe birds. He was an avid bird watcher and always wore his binoculars around his neck alongside his whistle.
Did a TWU professor inspire you?
Coach Bert Lyle
Dr. Thorton Kloss in the Radio & TV department
Dr. Joel Rosenzweig, professor of physiology
Has something about your TWU education surprised you since graduating?
Yes, as women we were empowering one another in the mid-70s. Not all colleges shared that sisterhood mentality. Universities today, appear to me to be more competitive and cutthroat.
What advice do you have for college students hoping to succeed professionally?
Pay off your student loans, hone your interview skills and especially for this generation, be mindful of how job-hopping looks to your future employer, it can be interpreted as a red flag.
What makes an effective leader?
Integrity, ability to listen, surrounding oneself with topnotch employees and peers. The ability to create a team environment, we are stronger, more formidable as a team.
What do you enjoy doing in your free time?
Spending time on our ranches, riding our cutting horses, seeing our foals in the springtime, spending time in Aspen.
Page last updated 1:14 PM, July 26, 2022