Nitashia Johnson '12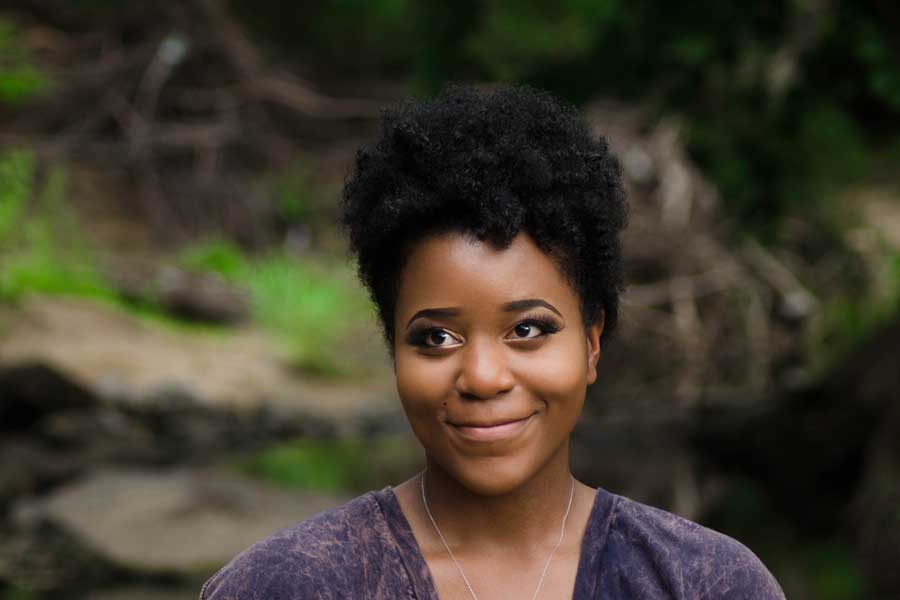 Graphic Designer and Photographer, University of Texas at Dallas
Working in the marketing department at University of Texas at Dallas, Nitashia enjoys using her creative talents as a graphic designer and photographer in her busy daily schedule. Beyond working as a graphic designer on university publications, including the UTD magazine, Johnson goes on numerous photo shoots with a focus on shooting portraits of people. She loves taking photos of people, "bringing out the beauty of us all." In addition to her position at UTD, Johnson works at One River School of Art and Design on weekends teaching young people digital design and photography.
What do you enjoy about your current position/profession?
I love being able to create. To see my ideas come to life. I also enjoy working with the kids on the weekends because their art is inspirational. It's just a great place to be. I'm doing what I set out to do and that really warms my soul.
How do you see your profession changing in the next 5 or 10 years?
I plan to be working and spending a ton of hours managing my creative afterschool program. Right now, it's in the start-up stage but I just know it's going to be something great one day.
What unexpected experience or event has shaped and/or influenced your current professional life?
Well, my mom and dad were not in the picture growing up. It was hard because I didn't stay in a consistent household. That sort of thing can really disrupt the growth of a child. It can disrupt their creativity and relationships. Luckily through all of the moving, I met some pretty amazing people (teachers, other students, and creatives) that really helped direct my life down the right path. God played a huge part in that as well. I can feel it and I know it. He puts people in your life for a reason. It's crazy how things work but If you give out good energy, he will help return it even if you are going through hard times.
What is a professional highlight of your career, either where you currently work or in the past?
Becoming a digital art teacher was my highlight. If you would have asked me if I were ever going to ever teach, I would have laughed. Now, I can say I'm proud. The kids I've taught are some of the most amazing people I've met in my life. They are pretty dope and they really have changed my life.
Why did you come to TWU?
My late printmaking Teacher Eva Kutscheid. She was one of the teachers I had that really changed my life. She advised me to not go out of state. I was rejected from every university in Texas I applied for, even TWU. Eva along with an in-law family member and high school counselor at Booker T. Washington high school wrote a letter to your university. In it they discussed my hardships and reasoning for not having the GPA required to get in. TWU later let me in but around that same time I did find out I got into a creative art school in Detroit. If not because of Eva I think I would have gone. She told me it would be a great idea to stay local for many reasons. She talked highly of TWU. Even an art teacher I had in Jr High school went here. Her name Mrs. Grigsby was one the one that started it all. If not for her I wouldn't have went to Booker T. Washington where Eva taught. I came because of good people, my need to grow as a brave woman, and the good feeling I had about the university.
What is your favorite TWU memory?
Working in the Art Labs. It really helped me grow into the artist I am today. I also loved the underground. The stuffed potato was AMAZING!
Did a TWU professor inspire you? Who was that and how was that person inspirational?
There were many professors that inspired me such as Sue Grant and Teresa Brown. You could tell they really loved their subjects. Strength like that pours out onto the students.
Has something about your TWU education surprised you since graduating?
Meeting people from the field that attended the school as well! That's always so exciting.
What advice do you have for college students hoping to succeed professionally?
Work hard! Stay on top of your work and look to gain experience outside of school hours when you have the time.
What makes an effective leader?
Someone proactive, full of passion and ideas.
What do you enjoy doing in your free time?
I love creating art and watching creative shows. Most of all, I love being around my family.
Page last updated 1:14 PM, July 26, 2022