Leslie L. Pearson '01, '07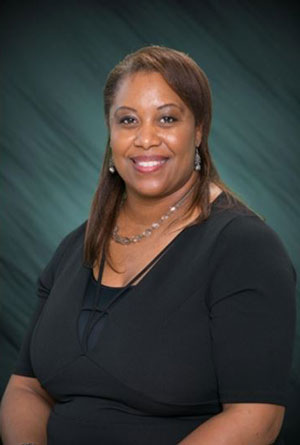 As of early 2022, Leslie Pearson serves as associate director of admissions marketing & communications at TWU.
Leslie Pearson graduated from Texas Woman's University with a BS in Health Studies in 2001 (Denton) and received her MBA from TWU in 2007 (Houston). Pearson took college courses while serving active duty in the Army then after an honorable discharge, found a university home that shared her beliefs of empowering women and women leaders at Texas Woman's University. Now, as Assistant Director, Outreach & External Relations with the College of Business, Pearson is still with Texas Woman's University on the Denton campus using her knowledge to promote growth and innovation within the College of Business and further the success of students.
What do you enjoy about your current position/profession?
I thoroughly enjoy interacting with different stakeholders, internal and external, when it comes to the growth and promotion within the College of Business. Forming and maintaining integral relationships leads to better student outcomes academically and professionally.
How do you see your profession changing in the next 5 or 10 years?
Speaking from the Adjunct Professor role, teaching has undergone major transitions within the past decade as more and more schools are moving toward online courses and degrees. The face and expectation levels of students is changing and it is important for professors to stay abreast of technology which changes daily, as well as still meeting (exceeding) the needs/wants/expectations of student academic outcomes. Online programs face a challenge of finding innovative strategies to stay connected and engaged with students whom you may never see in person. Use of inside and outside platforms have become the norm in connecting with students via video, online discussions, etc.
What is a professional highlight of your career, either where you currently work or in the past?
The highlight of my career on the education side was during my time as the Assistant Director, Admissions, at the Houston campus, 2006-2010. The COB which was the School of Management at that time, had record numbers of enrollments which was a direct result of my Admissions team, the Campus Manager and other SOM representatives engaging with the community and promoting our programs from community events to hospital and business expos and fairs.
On the Health care/revenue cycle side, the highlight of my career was being one of the decision makers and leaders in the implementation and training of EHR software systems to end users of the clinics managed by Seton Healthcare Network Physician Enterprise in Central Texas. In addition, I was charged with creating and implementing a Customer Service and Insurance 101 training course that provided first-level education to over 1200 employees.
Why did you come to TWU?
While looking at colleges in high school, I was always drawn to medium size campuses that were not so huge that students easily become a number nor too small where offerings and resources may be limited. In addition, it was very important for me to find a school that valued women's education and embodies growth. Needless to say, I was awarded an academic scholarship to a university that did not fit that profile. I ended up joining the Army during my second semester as a freshman and served 4.5 years active duty. Upon my transition back to the civilian world, I lived in San Antonio and continued my education at St. Philip's College. As I neared my completion, I started looking at universities that embodied the success of being a woman and a woman leader. That is when I found TWU and I have not looked back. From my first day in class back in June 1996, I knew I had made the right selection, felt at home and knew I was at the beginning of blazing my own trail and one for many other women to follow.
What is your favorite TWU memory?
My favorite TWU memory was my first class in the summer of 1996. I was 24 years old, an Army Vet and working full-time at night. The class was taught by a TA around my age and I met one of my dearest friends who was my age as well. We are still friends to this day and she is my daughter's godmother. We always joked we were the oldest students in class but learned so much from our younger classmates within that 10-week period.
What do you enjoy doing in your free time?
During my free time, I enjoy being the mother to a wonderfully brilliant, talented and kind 11-year-old. We are active in the community, church and school. She is a TWU baby as she has spent many days on all three campuses. I enjoy also reading, traveling, spending time with family and friends, walking and cooking. I was a cheer coach with Plano Sports Authority and now a Volleyball and Band Mom. We volunteer with a few organizations in the Collin County and I am also Vice President of a local non-profit, WERE Community, which was founded by a fellow TWU College of Business MBA alumni.
What advice do you have for college students hoping to succeed professionally?
Build your professional network, know how to market (brand) yourself and volunteer if you are unable to find employment in your desired field. Stay within a reasonable expense budget, save and pay your bills on time. Don't be in a rush for material things. Be mindful of opportunities that do not fit the "box" because they may just be your golden ticket to professional and personal success.
Page last updated 1:14 PM, July 26, 2022