Laurel Page '19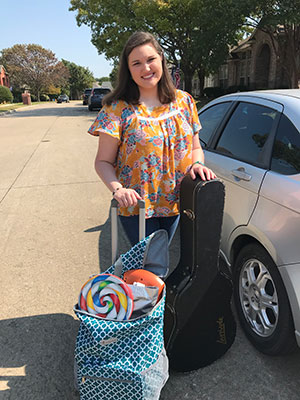 As a music therapist for Plano Independent School District (ISD), Laurel Page serves special education students across the area. Through musical interventions, she supports the educational, communication, social and emotional Individualized Education Program (IEP) goals for the students with whom she works. An IEP is a personalized plan for a child receiving special education services designed to meet their specific needs. Page is inspired by her students' receptiveness to learn and grow, as well as their adaptability in the face of challenges.
After earning her MA in Music Therapy at Texas Woman's in 2019, Page worked as a part-time music therapist at Sound Starts Music Therapy while on the job market for a full-time position. She accepted an offer from the Plano ISD in 2020.
My team, as well as those from the school campuses I travel to each week, are so encouraging and supportive. This position was exactly what I had been looking for, and I am so blessed that they asked me to join their efforts."
Over the 2020 academic year she has, like many, been faced with the need to adapt. Before the pandemic, Page was conducting in-person music therapy sessions. Remaining safe and health has been a priority for over a year now, and she is pleased with the success of her virtual music therapy sessions. The methods that Page has used since March 2020 have expanded her delivery of methods.
One of the most unique experiences of the virtual music therapy sessions was when I assisted a student in composing a song on the piano. Neither of us could see the other, and she had no instrument at her location. The entire song was composed with me playing two-three different melodies and asking the student which one she wanted in her song."
In her free time, Page enjoys baking, watching old movies, singing in her church's choir and playing board games. However, her favorite way to spend her time is with her family and friends. Page believes in having a strong work-life balance, stressing the importance of not missing out on the little moments in the pursuit of professional success.
While you are learning and waiting, never take for granted the blessing of now. The in-between times in our life are there to allow us time to grow and mature as people, so never be in a hurry to have everything all together and be successful. True success can be measured in many ways."
Page last updated 6:04 PM, August 17, 2022