Lacy Brown '05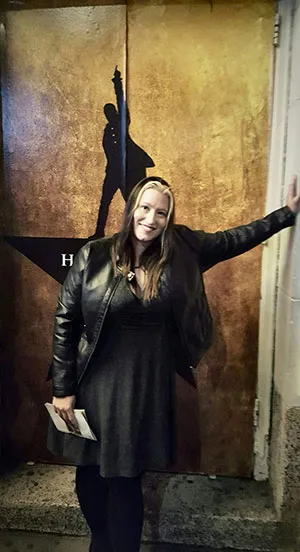 Honored educator
Lacy Brown learned the virtues of voice as an instrument in a choir at Texas Woman's University. She also saw her first Broadway play as a member of the TWU Concert Choir, sparking an enduring love of theater. Those experiences helped Brown develop into a leader for her students at West Mesquite High School and A.C. New Middle School. Brown, an assistant band director, was recognized in 2019 as West Mesquite High's Teacher of the Year.
What do you enjoy about your current position/profession? I'm passionate about teaching because I see students grow into fantastic, productive adults. In band, we set goals, and learn to try again after failing, to have empathy and compassion, to strive for perfection, and to work as a team. We also learn about getting up early! Teaching at West Mesquite High School and A.C. New Middle School connects me to amazing students and colleagues. I enjoy teaching symphonic band at the high school level but also beginner middle-schoolers learning French horn and trumpet for the first time.
What is a professional highlight of your career, either where you currently work or in the past? Last year I was named West Mesquite High School's Teacher of the Year. It is an incredible distinction and one of which I'm very proud. However, the real highlights of my career come when our band alumni return to visit current students. They talk about how band and our program helped them in their formative years to realize their dreams today. Only a few of our students pursue music professionally, but they all talk about lessons they learned in band and how they apply to college, work and life.
What is your favorite TWU memory? I traveled to New York City with the TWU Concert Choir in November 2005. We performed at Carnegie Hall to celebrate composer Gwyneth Walker's choral pieces and the voices of women. Voice was never my chosen musical instrument, but I appreciate the TWU faculty for the opportunity to learn how incredible it is to sing in a choir. During that trip I saw my first Broadway musical: "Rent". Its theme of love and compassion continues to be a tenet of my personal values. With the choir group, I was proud to be a woman, confident as a musician and joyful to be part of something bigger than myself. The picture of the concert choir at Carnegie Hall is hanging on my wall, and the autographed Playbill from "Rent" serves as the start of my lifelong collection.
What advice do you have for college students hoping to succeed professionally? Organization is freedom. A calendar and to-do list should be some of the most important tools in your life. Learn to use them. Prioritize your day every morning, and hit the ground running. Your job is to move the needle a little each day, every day in the way that makes the most sense for you.
What makes an effective leader?
Vision: Having far-reaching goals in line with your values
Adaptability: Making reactive and proactive decisions
Work Ethic: Fostering drive and determination
Motivation and Inspiration: Building team-based passion that enables the best in others
Communication: Being honest, transparent and real
What do you enjoy doing in your free time? I love the water and travel. I've recently completed my scuba certification, and I'm excited to plan my first ocean dive trip!
Page last updated 1:38 PM, July 26, 2022