Jody Anne Popple '02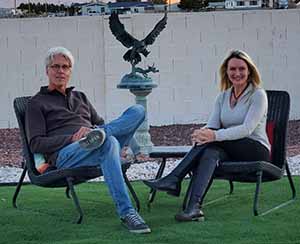 Jody's desire to build her psychotherapy skills and focus on a practitioner-scientist model led her to TWU. Popple's current position as Director of Family Business Services and Women's Leadership Development at Psynet Group, a management consulting firm, where she works with corporations assessing, training and coaching junior leaders and executives. She has worked with a variety of industries including finance, mining, technology, fashion and health care, among others.
What do you enjoy about your current position/profession?
What I love about my current position is not so different than what I loved about my former roles as a clinical and counseling psychologist and professor. Simply, I enjoy working with others to create the elements necessary for them to reach their potential. I am excited to do this with junior and senior leaders and teams at work which is a recent shift from working with individuals and families.
My current role is important to me because work life has a primary impact on the happiness of people. The average full-time employee works 8.5 hour week days and 5.4 hours on weekends. By helping them bring their whole selves to work, they experience balance in their lives and are more valuable to our clients/their organizations. One tool I use to achieve this is the application of the group dynamic skills I developed while at TWU.
I personally enjoy growing through this work because I am exposed to different industries including finance, fashion, health care, mining and IT to name a few. The variety of industries also includes an introduction to a variety of people. I am fascinated that in spite of the varying work roles and responsibilities, their challenges are very similar. And I am honored to become their trusted advisor by helping them think differently.
This new path has helped me explore a new passion, helping organizations achieve gender diversity through hiring, developing, retaining and promoting women. My approach is to leverage the diverse thinking styles of both men and women because better solutions are generated when genders collaborate. I believe that once the leaders are aligned, the company culture will change to incorporate values of gender diversity on every level.
How do you see your profession changing in the next 5 or 10 years?
I see the following changes in organizational and corporate psychology:
Consultants will rely more heavily on proprietary assessments and platforms like Psybil (Psynet's platform) to inform personnel decisions and development plans.
Consultants will shift their services from "one size fits all" to be spoke solutions.
AI will become part of a key in the way we assess, i.e., cursor movement to differentiate more truthful statements.
There will be a higher standard for training and development that will be led by external consultants and a stronger interest from top leaders to see sustainable change. Organizations will want to measure the results of their training and development investment.
Closer to home, I expect Psynet Group will grow to about 30 consultants and operate on 4-5 Continents while maintaining its approach as a boutique firm that provides customized solutions.
What unexpected experience or event has shaped and/or influenced your current professional life?
I can't pinpoint an experience or event. There were multiple events that led me to my current professional life. My path was shaped by the following:
I bombed a Psychopharmacology presentation at TWU due to fear of public speaking. In order to overcome my fear, I signed on to teach undergraduate courses. Post graduation, I became an adjunct professor at Marist college in New York and then a certified trainer on trauma informed care in residential institutions. I knew I had finally overcome this fear when I lead a "Body Pump" course at Gold's Gym that required me to be highly vocal and enthusiastic.
The final quarter of 2017 I faced several significant losses. The trauma combined with the compiled secondary trauma of 15 years of working with abused and neglected children propelled me to begin the shift from clinical to corporate psychology. During that transition, I met an extraordinary human being, Beverly Bronson, who inspired me to apply both skills at an orphanage in Nepal called House with Heart. This NGO not only houses abandoned children but focuses on teaching women a trade and empowering them to function independently and maintain safe environments for their children.
My work in Nepal was a mix between clinical work in which I helped train the staff of HwH and other orphanages on how to build a therapeutic environment and organizational development. While there, I advocated for the founder, Beverly Bronson, to begin a succession plan, since she had just turned 70 and she did most of the significant executive tasks. We did not complete the succession plan because she had not been feeling well. Upon her return, she was diagnosed with stage 4 cancer. When I saw the impact of Beverly's work and the potential loss if it did not continue, I choseto always be part of HwH and made the commitment to help this house continue to thrive through my work with the staff and the board as an advisory council.
What is a professional highlight of your career, either where you currently work or in the past?
I am currently working with a team of women in the fashion industry. The company had lost money for the past 10 years but had recently hired a CEO that was very effective. He quickly identified that part of the problem was the team, which suffered from high turnover, emotional triangles, gossip and conflict. The result was chronically falling short to make deadlines, which was one of the primary reasons for the lost profit. Since my involvement, I have helped in the selection of 8 hires and 3 promotions. I also coach individuals and provide team events. Both the CEO and owners have noted how much more fun it is to come to work now and they have returned to profitability for the first time since the early 2000s. This year the founder and owner has a milestone birthday and I am proud to know that I am part of continuing his legacy instead of losing it to the bank or outside buyer.
What characteristics do you look for when hiring people into your workplace?

We look for professionals that have a deep understanding of psychology and human systems; therefore they have to start with a Ph.D. or Psy.D. in counseling or organizational psychology. We adopt the mantra of one of our clients who requires employees to leave "your ego at the door." At Psynet Group, everyone does windows so humility and agility are important traits because we all do a lot of different things and pivot more quickly than our competition. They must also have a lot of energy and drive. We have seen in our clients that these traits are often the only difference between the top tier and mid tier executives.
We are also loyal to each other. We put team first, customer second and ourselves third. We believe that when the team is loyal and takes care of each other, the customer is actually served better. Related to this is that we want to have people on the team that we like because we spend so much time around them. This means knowing how and when to have fun.
Finally, our work often has lasting impact on others' lives. When we help with selection or succession planning, structural reorganization, or development projects, we know that our decisions could have an altering impact on someone's career and personal life. As a result we want people who understand the gravity of our work and are willing to put in the diligence necessary to get it right.
Why did you come to TWU?
My selection of TWU was based on a desire to build psychotherapy skills over research. I enjoyed my research opportunities at UT and even ran one of the labs, however, I really wanted to be a good clinician. At the time, psychologists studied under a scientist-practitioner model but TWU focused on a practitioner-scientist model which emphasized practice.
What is your favorite TWU memory?
Studying Psychopathology with my future husband, Dave, at Norma's Cafe on Beltline Rd. I got a B in the class. The B was not my favorite memory but the distraction was worth it.
Did a TWU professor inspire you? Who was that and how was that person inspirational?
Dr. Sally Stabb, who was on my dissertation committee, had the patience and focus to ground me. Her sense of humor kept things light. Dr. Stabb appeared to me to have mastered a balance between a demanding schedule and enjoying life. When she arrived to class with henna tattoos on her hands, I knew she had been celebrating and was more than just a professor.
Dr. Robert "Bud" Littlefield had an unconventional teaching style that inspired several post-class conversations among my cohort. Bud seemed to know when to follow rules and when to break with convention and I strive to have the same wisdom.
Has something about your TWU education surprised you since graduating?
Although obvious now, I did not realize how important it was in both nonprofit and for profit industries to understand people. I am grateful that my education translated so easily to the work I did from nonprofit to highly profitable organizations.
In human systems, we read a quote from an interview with Gregory Bateson that I cannot recount word for word but the general meaning was that we have developed a deep understanding of the human mind and how it works but can't seem to apply it to our own lives. Through education and experience, I have developed that deep understanding but like other psychologists struggle daily to apply these insights to myself.
What advice do you have for college students hoping to succeed professionally?
We have met graduates from some of the best schools in the country. It does not appear that they learned more than I did at TWU, however, their schools strongly encouraged students to network and build connections while there. My advice is for TWU students to proactively begin to develop their own networks with fellow students and professors, starting with their first semester.
For those going into graduate school, dare to be the dumbest person in your cohort and ask a lot of questions. Finally, get comfortable with not knowing and become just as comfortable with knowing that you can figure it out.
What makes an effective leader?
This is not a fair question because we have tried to condense this into a clear statement for clients of Psynet Group.
We believe there are 4 key factors:
The ability to generate an effective strategic plan
The ability to execute on that plan
The ability to inspire and influence others to understand your views and align with the plan
The ability to manage the personal stress and the stress of your team in order to make good decisions and achieve optimal outcomes.
In addition to these necessary abilities, characteristics that are important are similar to the ones we look for in Psynet Group employees - agility, humility, risk taking and focused energy.
What do you enjoy doing in your free time?
Discovering NYC is my latest adventure, which includes biking or running through the neighborhoods. I love the reality that I can attend a networking event one day, try out a new rooftop restaurant, attend a free fitness class by the marina outside my apartment, see a concert on a pier within walking distance, listen to a world famous philosopher discuss pseudo-science and take our two dogs to "yappy hour".
Dave, my husband, is an amazing amateur chef. We often entertain our friends on our terrace, overlooking the Hudson river, while pairing good wine with great food.
I wouldn't be totally honest if I said I enjoy running marathons, but I do them and I personally benefit from the discipline and focus it requires. I have to admit that I also like the "bling" (medals).
Page last updated 1:19 PM, July 26, 2022