Felisha Burleson '13, '15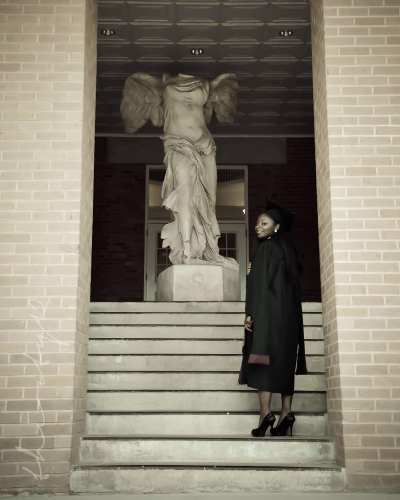 Growing up in foster care sparked a light within Felisha Burleson. She knew that her own struggles and challenges were not unique as she transitioned out of foster care and into young adulthood in college. In fact, it shaped her college education and professional career path into social work. "Back then, there were few programs and services available to foster care alumni, thus creating the stagnant college graduation rates. Joining the Frontiers Program made me realize that I was not the only foster youth drowning in the sea of college while transitioning from foster care" says Felisha. Navigating unclear processes like a tuition and fee waivers made her realize she needed to establish a program to help others who were experiencing similar challenges. Today, Felisha is the proud founder of The Patchwork Society, where she works alongside agencies and professionals to provide resources and support for young adults who have aged out of the foster system. She is impacting the lives of many and has created better outcomes for foster care youth.
What is a professional highlight of your career?  Being recognized by Change 1 and Education Reach for Texans as someone positively contributing to the lives of foster care alumni. 
Why did you come to TWU? I came to TWU because they offered my degree and I had an abundance of opportunities after graduation. I knew that the town that I am from would not allow me to access many resources or post-graduate opportunities for employment or professional growth.
What advice do you have for college students hoping to succeed professionally? I would encourage students to have a solid plan. Nothing goes according to plan but once you are off target, that provides you with the opportunity to either reset to align with the initial goals or redefine your goals to establish a new plan of action. I would also encourage students to access resources both on and off campus. There are so many neglected benefits that come as a part of your tuition and fees. By accessing the resources such as career services, tutoring etc. you can place yourself at an educational advantage and avoid crisis situations.
What is your favorite TWU memory? I loved going to TWU and I just loved (and still love) the feeling of peace and calm of being on campus. The Magnolia trees close to the library and the ponds by Lowery Woods were good quiet places to focus and become centered. I also enjoyed taking my daughter to the library and events such as fall festival and tree lighting ceremonies.
What characteristics do you look for when hiring people into your workplace? It is a misconception that you have to have all of the right answers in Social Services. I look for the ability to relate and understand the life circumstances of others. We will not always have the ability to say that we have the exact same experiences, but we can implement quality care and interactions when working with others. 
What do you enjoy doing in your free time? In my free time I enjoy learning new things and teaching. I am an adjunct professor and I love seeing my students grow and apply critical thought to some of today's most critical social issues. 
Page last updated 1:23 PM, July 26, 2022