Elizabeth Burns '78, '81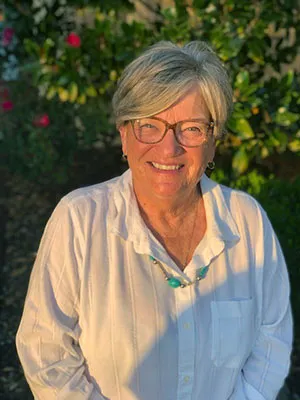 A career in academia, as a professor, was the long-term goal for Elizabeth Burns, PhD '78, '81. It was Texas Woman's University's Dr. Bettye Myers that mentored Dr. Burns and encouraged her to reach her goals. During her studies at TWU, Dr. Myers encouraged Dr. Burns to find research topics that interested her. Her doctoral curriculum became a carefully constructed combination of Kinesiology, Psychology and Sociology. After earning her PhD at TWU in Health Sciences in 1981, Dr. Burns joined the faculty at Texas Tech University and went on to teach courses on Sport Sciences and Sport in World Cultures. Her research interests also focused on gender issues in sports and exercise sport sociology. Dr. Burns, now retired, served as a professor, researcher, department chair and senior vice provost during her career at Texas Tech.
Dr. Burns was recognized with the Distinguished Alumni Award by the TWU Alumni Association in 2006 for her commitment to education. She received the Outstanding Woman Leader in Science Award from the West Texas Association for Women in Science in 2010. This award recognized her efforts to assist with a grant designed to increase the recruitment of women faculty in science fields.
Elizabeth and her husband, Dr. John Burns, also a lifelong educator who served as a department chair, vice provost of academic affairs and dean at Texas Tech, have created a generous endowment as part of their estate plans to fund scholarships for full-time undergraduate students as part of the Elizabeth H. Burns and John M. Burns Scholarship Endowment. Their endowment will leave a legacy at TWU and help to educate generations to come.
Why did you come to TWU?
My career goal was university teaching. I explored other doctoral programs and found them to be rigid and prescriptive. My area of interest could best be described as team dynamics although that focus changed somewhat as I moved through my coursework. Curriculum offerings at other universities were not specific enough to my interest to be attractive, and they were not flexible enough to accommodate my desired course of study. When I inquired at TWU the first question I was asked was, "What do you want to know?" As I discussed the answer to this question with Dr. Bettye Myers, it became clear to me that the focus would be my interests. We set about creating a course of study that would allow me to focus on what I wanted to study. So, my doctoral curriculum became a carefully constructed combination of Kinesiology, Psychology, and Sociology. It was perfect for me, and I loved it.
What is your favorite TWU memory?
I have very fond memories of my fellow students and the experiences we shared. They were a special collection of very talented and intelligent women who were focused on acquiring and advancing knowledge around their various specializations in the PhD program in what is now Kinesiology. We had lots of fun, but we also supported one another through challenging coursework and the difficulties of moving through our degree programs.
Did a TWU professor inspire you? Who was that and how was that person inspirational?
Much (maybe most) of my professional success can be attributed to my association with Dr. Bettye Myers. She is a legend to many TWU students and I was fortunate to have her as my research director for both my master's thesis and doctoral dissertation. She was a true mentor and brought out the best in her students. Her ability to launch into a completely unplanned topic during a seminar to pursue a question brought to the table by a student is a true testament to her intellect and teaching style. She taught in the moment and followed her students' curiosity where it took us. She was the consummate professional and spectacular humanitarian, and I strove to be like her.
What is a professional highlight of your career as an educator?
Being the chair of someone's dissertation committee was the loftiest goal I had set for myself as I started my career as a junior faculty member. I loved teaching and research and my job at Texas Tech. After I was tenured, I began to serve on various college and university committees—and then more college and university committees. When my department chair retired, I received an offer from the dean of arts and sciences to take over his position. I accepted and eventually moved into university administration as senior vice provost. So many highlights followed. It is fascinating and humbling to see the work of the university from the office of the provost. So, I would say that the highlight was getting to know so many people in all academic areas who were dedicated professionals—smart, committed, different by discipline but the hardest workers with the hearts of educator and scholars. Equal to this was getting to know professionals in all support areas of the university that faculty members seldom come into contact with—admissions, advancement, alumni relations, state coordinating boards and accrediting agencies for academic areas. All of this work was fulfilling and very interesting.
What advice do you have for college students hoping to succeed professionally?
The best advice I can give to college students is to study what you are interested in. Find your passion, and it must be YOUR passion. One of the greatest tragedies that I have seen as I have worked with college students is an unwillingness to resist influence by family and friends and to choose a field of study that does not interest them, with the focus on securing a job after graduation. I have seen very few students fail who have followed their passion.
What makes an effective leader?
Leadership has been a topic of interest for me since I began my serious study of the way groups work. An effective leader recognizes that they can't accomplish the group's goals alone. Success follows humility and a sense of the importance of the contributions of others. An effective leader studies the actions of successful people but also learns from their values so that they may formulate and constantly analyze their own. An effective leader is brave and fearless within the bounds of reason and responsibility. Take a risk.
What do you enjoy doing in your free time?
In my free time, which is plentiful now that I am retired, I like to read, play golf, do a little cooking and spend time with my family.
What inspired you to give back to TWU?
Texas Woman's is a special place. I received an exceptional education and my most common reflection is gratitude. I have respect for the values that TWU harbors and the way in which the culture welcomes and nurtures students. Through my experience as a professor, department chairperson and senior vice provost, I encountered students in situations where they worked hard and had very high aspirations and great talent but either had financial struggles, a lack of a support system or both. If this gift can ease the burden on those students so that they may have opportunities to reach their potential then that is the greatest purpose the gift can serve.
Page last updated 1:42 PM, March 4, 2021