Dianne Baker '75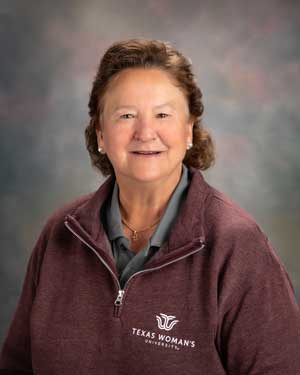 Mentorship is a common thread throughout Dianne Baker's career. Her story at Texas Woman's University began with her high school coach encouraging her to attend TWU, and even put in Baker's application for her. Dianne was accepted as a TWU Pioneer before she was even told she applied. She says, "The rest is history." Baker found mentoring and support through her coaches at TWU in addition to her teammates. As a player, Baker lettered in five sports at Texas Woman's and was a four-year starter as shortstop, playing on the team that won the state softball championship and represented the state of Texas in the College Softball World Series in 1975. She has coached 20 All-Americans and one Olympian and after coaching for 17 years at Stephen F. Austin University, she returned to her alma mater where she retired at the conclusion of the Pioneers' 2005 season. Baker is among the winningest coaches in NCAA history and a true softball legend. TWU recognized her as a Distinguished Alumna in 2006.
Why did you come to TWU?
My high school coaches had a great influence on me. One of them had attended TWU and knew it to be a great university. They thought I would fit well in the system. So as the story goes, they put the Pell Grant application in for me and I was accepted. And here I am!
What is your favorite TWU memory?
Living my life on the softball fields, tennis courts and other athletic fields with my teammates was the highlight of my time at TWU. We made life-long friends. We lived life to the fullest, laughed often and played with tremendous passion.
Who at TWU inspired you and how was that person inspirational?
Jo Kuhn, my softball coach for all four years, was a great inspiration to me. As well as Dr. Bettye Myers, Dr. Betsy Tandy and Kitty Magee who all acted as a mother to me over the four years I attended TWU. Dean Ann Uhlir was the person who hired me at TWU to be the new Softball coach in 1995. She became my mentor and friend. She helped guide me through the construction of the softball field and where it would be placed on campus. We were both lovers of nature and we wanted the field to be put in a location with a natural look amongst the trees. It truly is a unique setting for softball. Judy Southard, the acting Athletic Director at the time I was hired, became my business mentor during my time as a coach. I find Dr. Carine Feyten, current President of TWU, to be an amazing leader. She has inspired me to want to be a part of this tremendous growth at Texas Woman's University.
What is a professional highlight of your career, either where you currently work or in the past?
Writing the NFCA Code of Ethics for the governing body of college coaches. Participating in four Olympic Games by sponsoring the US Olympic Softball team. Building the first softball field and then being able to be in a position to make a gift to the University to upgrade the softball complex to its current standard.
Where do you work now and what do you enjoy about your current position/profession?
I am the National Promotions Director for Schutt Sports. I oversee everything to do with baseball and softball at the company. The decision making goes through me with regards to promotion of products and events – from little league organizations up to the MLB and US Olympic Teams. Working with the most professional, successful people and athletes in the business has been a highlight.
What characteristics do you look for when hiring people into your workplace?
The skill sets that my people need are great customer service, communication, conflict resolution along with physical and mental strength. We are the messenger for Schutt Sports. So how we conduct ourselves is crucial to the success of our company.
What makes an effective leader?
They have to be a good listener. So often we are busy talking and we aren't able to listen and find out what the problem is. Once you figure out the problem, you can work on finding a solution. You have to be able to adjust. So often plan A won't work – you have to be able to go to plan B or plan C. You have to get your head around the fact that your vision doesn't always come to pass with plan A. Granted, I may have a small hissy fit when plan A doesn't work out – because Plan A should always be the standard. But, after my 10-minute time out – you have to keep your vision and your focus to find a solution.
What advice do you have for college students hoping to succeed professionally?
I am a big proponent of internships. Even if you have to go work for free, surround yourselves with excellence and learn from the best people in your field. We all want to hire experienced people. And, the best way to obtain experience is through internships.
What do you enjoy doing in your free time?
I rarely have free time. If I'm not working my Schutt job, I am usually speaking across the country to athletes and professionals on leadership. I am a road warrior by trade. Therefore if I do get free time, I like to enjoy quietness in my home with my pets. I also enjoy the water. So, when I can enjoy some time in the pool or my hot tub, I take advantage of it.
Page last updated 1:21 PM, July 26, 2022