Adam Blair Golden '13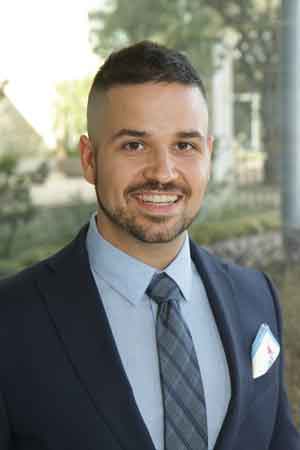 Post-Anesthesia Care Unit Associate Unit Manager, Parkland Health and Hospital System
Adam Golden loves working in his department at Parkland because it brings together his love of several critical care areas and allows him to make an impact every day as leader of his team. The changes happening in health care and the nursing profession excite Golden as the future of his profession evolves with continual changes to patient care and the emerging importance of focusing on the healthcare provider themselves. Golden was awarded D Magazine's Excellence in Nursing Award in 2018 for his commitment to caring for patients and the North Texas community.
What do you enjoy about your current position/profession?
The PACU is a great department because it brings together my love of several critical care areas. It is ICU care at an ED pace. Both places where I spent my first years of nursing getting experience. The team is remarkable and works hard to support each other. I also love this department because I feel like, as a leader, I can make a notable impact on their day almost every day.
How do you see your profession changing in the next 5 or 10 years?
Nursing is a profession that changes more and more every few months. It is exciting because we know that we are providing the best care possible and it keeps us engaged and energized about patient care. The other changes that I see happening in health care is that we are starting to focus on the healthcare provider, and with high rates of injury and burn out, this is integral to the future.
What unexpected experience or event has shaped and/or influenced your current professional life?
Over the years there have been many patients that have impacted my practice. They have reminded me to be grateful for the simplest things in life. Most recently, the ability to walk. We really take this for granted. Another patient was having a total laryngectomy and I took care of him before and after surgery. Seeing him with his daughters, know this was the last time they would hear his voice, really put patient care into perspective for me.
What is a professional highlight of your career, either where you currently work or in the past?
Being awarded the D Magazine Excellence in Nursing Award in 2018 and named a DFW Great 100 Nurse in 2019 have been huge honors for me. Being able to share these moments with my family and friends made them even more memorable.
What characteristics do you look for when hiring people into your workplace?
I have a talk I do for new nursing graduates called, "What we're all looking for." Personally, I like to hire people with a story. How can the team relate to you and how can you use your life experience to relate to your patients. I tell them that we are looking for nurses with a heart for learning, flexibility, high communication skills, vulnerability, a positive outlook, kindness, who are involved, engaged, self-aware and are gracious with themselves and others.
Why did you come to TWU?
I came to TWU because my Chief Nursing Officer at the time and my biggest professional mentor, Susan Mayfield had done the MBA program and helped me see the value in the program. TWU also offered the classes in a schedule that I could adhere to even with my busy work schedule.
Did a TWU professor inspire you? Who was that and how was that person inspirational?
I had Dr. Kerry Webb for Business Leadership. I really loved his teaching style and passion for leadership. It really helped me develop my love of people and leadership and develop my style of leading others.
What advice do you have for college students hoping to succeed professionally?
Network. Find ways to say yes, get involved, take on extra projects and exceed expectations.
What makes an effective leader?
Someone who listens even if they can't change the outcome. Someone who intervenes to change the outcome when they can. Someone who isn't afraid to get dirty and meet their team where they are. As a nurse leader, I still wear scrubs every day and make sure that I am at the bedside with the nurses taking patients and helping out. I make sure they get to take a lunch. Showing appreciation in small ways.
What do you enjoy doing in your free time?
Traveling! In September I am going to Tanzania and it will be my 33rd country. I love people so much and I love the cultural exchange. I love seeing cities and buildings (specifically churches, basilicas and cathedrals) that are older than the establishment of the US. Other than that, I like staying active and being outdoors. I have two Goldendoodles (Paisley and Presley) and we like to go hiking and running by White Rock Lake here in Dallas. I love to seek out some adventure and try new things.
Page last updated 1:15 PM, July 26, 2022