20 for '20 Messages to Graduates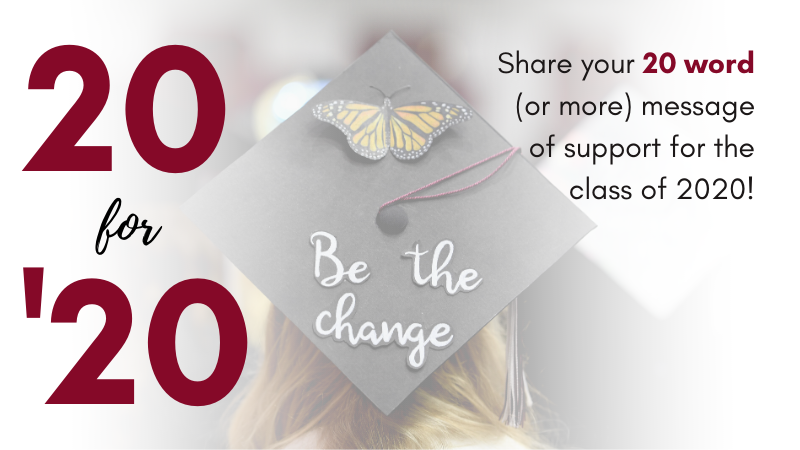 The TWU Class of 2020 is experiencing a final semester unlike any other. Join TWU Alumni Relations in supporting these seniors and graduate students.
In 20 words or more, share your congratulations and advice for a bright future with the newest TWU Alumni!
Submit your 20 for '20 Message
Mary L.A. Stanton '89
"Congratulations Class of 2020!
You will hopefully be the one and only class that has to experience this style of graduation. Hopefully you will celebrate many times in the near future your memories with your graduating friends and continue to grow closer by sharing your future experiences. Relationships and long time relationships are very special.
I wish you the very best as you start living the dream you have had for several years. Please try to not allow this virus to stress and or depress you too much. Life went back to normal after Cholera, bubonic plague and small pox to name a few. Life WILL get back to normal again. We just have to be smart in our personal protection between now and when we have a vaccine and medicines to cure so people don't suffer as much and for as long a period of time.
My hope is that each and everyone of you will become very successful in your field. You will grow personally and professionally. Life is precious and now you have the tools, the education to even surpass your dreams and live an amazing life. You are now in a position to show the world how you can make it a better place for many.
Please never forget the people and this wonderful University that helped you reach this goal in your life. Stay connected with TWU because there are many teachers, professors that respect you. Keep those relationships close to you also. May God bless you and keep you safe."
Lucia Malo '10
"'I can't change the direction of the wind, but I can adjust my sails to always reach my destination.' -Jimmy Dean.
Congratulations on your new season of adventure! Smile on! Hope On! Continue to be the change for better. Blessings!"
Debbie Pauley '15, '18
"Congratulations on your achievement! Awesome :)"
Monica Robinzine '01
"Congratulations Class of 2020! I hope you have had a wonderful college experience while attending Texas Woman's University. May you next journey be filled with great opportunities volunteering for Alumni Engagement as well as developing lasting friendships with your TWU alumni friends and family."
Olivia Chan '12
"Congratulations graduates on your well-deserved success. The world is waiting for you all to bestow great things upon it. Best of Luck!"
Meredith Wilson '20
"Congratulations to my fellow 2020 graduates! This year has been more than we could've imagined when we started the journey. I'm proud of all of us that have finished what we set out to do. Best wishes to you in all of your future endeavors!"
Barbara Punch '75, '84
"So proud of my fellow alumni! You have put in the hard work and long hours. Now go out and make your mark on the world. You are ready! Phil. 4:13"
Jaison John '18
"Hi graduates! My name is Jaison John, and I graduated from TWU in 2018 with a Computer Science degree. I currently work as a Software Engineer at JP Morgan Chase & Co. First of all, I would like to congratulate you on your great achievement, especially in the times we are in. Take some time and sit back and look at all the hard work you went through to get here. Take a moment to appreciate yourself and to look forward to the amazing journey into your professional life. My advice is to polish up your resume and have it peer reviewed. Set aside a number of hours every day to research and apply to jobs—don't get discouraged, keep applying."
Janea Snyder '12
"For many, you are the first in your family to achieve this recognition. There are many celebrating you and this wonderful achievement. Beyond this moment, continue to serve as an inspiration to those who will follow behind you in the days, months, and years ahead. Congratulations!"
Deaina Berry-Williams '18, '20
"Congratulations 2020 TWU graduates! Aim high. Persevere and view failures as learning opportunities to improve yourself and society."
Sheena Ates '10
"Class of 2020, you did it! You got through it with hard work and perseverance! Congratulations and wishing you all the best! If you made it through this year, you can make it through another day. Onward and upwards! Ad victoriam!"
Linda Barnett '95, '18
"Congratulations graduates, be grateful, be thankful, and be blessed. Become the change you want to see and boldly go!"
Steffanie Blackmon '09
"This year has been a challenge but you pushed through anyway. That, alone, makes you a rockstar! Go be great!"
Leslie Pearson '01, '07
"This year can be labeled many things, but of all it is a year of adjustment. You adjusted and made it through! Don't stop!! Keep Going!!!"
Elizabeth Garcia '20
"We did it!!
'So often in life things that you regard as an impediment turn out to be great good fortune.' - RBG.
It may not feel real at this moment, but in time you all will realize all that you have conquered during this pandemic. This only shows how strong, persistent, and courageous we are. Although the ceremonial traditions of a college graduation is symbolic, like a period to the end of a sentence, don't let life's circumstances take away from what you've achieved! So CHEERS to us, Class of 2020! What a class we are!"
Shayla Owens '19
"Congratulations on a job well done! Remember to boldly go after your dreams! The only limits are those you create."
Elizabeth Gray '11
"Be proud of your struggles, your strength, and your story. Be safe, make good choices, and prove them all wrong!"
Lauren Williams '18, '20
"Congrats to TWU's 2020 graduates!!! Let's remember what we have overcome and what we can accomplish as time moves on. This may look like a mess now, but I believe there is so much beauty waiting beyond this torrent. We will graduate with a healthy balance of courageousness, perseverance, compassion, intellect, and optimism. Always remember that love conquers hate!!!"
Karen Asante '19
"Class of 2020, what a year it has been!! Your struggles have certainly built character and showcased your perseverance and determination. You've accomplished so much! Congratulations on conquering a huge challenge!"
Aneesah Hyder '18, '20
"You have officially graduated despite, and in the midst of, living through a pandemic. Now you can take on anything!"
Tina Fletcher '80, '83, '90, '95, '10
"Graduates: It will take a while to let yourself relax and do nothing. This is normal. It will also take a while for you to realize that nothing is wrong with eating a meal off of a real china plate and taking your time to do it. It might take a while to enjoy reading a book that doesn't need to be underlined, but you will get there, too. Real life is on its way! We are all so very, very proud to have been part of your journey - which is really just starting."
Carla Sewer '12, '15, '20
"Blessed congratulations to TWU's class of 2020! As an alumna and also graduating with two degrees this semester, I know how each graduate feels completing a milestone in their lives, especially during these times when we are faced with making choices to be stronger everyday. Remember to give thanks always and keep on learning because that's real growth. According to Selassie the First, 'The possession of degrees alone does not classify anyone as fully educated.'"
Brenda Hanley '20
"Congratulations on your outstanding academic achievement. Never stop learning. You are a masterpiece!"
Uchechi Ogbonna '20
"I have a complete faith, Keep aiming higher, be more patient, and practice positive affirmation."
Yesly Ruiz '20
"Congratulations Class of 2020! We are forever changed, but never forgotten."
Chelsea Mullin '16
"In this year that has been unlike any other, take pride in knowing that you perservered, didn't let anything stop you, and you completed your degree. Congratulations!"
Jessica Burchfield '09, '12
"'My wish for you is that you continue. Continue to be who you are, to astonish a mean world with your acts of kindness.' - Maya Angelou
Congratulations on your well-deserved success. May you continue to boldly go into your future!"
Desmond White '07
"Congratulations fellow TWU Pioneers— you did it! Take this moment to celebrate all of your academic achievements, and go into the world and embark on the next leg of this amazing race that we call life. You all are destined for greatness. I wish you all the success in the world on all of your future academic and career endeavors!!!!"
John Jones '20
"A lot of people blaming 2020 for something it had no control over, how? Think back to when 2020 started, where were you? What were you doing? Do you remember? Now fast forward to today as you graduate and never forget 2020 didn't do it, you did.
In life you have periods and commas, sometimes we want to put a period where God says we should be putting commas. A period symbolizes a stop, or an end, and a comma symbolizes there's more to come, by you being here today, that means you finished and you are graduating. A lot of us wanted to put a period down instead of a comma, but God told us don't stop, just a little bit further you're almost there. For those of us that put a comma and continued on CONGRATULATIONS, this part of your journey is finished, the next chapter is about to start and the same rules apply."
Michelle Barro '07
"Change is inevitable and will continue to be the only constant in your lives. Embrace it! Congratulations, Class of 2020!"
Bernadette Coleman '93, '94
"Congratulations on your accomplishment! Your years of study and hard work have given you a sound foundation to 'Boldly Go!'"
Jantie Mitchell '16
"Trouble comes but it doesn't last always! Know that when it comes you can overcome it. It will make you stronger if you let it. Be encouraged and go be great!"
Hillary McConnell '19
"Wish you all the best of luck!!"
Seema Zahoor '11
"Congratulations! Be proud of your achievements - the hard work, sacrifices made and money well spent. This year is like never before but don't lose hope - good things come if one stays focused, engaged and humble!!!"
Robert Hallman, Jr. '13
"It took 46 years for me, so much opportunity in your future. Be proud, rejoice in your accomplishments."
Cecile Carson '83, '87
"Honor the past and embrace the future. A new door has opened for you to use the knowledge you have gained at TWU, but keep the door open to remember the connection you made in college and rely on those individuals and resources to continue opening more doors in the future. You have faced challenges like no other graduating class, use this experience to face the challenges ahead as you begin your career or explore new professions."
Regina McCray '72
"Congrats!!! You have reached another milestone in your life. Be proud of this accomplishment. May you be successful in all your pursuits."
Judy Elias '88, '92
"Conversation will not be cancelled; relationships will not be cancelled; love will not be cancelled; songs will not be cancelled; reading will not be cancelled; self-care will not be cancelled, hope will not be cancelled; may we lean into the good stuff that remains - your graduation!!! Congratulations!!"
RonieSue Ullrich '08
"Go BOLDLY into the world equipped with kindness & love.....and BE GREAT!!"
Magalene Greene '03
"Congratulations to the class of 2020. I wish you every success in your future endeavors. Go forth and be the best in your studied field."
Sarah Meo '18
"To the TWU class of 2020, I know that this is not what you dreamed of when it came to graduating, but you should be proud of your accomplishment! Everything you worked hard for finally paid off. And now your part of the amazing alumni that is always there for each other. I hope your day is amazing and wonderful. I want to welcome you to this new journey in life and into becoming a true pioneer."
Wyona Freysteinson '11
"Congratulations 2020 Scholars! You have a mission! You are the future of the post COVID world. We look to you for your wisdom as to how the world will be positively transformed for the betterment of people!"
June Marshall '73
"Congratulations, TWU Graduates in the Class of 2020! May you be proud of your tremendous accomplishments and may your future be filled with much happiness and great success! Follow your dreams!"
Mary Alice Anderson '13
"You are amazing, resilient, and destined for greatness! Never give up on your dreams - they were given to you so that you could change the world. I'm proud of what you've accomplished, but better yet is what is to come! Live with integrity, serve others, and pray - you are incredible!"
Guadalupe Miralrio '16, '21
"Congratulations class of 2020! Although it may not be a day like you expected, remember that you made it and that you can accomplish many more of your dreams with faith and perseverance. God bless you and your new journey."
Laryn Kropik '19
"YOU made it! YOU received your degree! Through hardships, breakdowns, parenting, second attempts, you name it, YOU kept pushing and YOU now hold a degree! Keep going in life and there will be nothing stopping you!"
Shari Hilton '05
"Congratulations on a job well done! Strive to do your best and to be productive in life and all your future endeavors!"
Nadene Minyard '12
"YOU are about to get out and WERK! So glad to have more pioneers out there doing big things! The world needs exactly who you see when you see yourself!"
Tracy Wagner '14
"Congratulations class of 2020! While this year has brought challenges, take this time to discover how you can make a change in society and in your communities. Encourage, mentor and inspire others as they pursue higher education. Make a difference!"
Linda Warren '74
"Congratulations! Your life is just beginning. Move forward & make it great. TWU gave me great preparation for a wonderful career. You don't realize it now-but you will realize later how important your education is for your future. Best wishes!"
Gina Robinson '19
"Congratulations to the class of 2020! This is a remarkable achievement and I wish you all the best of luck!"
Allyssa Kelley '12, '16
"Congrats, Class of 2020! I'm so proud of your resilience and tenacity! Take that with you into the future!"
Michael Duplanty '16
"May you now know celebration and joy. May you recognize and accept all you have accomplished. Congratulations Class of 2020!"
Tamara Zunis '16, '22
"Congratulations on making it through this difficult time. You are strong and capable- keep moving forward even when life seems tough. You can do great things with dedication and positivity."
Deborah Pauley '15, '18
"Congratulations Class 2020!!!! It is awesome that you've made it! May you be blessed in your future endeavors!"
Janet Phillips '59
"Congratulations Carli Jaye, so proud of you!"
Roxanne Arndt '76, '12
"Best wishes for your future as you graduate with your degree in your chosen field. I only hope good things are on the horizon for as you make the next big step in the game of life. To the nurses who graduating, you are dear to my heart and you will soon be my colleague. You have a huge responsibility coming your way as you face the challenges not only now with the situation we are facing but also in the future. Remember your priorities: yourself, the patient, the family. Nursing is not what it used to be and to be honest I don't think I could be in your shoes right now. Don't get discouraged, don't be in a rush to get that next degree and move on. Hold your standards high and remember your pledge (not sure if you say the Florence Nightengale Pledge anymore!) Blessings to everyone! Congratulations Class of 2020 from a 1976 Alumni and 2012 Alumni!"
Teresa Olvera '19
"Always have faith in yourself and humanity...congratulations 2020!"
Kelsea Raborg '16, '19
"Congratulations!! You did it! Celebrate and know that what you have accomplished is not easy! I wish all of you the best in your future endeavors!"
Rhonda Thomas '06
"May the Lord bless you and keep you! May He make the sun shine upon you and give you peace TWU Class of 2020!"
Kyearia Galbreath '16
"THIS is where you life BEGINS!! Congratulations Class of 2020!"
Tamieka Williams '16
"Now you have the tools to go forth and become a world changer!"
Janet Wilburn '87
"Congratulations Pioneers! You are our "new normal", our new leaders!"
Carol Mitchell '67
"This is an exciting time. The entire world will remember your Graduation Year. TWU has prepared each of us for what the world has to offer. I was prepared in 1967 and you are prepared now. Being retired and looking back at the years which followed graduation, I am a grateful graduate of TWU. You, too, will look back one day and be grateful. Congratulations. Should you be in Southern California please join the only Alumni chapter outside the state of Texas. We'd love to welcome you."
Lynne Gibbon '78
"Congratulations! You are off to new adventures! Continue to build on your successes and plan for your future."
Cheryl Brown '19
"WOW! What a way to totally ROCK it all the way out! Congrats Class of 2020! You are my HEROES."
Marguerite San Millan '83
"Creative expression is vital to growth - a watering of one's unique soul, to push through bedrock and dirt, to reach out for the sun ... may you all express yourselves, forever ... to enrich the world!"
Patricia Springer '99
"Congratulations to the Class of 2020 and especially to my grand daughter Hannah Springer. Proud that she is now a fellow TWU alum. I wish all new graduates much success in their chosen fields."
Margaret Wasserman '75
"I offer my sincere congratulations on your achievement! While graduation is a conclusion, it is also a fresh start on your future - I hope it's a wonderful adventure!"
Maria Rogers '13
"Congratulations, Graduates! You have worked so hard and you should be so proud."
Tatiana Duran '18
"Congratulations Class of 2020, YOU DID IT!!!
I know this is not all what you pictured your graduation day to look like, but I hope that you take some time to celebrate YOU & ALL YOUR ACCOMPLISHMENTS. This is probably the first time in history something like this has happened, which makes YOU very special. So take this lemon & make lemonade.
Welcome to the real world , the world has been waiting for someone like YOU. & when life gets tough, remember you are a PIONEER (& not everyone can be a PIONEER)!"
Rachel MacNeill '19
"Congratulations to the class of 2020, and special well wishes to this year's graduating Doctors of Physical Therapy. You're graduating in an unprecedented time, but you're prepared for the challenges and opportunities it brings. Cheers to all of your hard work, whether in person or from afar."
Rupal Patel '90, '91
"Graduation is a time of celebration for completing one part of your professional development journey. It is also a beginning of your next journey. Go blaze a trail. Congrats grads! #PionnerProud of y'all!"
Joy Brown-Bolden '19
"You did it! You overcame many obstacles and achieved your goal! Best of luck in your future endeavors!"
Denise Montgomery '07
"Congratulations on completing this milestone. I wish the best for you. I know TWU has done a great job preparing you."
Gayle Lieban '85, '89
"Congratulations on achieving your goals in education! Tenacity and perseverance have brought you to this moment. Texas Woman's University has prepared you for our changing world and each of you brings your own special gifts as you work for solutions and serve our society in positive ways. Go proudly and resolutely!"
Aline Weinheimer '79, '82
"Kindergarten-recess-friendships-desktops-cellphones-TAKS-graduation-lockers-electives-belonging-crushes-chrome books-orientations-expectations-TWU-change-COVID-graduation-warriors"
Chari Mercier '76
"Congrats TWU Grads!! Hope you enjoyed your college years and looking forward to going into your chosen careers real soon! Unfortunately, this coronavirus outbreak will delay your job search for awhile, but keep hope alive, believe that God will get all of us thru this, stay safe & healthy! GO PIONEERS!!"
Andrea Douglas '86
"Congratulations—you will never regret the time and effort that you committed to earning your degree. TWU is like no other college experience. Go out and thrive!"
Michelle Lopez '93
"My congratulations to you on the accomplishment of completing your TWU degree! While the celebrations may not be as you had hoped, know that the title of 'graduate' is one you will always hold. May you inspire others with your 'Pioneering' Spirit and Boldly Go forward into your future."
Roxana Garza-Rojas '10
"Congratulations to all of those receiving their degree! I wish you all the very best in your careers. Felicidades a mis hermanas de Sigma Lambda Alpha Sorority que se graduan este mes AQUI!"
Barbara Punch '75, '84
"Best wishes for a bright future. TWU has uniquely qualified you to impact the world for good. Be Pioneer proud of your alma mater! Remember to join our alumni group."
Becky Schwartz
"Congratulations Nallely Carrillo! Completing this course of studies to get your Masters Degree is AMAZING!!!"
Jeanie Ruffner '20
"Congratulations everyone!"
Rachel Saldivar '18, '19
"Congratulations 2020 Graduates! Even though your graduation experience was not what you expected, TWU Alumni members are cheering you on! I hope you can look back on this time with fond memories of family time, memories at TWU and how bright your future will be. This is a time when we need all of the innovative and insightful ideas that all of you have to offer. Don't let fear ever hold you back. You are unstoppable! GO PIONEERS!"
Amelia Hedrick '19
"Congratulations 2020 graduates! Way to keep going despite the sometimes uncertain times. You have made so many people proud, but please make sure to be proud of yourself. You did it!!!!"
Kristie Sanders '00
"Congratulations to this special class, especially my daughter, Kenzie!! We are SO VERY proud of you!"
Thomesa Wilson '20
"Congratulations to the class of 2020! You did it! And a special congratulations to Jermaine Jackson!!! I am so proud of you love!"
Ivery De La Cruz '77
"Congratulations Graduates! The places you are going and the things that you will do are truly amazing. Life is full of opportunities for a Pioneer like you."
Shannon Tisdale '92
"Don't give up despite the season we are in. Remember growth comes from failure and adversity. Your TWU family is here to mentor you through these times so you can be successful in the path you've been given. Continue prayers for you all..."
Sara Davis '81
"Congratulations! Cannot wait to see where the next adventure in your life takes you!!!"
DeLana Honaker '94, '99, '01
"If someone hasn't told you yet, I'M SO VERY, VERY PROUD OF YOU!! I remember well what it was like to struggle, study, worry, write, think, and sometimes just take a breath. While earning my degrees, I wondered many, many times if it was really worth it? Let me tell you, YES IT IS!!!!!!!!! In so many ways you don't even know yet, it is worth every struggle, moment studying, everything you ever thought about and every single breath you took. I PROMISE you will be so very happy once you are done and get that degree in your hand and you move into your area of expertise (and yes, that degree has given you that area of expertise!) Again, I'm so very, very proud of you! You should be proud of you, too!"
Leah Freer '15
"BOLDLY GO! Congratulations C/O 2020!!"
Michelle Lopez '93
"Congratulations/Felicidades! Celebrate this accomplishment with pride and joy! May the Pioneer spirit always remain with you. #TWUPioneerPride"
Page last updated 9:30 AM, January 14, 2021