Doctoral Students
Esther Ajayi-Lowo
Esther O. Ajayi-Lowo holds a Master of Arts degree in Multicultural Women's and Gender Studies from Texas Woman's University (TWU); a Master's degree in International Law and Diplomacy from the University of Lagos, Nigeria; a Bachelor of Arts degree in Philosophy from Obafemi Awolowo University, Ile-Ife, Nigeria; and was trained in 'Human Rights' and 'the United Nations Systems' at the United Nations University, Tokyo, Japan. Prior to commencing graduate school in the U.S., Esther worked for eleven years with both non-governmental and governmental organizations, including the U.S. Mission in Nigeria, on health, gender, human rights, and development issues in Nigeria. Her dissertation, "Decolonizing Childbirth: Women, Traditional Birth Attendants, and Reproductive Justice in Nigeria", is exploring the significance of indigenous birthing knowledge and women's socio-cultural and spiritual birthing standpoint for reproductive justice. While pursuing her Ph.D., Esther continues to simultaneously engage research, advocacy, and pedagogy for social justice. She has led two campus-wide reproductive justice events at TWU and has had extensive college-level teaching experiences in Nigeria and the U.S.
Research Interests: Transnational Feminism; African Feminisms; Inter/National Birth Justice; Reproductive Health, Rights and Justice; Politics of Sexuality Education; Feminist Theory and Praxis; and Gender, Law and Human Rights.
Kristin Alder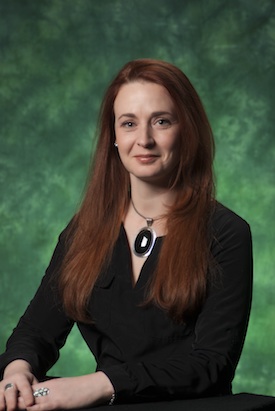 Kristin Alder earned her master's in interdisciplinary studies with a concentration in women's studies from the University of North Texas. She is also pursuing a master's in English. Her dissertation posits women of colors science fiction as womanist spiritual activism using the work of Nnedi Okorafor, Zainab Amadahy, Sabrina Vourvoulias, and Gloria E. Anzaldúa.

Research Interests: transnational feminisms, women, peace, and security, the political economy of violence against women, Gloria Anzaldúa, feminist, womanist and indigenous epistemologies, speculative realisms, post-genomic gender transgression and Latin American and Caribbean literatures.
Diana Álvarez
Diana Álvarez earned her master's in women, gender and sexuality studies from Florida Atlantic University. Her menstrual art can be viewed at the online exhibition gallery Widening the Cycle. Álvarez has spoken on the topics of menarche and menstrual suppressants on the "Her Turn" radio show on WORT 89.9 FM. Her dissertation will focus on the decolonization of menstruation.
Research Interests: menstruation, popular culture, fat feminisms, smartphones and new materialisms, art as activism, food studies, post-humanisms and ecofeminism.
Jessica Camp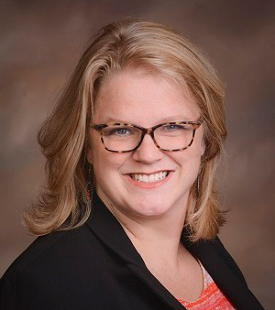 Jessica Camp holds a master's in women's studies and a master's in English from TWU. Her dissertation focuses on Anzaldúan theory. She is currently employed at TWU as the coordinator of academic transitions in Pioneer Center for Student Excellence.
Research Interests: Gloria E. Anzaldúa, archival research, feminist pedagogies, multimodal and online education, essential motherhood, motherhood and disability and composition studies.
Christina Cavener
Christina Cavener earned her master's in theological studies with a graduate certificate in gender and women's studies from Southern Methodist University. While gaining her doctorate, she will examine the ways in which democratic governments have implemented policies that embody feminist values.
Research Interests: feminist comparative policy theory, feminist public policy, American international relations, ecofeminism, womanist, mujerista and feminist theories, intersectionality, environmental justice and how globalization and cultural phenomena affect or contribute to policy change.
Marcella C. Clinard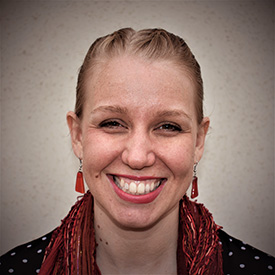 Marcella C. Clinard earned master's degrees in women's studies and English at TWU. Her dissertation, titled "Intersections of Religion and Race in Women's and Gender Studies: Possibilities for Teaching Introductory Courses," is a qualitative case study exploring how women's and gender studies instructors teach (or don't teach) about religion, and the social-justice implications of these pedagogical choices, particularly related to the intersections of religion and race, ethnicity, and nationality. While at TWU, Marcella has taught lower- and upper-level women's and gender studies courses as well as first-year composition courses, and she has prior experience as a middle-school English teacher.
Research Interests: religion and social justice; critical race theory and intersections of religion, race, ethnicity, and nationality; Gloria E. Anzaldúa; new materialisms and ecofeminism; theorizing about intersectionality and epistemology; feminist qualitative research; feminist/womanist pedagogies; reproductive justice
Pallavi Govindnathan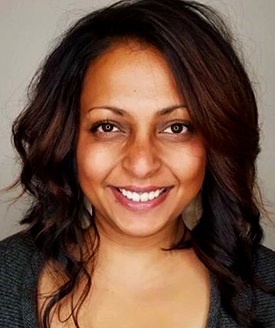 Pallavi Govindnathan earned her masters in Painting and New Genres, with minors in Drawing, Sculpture and Art History from the Savannah College of Art and Design and San Francisco Art Institute. Pallavi's tentative dissertation is titled Theorizing Acid Violence in South Asia: Causation, Elimination and Empowerment. The current dissertation work is based on a 6-year personal study on acid violence in Bangladesh and India, and has lead to collaborations with several NGOs in Bangladesh, Duke University Press and AVON Global Center for Women and Justice (Cornell Law School). Pallavi lives in Denton with her cat, Nai and her dog, Max.
Research Interests: transnational feminism, women in Bollywood cinema, Hindu mythology and culture, representations of gendered violence in art, religions and cultural veiling, commodity, culture, and menstrual taboos and cultural restrictions.
Paige Hoffmann
Paige Hoffmann holds a master's in gender and women's studies from University of Wisconsin, Madison. Her master's thesis examined visual representations of disability building on Alison Kafer's work on cyborgs and crip political action.
Research Interests: disability and chronic illness personal narratives and ethnographies, queer studies focusing on marginalization of asexuality in queer and disabled communities, accessible and feminist pedagogies and disability and the intersections of race, gender and LGBTQ+ in higher education.
Valarie A. Lambert
V Lambert did her undergrad work in WGS and earned her Masters in Human Relations at the University of Oklahoma. Lambert is an adjunct professor at OU, GA's at TWU, and has been a bartender for 15 years. She has a 20-year-old daughter, Natalee, with whom she is very close. Lambert co-founded a grassroots feminist group called Oklahoma Sisters in Solidarity (OK SIS) with the mission to make Oklahoma better for women and girls. As she pursues her education and life in Texas, she is thinking about the change a Red River Sisterhood could bring!

Research Interests: Those that are close to my heart, including, sexism, gendered violence, body image, women and leadership, women and politics, rape culture, the wage gap, intersectional feminism, as well as Native American and Queer issues
Jennifer V. Martin Emami
Jennifer V. Martin Emami is a doctoral candidate in women's studies. She obtained a master's degree in communication studies at Northeastern State University. She is active in multiple professional organizations and presents at a number of academic conferences annually. She has served as both the social chair and professional development chair in our graduate student association. Jennifer has also been an active committee member for campus-wide events and serves as a reviewer for academic journals. Her dissertation research focuses on moving beyond oppositional classroom rhetoric through a womanist pedagogical framework.
Research Interests: feminist and womanist pedagogy, intercultural communication, classroom rhetoric and activism in the classroom.
Morgan T. May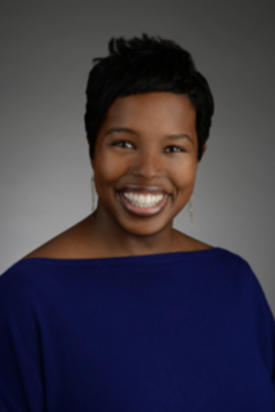 Morgan May earned a Master of Education degree, specializing in Second Language Acquisition, along with a Bachelor of Arts degree in World Languages (Spanish, French, Japanese, and Russian), and a Bachelor of Business Administration degree in Information Technology and Operations Management from Southern Methodist University (SMU). She also holds Texas Educator Certificates in Secondary French and Spanish as well as a secondary certification endorsement in English as a Second Language (ESL).
In Fall 2020, Morgan accepted a faculty member position in the Sierra Canyon School's Department of World Languages, and she will also serve as coordinator of the school's Diversity, Equity, and Inclusion Task Force. Sierra Canyon is a private and coeducational day school located in the Los Angeles, California neighborhood of Chatsworth.

Research interests: language and gender; intersectionality; womanist/feminist theories; reproductive and environmental justice; and womanist spiritual activism.
Kathy Nguyen
Kathy Nguyen earned her MSW at the University of Arkansas. Her articles have been published in ejcjs: electronic journal of contemporary japanese studies and Ekphrasis. Her first short story, "The Veteran," was published by Kartika Review.
Her dissertation is ALWAYS [IN]FORMATION: Re/Wiring to Dis/Re/Assemble the Network as a Living Womb/Tomb explores the metaphorical and regenerative forms of the network and its accelerated archival significance in the future.
Research Interests: Asian (American)/diasporic literature, digital cultures, electronic literature, informatics, network studies, philosophies of technology, and SF.
Foluso Oluade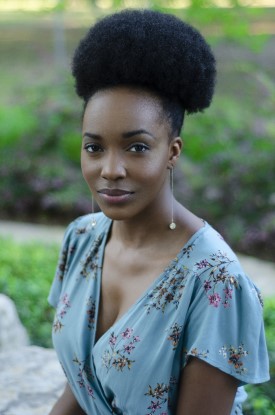 Foluso Oluade earned a Bachelor's in English from Alabama State University and a Master's in Interdisciplinary Studies with a concentration in Women's and Gender Studies from the University of North Texas. She is currently pursuing her Ph.D. in Multicultural Women's and Gender Studies. She aspires to be a professor and activist for sexual education. She is currently a part of the Campus Sexual Assault Prevention Program (CSAPP).
Research Interests: sexuality education, campus sexuality education and sexual safety, the use of stories for sexuality education, storytelling and activism, sexual assault prevention
Gabriella V. Sanchez
Gabriella V. Sanchez has a BA in English with a minor in Women's Studies, and an MA in Bicultural-Bilingual Studies from the University of Texas at San Antonio. Using Anzaldúa's Seven stages of conocimiento, her master's thesis examines the ways in which Chicana identity is shaped by trauma, family, spirituality, and the ways in which we, viewers, can look to artists for models for healing. Departing from her existing work, Gabriella is interested in exploring visual forms of spiritual activism, specifically how Chicanas communicate our understanding/new understandings of spirituality and demonstrate spiritual agency.

Research interests: Theory in the flesh, theory of spiritual activism, plática methodology, intersectionality, Indigenous spiritualities, intergenerational trauma, healing as activism
Pam Tise
Pam Tise earned a master's in political science with a concentration in legal studies and a master's in public administration from Texas State University.
Research Interests: institutional discrimination, women in history, political violence against women, women's movements and social justice, feminist pedagogy, sacred ecology and the role of spiritual activism in changing governance.
Shamethia Webb
Shamethia Webb holds a Bachelor's of Social Work from Baylor University and a Master's degree in Women's Studies from TWU.

She is particularly interested in literature and social justice, and her master's thesis examined this intersection by deconstructing the myth of the Strong Black Woman and proffering Jewelle Gomez's vampire novel, The Gilda Stories, as a guide for healing.

Research interests: anti-racism as best practice in social service agencies; the role of creative writing and storytelling in liberation movements; the role and function of "bad" women and witches in the cultural imaginary.
Carla Wilson
Carla Wilson is a Doctoral Candidate in Multicultural Women's and Gender Studies. Carla earned a Bachelor's degree in Psychology from Southern Methodist University and a Master's degree in Women's, Gender and Sexuality Studies from Georgia State University.

Research Interests: Compassionate listening, spiritual activism, Gloria Anzaldúan thought, feminist and womanist epistemologies, pedagogies, and praxis, and contemplative practices in higher education, specifically in teaching and research. Carla's dissertation is titled Light in the Classroom: Contemplative Practices in Women's and Gender Studies
Page last updated 5:29 PM, September 23, 2020