Doctoral Students
Esther Ajayi-Lowo
Esther Ajayi-Lowo holds a bachelor's in philosophy from Obafemi Awolowo University and a master's in international law and diplomacy from the University of Lagos, Nigeria. Along with the doctoral program, Esther is also pursuing a master's in Multicultural Women's and Gender Studies. She's had professional experience in women's rights and development issues in Nigeria with governmental and nongovernmental organizations, and she now serves on the board of trustees of Projekthope in Nigeria.
Research Interests: feminism, theory and praxis, global and transnational feminism, African feminisms, feminist/womanist theories, gender and human rights, politics of sexual and reproductive health, sexual violence in crisis and conflict situations and women's oppression at the intersection of cultures and religions.
Kristin Alder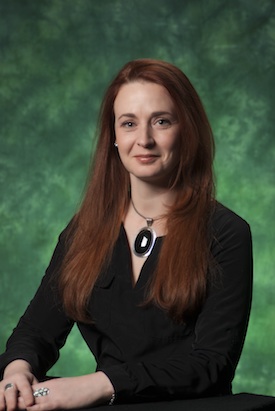 Kristin Alder earned her master's in interdisciplinary studies with a concentration in women's studies from the University of North Texas. She is also pursuing a master's in English. Her dissertation posits women of colors science fiction as womanist spiritual activism using the work of Nnedi Okorafor, Zainab Amadahy, Sabrina Vourvoulias, and Gloria E. Anzaldúa.

Research Interests: transnational feminisms, women, peace, and security, the political economy of violence against women, Gloria Anzaldúa, feminist, womanist and indigenous epistemologies, speculative realisms, post-genomic gender transgression and Latin American and Caribbean literatures.
Diana Álvarez
Diana Álvarez earned her master's in women, gender and sexuality studies from Florida Atlantic University. Her menstrual art can be viewed at the online exhibition gallery Widening the Cycle. Álvarez has spoken on the topics of menarche and menstrual suppressants on the "Her Turn" radio show on WORT 89.9 FM. Her dissertation will focus on the decolonization of menstruation.
Research Interests: menstruation, popular culture, fat feminisms, smartphones and new materialisms, art as activism, food studies, post-humanisms and ecofeminism.
Lindsey Bartgis
Lindsey Bartgis has a master's in clinical psychology from Roosevelt University. Her dissertation is tentatively titled "Male Rape Culture: Media Representations of Male-on-Male Sexual Assault and Male Survivor Experiences." She has held board positions with Chicago's largest LGBTQ community center the Center on Halsted and reproductive justice organization Texas Equal Access Fund.
Research Interests: sexual violence (particularly male sexual assault experiences), popular culture, legal studies, issues involving Title IX and sexual assault, reproductive justice and ecofeminism.
Karen Bravo
Karen Bravo has a BFA in Fashion Design from the University of North Texas and an MA in Textiles for Design Futures from Central Saint Martins. She is a research affiliate with the University of Texas at Austin Biomedical Engineering Department, working with a team to design post-mastectomy undergarments. Her dissertation draws on the work and lives of Audre Lorde and Gloria Anzaldúa to examine the interconnections between politics and fashion in US feminist movements.
Research interests: politics of fashion, clothing and human behavior, gender identity and apparel, fashion theory, sustainable fashion and apparel manufacturing, fashion law, responsible fashion pedagogy
Sheila Bustillos
Sheila Bustillos has a master's in education, counseling and guidance with an emphasis in higher education administration from Texas State University-San Marcos. Her dissertation, tentatively titled "Foster Care Parenthood: Exploring Multigenerational Involvement," is a qualitative investigation of cyclical removals in the Texas foster care system focused on former foster care parenthood experiences. She is currently the President of Education Reach for Texans, a 501c3 nonprofit organization championing post-secondary success for foster care alumni in Texas.

Research Interests: motherhood and subalternity, multigenerational involvement in foster care, parenting in poverty, social construction of parenting, humor as a tool for social change, and ethical/moral student development theories.
Jessica Camp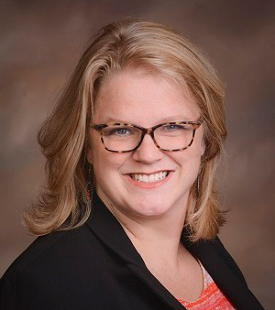 Jessica Camp holds a master's in women's studies and a master's in English from TWU. Her dissertation focuses on Anzaldúan theory. She is currently employed at TWU as the coordinator of academic transitions in Pioneer Center for Student Excellence.
Research Interests: Gloria E. Anzaldúa, archival research, feminist pedagogies, multimodal and online education, essential motherhood, motherhood and disability and composition studies.
Christina Cavener
Christina Cavener earned her master's in theological studies with a graduate certificate in gender and women's studies from Southern Methodist University. While gaining her doctorate, she will examine the ways in which democratic governments have implemented policies that embody feminist values.
Research Interests: feminist comparative policy theory, feminist public policy, American international relations, ecofeminism, womanist, mujerista and feminist theories, intersectionality, environmental justice and how globalization and cultural phenomena affect or contribute to policy change.
Marcella C. Clinard
Marcella C. Clinard earned her master's in women's studies at TWU. She has experience as a public school English teacher and is pursuing an additional master's degree in English.
Research Interests: intersections of race and religion, engagement with religion and spirituality within women's and gender studies, pedagogy within women's and gender studies, reproductive justice, new materialisms and ecowomanist ontology, Gloria E. Anzaldúa's writing process, whiteness in American literature
Pallavi Govindnathan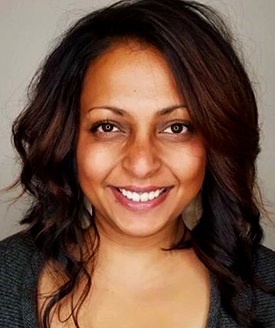 Pallavi Govindnathan earned her masters in Painting and New Genres, with minors in Drawing, Sculpture and Art History from the Savannah College of Art and Design and San Francisco Art Institute. Pallavi's tentative dissertation is titled Theorizing Acid Violence in South Asia: Causation, Elimination and Empowerment. The current dissertation work is based on a 6-year personal study on acid violence in Bangladesh and India, and has lead to collaborations with several NGOs in Bangladesh, Duke University Press and AVON Global Center for Women and Justice (Cornell Law School). Pallavi lives in Denton with her cat, Nai and her dog, Max.
Research Interests: transnational feminism, women in Bollywood cinema, Hindu mythology and culture, representations of gendered violence in art, religions and cultural veiling, commodity, culture, and menstrual taboos and cultural restrictions.
Paige Hoffmann
Paige Hoffmann holds a master's in gender and women's studies from University of Wisconsin, Madison. Her master's thesis examined visual representations of disability building on Alison Kafer's work on cyborgs and crip political action.
Research Interests: disability and chronic illness personal narratives and ethnographies, queer studies focusing on marginalization of asexuality in queer and disabled communities, accessible and feminist pedagogies and disability and the intersections of race, gender and LGBTQ+ in higher education.
Angela A. Johnson
As an author, social impact administrator, and social science scholar, Angela A. Johnson has dedicated herself to finding innovative ways to fund initiatives that improve the lives of women, children, and those who are (dis)abled globally.
Angela holds a B.A.S. in Interdisciplinary Studies from Dallas Baptist University, a Certificate in Nonprofit Leadership from Southern Methodist University/Center for Nonprofit Management, a M.B.A. and M.A. in Women's Studies from Texas Woman's University. Her dissertation, tentatively titled, "Womanism, Work, and Wealth," focuses on the social impact history of free women of color business pioneers in the antebellum South. Her research interests include: women and business; women and leadership; women and Church history.
Valarie A. Lambert
V Lambert did her undergrad work in WGS and earned her Masters in Human Relations at the University of Oklahoma. Lambert is an adjunct professor at OU, GA's at TWU, and has been a bartender for 15 years. She has a 20-year-old daughter, Natalee, with whom she is very close. Lambert co-founded a grassroots feminist group called Oklahoma Sisters in Solidarity (OK SIS) with the mission to make Oklahoma better for women and girls. As she pursues her education and life in Texas, she is thinking about the change a Red River Sisterhood could bring!

Research Interests: Those that are close to my heart, including, sexism, gendered violence, body image, women and leadership, women and politics, rape culture, the wage gap, intersectional feminism, as well as Native American and Queer issues
Jennifer V. Martin Emami
Jennifer V. Martin Emami is a doctoral candidate in women's studies. She obtained a master's degree in communication studies at Northeastern State University. She is active in multiple professional organizations and presents at a number of academic conferences annually. She has served as both the social chair and professional development chair in our graduate student association. Jennifer has also been an active committee member for campus-wide events and serves as a reviewer for academic journals. Her dissertation research focuses on moving beyond oppositional classroom rhetoric through a womanist pedagogical framework.
Research Interests: feminist and womanist pedagogy, intercultural communication, classroom rhetoric and activism in the classroom.
Morgan T. May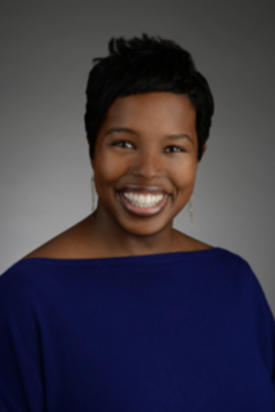 Morgan May earned a Master of Education degree, specializing in Second Language Acquisition, along with a Bachelor of Arts degree in World Languages (Spanish, French, Japanese, and Russian), and a Bachelor of Business Administration degree in Information Technology and Operations Management from Southern Methodist University (SMU). She also holds Texas Educator Certificates in Secondary French and Spanish as well as a secondary certification endorsement in English as a Second Language (ESL).

Research interests: language and gender; intersectionality; womanist/feminist theories; reproductive and environmental justice; and womanist spiritual activism.
Reanae McNeal
Reanae McNeal holds an master's in women's studies and a master in English from TWU. She is completing her dissertation, which is titled "African Native American Women's Rhetorics of Survivance: Decolonization and Social Transformation."
Research Interests: rhetorics of survivance, 'white' settler colonialism, the International Council of Thirteen Indigenous Grandmothers, African Native American studies, indigenous/womanist/feminist theorizing and epistemologies, womanist and indigenous theologies and spiritualities, community literacies, decolonial research methods, and the interrelated and comparative history and literature of African Americans and Native Americans.
Kimberly C. Merenda
Kimberly C. Merenda holds a master's degree in women's studies from TWU and is currently pursuing a second master's degree in English along with her doctoral degree.
Research Interests: post-oppositionality as personal and political consciousness, canine-human "interrelationality", Anzaldúan autohistoria-teoría, digital literacy and contemporary dystopian fiction.
Kathy Nguyen
Kathy Nguyen earned her MSW at the University of Arkansas. Her articles have been published in ejcjs: electronic journal of contemporary japanese studies and Ekphrasis. Her first short story, "The Veteran," was published by Kartika Review.
Her dissertation is ALWAYS [IN]FORMATION: Re/Wiring to Dis/Re/Assemble the Network as a Living Womb/Tomb explores the metaphorical and regenerative forms of the network and its accelerated archival significance in the future.
Research Interests: Asian (American)/diasporic literature, digital cultures, electronic literature, informatics, network studies, philosophies of technology, and SF.
Foluso Oluade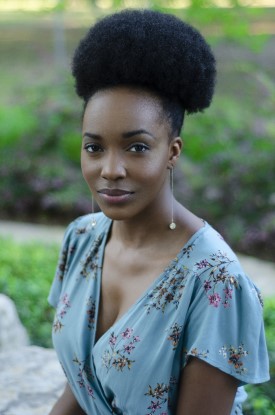 Foluso Oluade earned a Bachelor's in English from Alabama State University and a Master's in Interdisciplinary Studies with a concentration in Women's and Gender Studies from the University of North Texas. She is currently pursuing her Ph.D. in Multicultural Women's and Gender Studies. She aspires to be a professor and activist for sexual education. She is currently a part of the Campus Sexual Assault Prevention Program (CSAPP).
Research Interests: sexuality education, campus sexuality education and sexual safety, the use of stories for sexuality education, storytelling and activism, sexual assault prevention
Veronica Popp
Veronica Popp is an activist and writer from Chicago. She has a Bachelor's from Elmhurst College in English and History, a Master's in Creative Writing from Aberystwyth University and a Master's in English with a concentration in Literary Studies from Western Illinois University. Popp has been published in The Collagist, PenCambria, Popular Culture Studies Journal, Journal of Fandom Studies, Journal of Popular Culture, Still Point Arts Quarterly, Gender Forum, Rag Queen Periodical, The Last Line, Bitch Media, and Bust. Popp was Essayist in Residence for Rag Queen Periodical, nominated for the Silver Pen Writers Association Writing Well Award and longlisted for the New Welsh Review Writing Awards 2017 AmeriCymru Prize. She was a Teaching Artist and Co-Editor of student writing for Young Chicago Authors. The resulting work titled The End of Chiraq: A Literary Mixtape was recently published by Northwestern University Press. She served on the Modern Language Association Committee for Contingent Labor in the Profession for three years and believes the feminization of adjunct labor is a growing concern.

Research Interests: Creative Writing and Pedagogy, Eco-feminist Studies, Feminist Film Studies, Labor Education and Rhetoric and Composition Theory.
Jessica Sadr
Jessica Sadr is a multicultural women's and gender studies doctoral candidate currently writing her dissertation entitled, "Gloria Anzaldúa's Womanist Idea." In 2015, she was awarded the University of Austin at Texas' CMAS-Benson Latin American Collection Research Fellowship to conduct archival research of the Gloria Evangelina Anzaldúa Papers, 1942-2004. She also received the Chancellor's Graduate Student Research Scholar Award from TWU in 2013. Jessica holds a master's in women's studies from San Diego State University and a master's in sociology from TWU.
Research Interests: multicultural womanist and feminist theory, indigenous epistemologies, social movements, and decolonial research methods.
Gabriella V. Sanchez
Gabriella V. Sanchez has a BA in English with a minor in Women's Studies, and an MA in Bicultural-Bilingual Studies from the University of Texas at San Antonio. Using Anzaldúa's Seven stages of conocimiento, her master's thesis examines the ways in which Chicana identity is shaped by trauma, family, spirituality, and the ways in which we, viewers, can look to artists for models for healing. Departing from her existing work, Gabriella is interested in exploring visual forms of spiritual activism, specifically how Chicanas communicate our understanding/new understandings of spirituality and demonstrate spiritual agency.

Research interests: Theory in the flesh, theory of spiritual activism, plática methodology, intersectionality, Indigenous spiritualities, intergenerational trauma, healing as activism
Sam R. Schmitt
Sam R. Schmitt holds a masters in criminology/criminal justice from Washington Sate University. Sam is an adjunct professor of Sociology at Hamline University and serves as the graduate coordinator for Hamline's Women and Gender Resource Center.
Research and Teaching Interests: LGBTQIA+ politics, the prison industrial complex and trans women's prison activism, sex worker activism, trans and queer spiritualties, trans and intersex subjectivities in the field of WGS, the disciplinization of critical fields of inquiry, disability and post-apocalyptic anxieties, disability/chronic illness in the work of Gloria E. Anzaldúa, womanist self-recovery, epistemologies of whiteness, feminist/womanist pedagogies. Sam's dissertation is titled: Risking the Spiritual: Transforming the Field of Transgender Studies with the Work of Trans and Gender Non-Conforming Spiritual Activists.
Elia Tamplin
With a BS in Sociology from the University of Central Missouri and a MEd in Educational Leadership and Policy Analysis (with an emphasis in higher education administration) from the University of Missouri-Columbia, Elia Tamplin is a fourth-year PhD Candidate in the department of Multicultural Women's and Gender Studies. Guided by the theory of intersectionality, Elia's dissertation is a phenomenological qualitative study that focuses on the lived experiences of Women-of-Color professional academic advisors working at two-year and four-year public institutions of higher education in Texas.

Research Interests: Women of Color in higher education; intersectionality; academic advising; identity and social justice; alternative/non-traditional family and intimate relationship structures; Black feminist and endarkened feminist epistemologies and theories; critical race theory; social-ecological theory.
Pam Tise
Pam Tise earned a master's in political science with a concentration in legal studies and a master's in public administration from Texas State University.
Research Interests: institutional discrimination, women in history, political violence against women, women's movements and social justice, feminist pedagogy, sacred ecology and the role of spiritual activism in changing governance.
Shamethia Webb
Shamethia Webb holds a Bachelor's of Social Work from Baylor University and a Master's degree in Women's Studies from TWU.

She is particularly interested in literature and social justice, and her master's thesis examined this intersection by deconstructing the myth of the Strong Black Woman and proffering Jewelle Gomez's vampire novel, The Gilda Stories, as a guide for healing.

Research interests: anti-racism as best practice in social service agencies; the role of creative writing and storytelling in liberation movements; the role and function of "bad" women and witches in the cultural imaginary.
Pamela White Wolsey
Pamela White Wolsey earned a bachelor's degree in Political Science from Texas State University and Master's in Government from Texas Woman's University. She is currently writing her dissertation, "The Power of the Appalachian Trail: Reimagining the Nature Narrative through Autohistoria-teoría."

Research Interests: biocentrism, Anzaldúan theorizing, animism, place-based learning, and veganism.
Carla Wilson
Carla Wilson holds a master's in women's, gender and sexuality studies from Georgia State University.
Research Interests: compassionate listening as a form of spiritual activism, Gloria Anzaldúan thought, feminist, womanist and Indigenous epistemologies, pedagogies and praxis and contemplative pedagogies and praxis in higher education, specifically in learning and research environments.
Todd Winkler
Todd Winkler holds a master of divinity from Southwestern Baptist Theological Seminary and a master of education in education administration from Lamar University. His dissertation research focuses on the experiences of the WASP attachment located at the largest pilot navigational school during WWII.
Research Interests: disruptive epistemologies, social histories, educational theory and consecrating pedagogies.
Page last updated 10:42 AM, March 12, 2019