Summer Reading Program benefits children, TWU students
7/23/15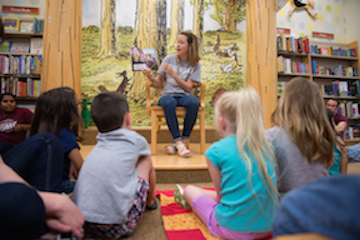 Photo credit: Shannon Drawe
Brittany Bishop, a TWU interdisciplinary studies major from Lewisville, reads a story to children during the university's Summer Reading Program at the Barnes & Noble bookstore in Denton.
DENTON— Children's voices and laughter ring out over the bookshelves as Texas Woman's University students lead an audience of preschool and elementary children in stories, songs and crafts at the Barnes & Noble bookstore in Denton. Even some of the children's parents join in when a song calls for clapping or stomping their feet.
This Summer Reading Program is about more than books.
The activities are part of the university's Association of Texas Professional Educators' partnership with the Denton bookstore. The program, which takes place at 11 a.m. each Friday during the summer and monthly during the school year, not only benefits the children and their parents, but TWU students as well.
The university graduates approximately 350 new teachers each year, most of whom stay in Texas. This Summer Reading Program and other TWU teacher preparation activities help teacher candidates gain experience before they even step in front of a classroom.
"This is a valuable opportunity for teachers who have not yet begun classroom student teaching to practice their teaching and classroom management skills," said Rebecca Fredrickson, associate professor of teacher education. "For some, it's the first time they've interacted with children."
"Some of the children are deaf or hard of hearing, or in a wheelchair," said Sarah McMahan, associate professor of teacher education and co-adviser with Fredrickson in the university's professional educators chapter. "That's the reality of public schools today. They will experience and have to tailor their instructional delivery to meet the needs of all types of students.
"Until you see something in real life, classroom lessons don't always register," McMahan said.
Fredrickson said she and McMahan try to let their students handle any situations that arise, "but we're there as a safety net."
The students plan the lessons and the crafts, find the books to read and plan the craft.
Melissa LeCompte, a senior drama major/interdisciplinary studies minor from Rowlett, began planning the crafts for the events at the beginning of the spring semester.
"I look for crafts that are easy for little hands and young minds to do," she said. "I look at the theme for each week's program, the easiness of the craft and the messiness, because we are in a retail facility."
Bethany Powell, a junior interdisciplinary studies major from Flower Mound, determines the order of events and helps lead the songs and stories.
"The songs are ones everyone would know," she said. "It's a way for the children to take a break from sitting for the stories and stay engaged in the activities."
While the students usually choose the themes, a recent program featured books and a craft centered around the recent movie "Minions" at Barnes & Noble's request.
Mark Alan Brown, community business development manager for the Denton store, previously was involved in a summer reading program with another university. He said the TWU program draws a better crowd.
"The kids actually get something out of it," Brown said. "This program provides a different environment outside a library or classroom, with activities a child may not get at home or school."
Emily Florez regularly brings her 3-year-old son, Erik, to the reading program. She enjoys being around other moms and children, and says the program has exposed her son to books she hadn't known about previously.
She's also noticed a change in her son's behavior.
"In the year or two we've been coming, he's able to sit and listen now," Florez said. "At home, when it's time for him to go to bed, he wants to read."
At the end of each program, Fredrickson and McMahan gather the TWU students together to talk about what went well and should be done differently. The students offer each other advice and words of encouragement for the next week's program.
"Our students have gained more self-confidence in designing and delivering the lessons," Fredrickson said. "Students need mentoring, even during their training, and this program allows us to work one-on-one with students to help them develop their teaching skills."
page updated 5/9/2016 4:57 PM