TWU student journal Ibid wins national Gerald Nash History Journal Prize
2/18/15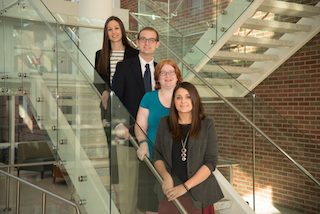 Photo credit: Shannon Drawe
Shown with the founder of Ibid, TWU Associate Professor of History Jacob Blosser, center, are three of the history journal's editors TWU students Aubri Thurmond, left, Amanda Roberts and Kaitlyn Waynen. Not shown is student editor Aiesha McFadden.
DENTON — With articles on subjects ranging from Renaissance poetry to the Blues in Deep Ellum, Ibid: A Student History Journal — published by the Texas Woman's University chapter of the Phi Alpha Theta National History Honor Society — recently received the Gerald Nash History Journal Prize. According to Phi Alpha Theta, the Nash Prize is considered the preeminent national award for student history journals.
Ibid is one of only five publications in the U.S. and one of only three in the category of "universities awarding graduate degrees" to receive the award, which annually recognizes "the finest collegiate publications" in the country.

According to Dr. Jacob Blosser, TWU associate professor of history, Phi Alpha Theta adviser and founder of Ibid, receiving the Nash Prize culminates seven years of growth for the publication. Started in 2008, the journal showcases TWU students' original historical research. The 2014 volume, published in print and online, featured 17 original essays on historical subjects ranging from Renaissance poetry to the Blues in Deep Ellum to Title IX.
"Ibid's goal always has been to inspire TWU students to take their research farther than they imagined," Dr. Blosser said. "The journal consistently has provided a public forum for undergraduate and graduate students to share their original research and to gain important professional skills related to writing and editing. Receiving the Nash Award recognizes our students for their tremendous efforts in producing what I believe is a truly remarkable student history journal."

Annually overseen by an editorial team of TWU students and professors from across the United States, Dr. Blosser said Ibid's rigorous peer-review process ensures a high standard of quality while facilitating mentorship and cooperation between faculty and students.

The Nash Journal Prize is the second major honor for TWU's Phi Alpha Theta chapter for the 2014-2015 academic year. Last fall, the chapter received its third consecutive national "Best Chapter" award from the national offices of Phi Alpha Theta History Honor Society.
The online version of the award-winning Ibid: A Student History Journal is available at www.twu.edu/history-government/ibid.asp.
---
Media Contact:
Amanda Simpson
Director of Media Relations
940-898-3456
asimpson1@twu.edu
page updated 5/9/2016 4:57 PM