Hufft among nation's most influential nursing deans
8/25/15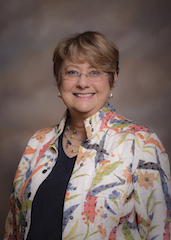 Anita Hufft, Ph.D., RN, dean of the College of Nursing at Texas Woman's University, is among The 30 Most Influential Deans of Nursing in the United States, according to the Mometrix Test Preparation blog.
Hufft ranks 12th on the list, just behind the University of Texas at Austin School of Nursing, with both Texas schools behind the Johns Hopkins, Duke University and University of Pennsylvania schools of nursing and ahead of the UCLA, University of Michigan and Ohio State University schools of nursing.
The list was compiled by using a points system based on a variety of data including awards, "Top 10" rankings, National Institutes of Health funding, National Council Licensure Examination passing percentage and more.
"The power to influence others is both a challenge and a privilege," Hufft said. "It is an honor to have the opportunity to help create systems for nursing and higher education that elevate knowledge, good judgment and caring. Preparing our graduates to get jobs is only part of the goal — educating people to improve health and make the world a better place is the real goal."
Hufft's biography and the complete list of nursing deans are available here.
page updated 5/9/2016 4:57 PM